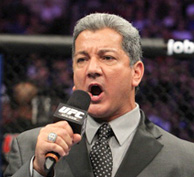 Bruce Buffer
The Announcer
Bruce Buffer has been the "Official Voice of The Octagon™" for the Ultimate Fighting Championship® since 1996 and with many other mixed martial arts events worldwide and is recognized internationally as "The Voice of Mixed Martial Arts". He is also on SPIKE TV's hit series UFC® Unleashed™, and UFC® Wired™ and UFC® Fight Night™ which is televised live throughout the year.
Bruce Buffer is classified as a true entrepreneur, announcer, entertainer and motivational speaker who keeps the viewing attentive and excited about products and events he represents. He is also well known for introducing international events with his famous phrase" "IT'S TIME!"
Mike Goldberg
Commentator
Mike Goldberg is one of the most diversified talents in the broadcast business. Goldberg has served as the play by play announcer for the Ultimate Fighting Championship® since December, 1997. His first UFC® broadcast was Ultimate Japan on December 21, 1997. By the end of this year, Mike Goldberg will call his 100th live UFC®. In addition to calling the live events, Goldberg is the host of UFC® Unleashed™ on Spike TV.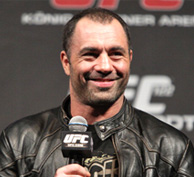 Joe Rogan
Commentator
Joe Rogan was the host of the hugely successful reality show, "Fear Factor," for six seasons for NBC. Prior to "Fear Factor", Rogan played Joe Garrelli, the resident electrician on the hit NBC comedy series "NewsRadio".
Since 2002, Rogan has provided color commentary for the UFC® on Pay Per View and Spike Television as well as hosting UFC® Wired™. Rogan's passion for MMA began with martial arts practice at the age of 13. Within two years, the Boston native earned a black belt and soon became the Massachusetts full contact Tae Kwon Do champion four consecutive years. By the age of 19, Rogan won the US Open Tae Kwon Do Championship, and the lightweight champion went on to beat both the middle and heavyweight title-holders to obtain the Grand Championship.