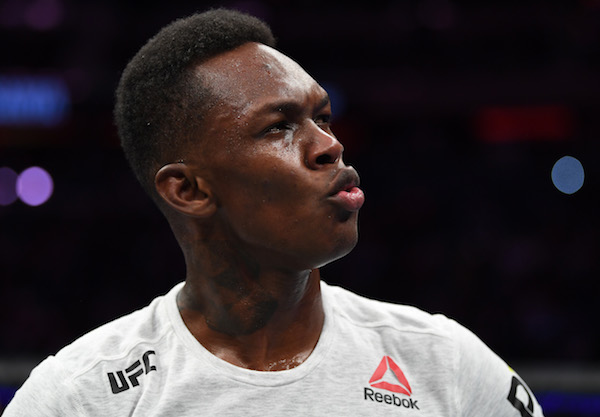 In the lead-up to their UFC 234 co-main event this weekend, Israel Adesanya doesn't deny the influence
Anderson Silva
has had on his career.
"He (Silva) was someone I looked up to as a kid coming up in this game," said "The Last Stylebender." "He's someone who played a monumental role in inspiring me and planting the seed in me to believe I could be the best."
Beating Silva in Melbourne will be the next big step in Adesanya's quest for greatness, but before he gets his chance to defeat the middleweight icon, it's also key to point out that Silva wasn't the Nigeria native's first fighting influence. That honor went to someone Adesanya will never face in battle: boxing hall of famer "Prince" Naseem Hamed.
"What is he doing?" said Adesanya, recalling the thoughts swirling around his head when he was a youngster. "He's making me smile, he's making me laugh. He was having fun. So I like to have fun when I fight."
He looks like it, and when the 29-year-old Adesanya is having fun, that means his opponents are experiencing the opposite feeling, and that's just the way the New Zealander likes it. He isn't here for his opponents. He's here to win and to do it in as interesting a fashion as he can.
So far, so good through 15 fights without a loss, and after just one year in the Octagon, Adesanya has gone from debutant to contender, winning four UFC bouts. But it's the way that the No. 6-ranked fighter has won that has him in a co-main event slot on this weekend's pay-per-view card. Yet as Adesanya points out, it's not flash for flash's sake.
"There's a method to my madness," he said. "People think a lot of us who live in the Matrix in that way or who play with fire like that, they think it's just for show to look cool. It's not like that. The smart ones do it to set things up differently. We just happen to look cool. That's the bonus."
Adesanya is cool. There's no denying that. He's got style, plenty of swagger, and a good dose of savvy, allowing him to navigate the often rocky waters of pro sports with seemingly little effort. And that's outside the Octagon. In it, it's the same thing, making him the most intriguing fighter to hit the UFC in recent years.
"It's like a freestyle battle," he said. "I'm able to move however I want to move, I'm able to move them however I want to move them and I'm able to do just what I want to do. Even when the wave tries to crash against me, I still move how I want to move. I'm very adaptable to any situation and that makes me great at what I can do. I do things no one else can do. Literally, they've never fought anyone like me."
Those are bold words, but nearly 80 pro kickboxing bouts and 15 pro MMA fights have proved that he's willing to back them up, and hey, he just might be right.
"My confidence comes from the work I put in; it comes from the way I talk to myself," Adesanya said. "My confidence comes from me. A lot of people think they understand what confidence is, but they really don't."
There are a lot of things we don't understand about Israel Adesanya right now, and that's why everyone wants to see him fight. Just like Naz. Just like Anderson. But Adesanya isn't interested in being a clone of his heroes. He's making his own name. And if he has to beat Silva to keep that ball rolling, that's part of the gig.
"He's just another guy with gloves on," Adesanya said of "The Spider." "I have to whup his ass."