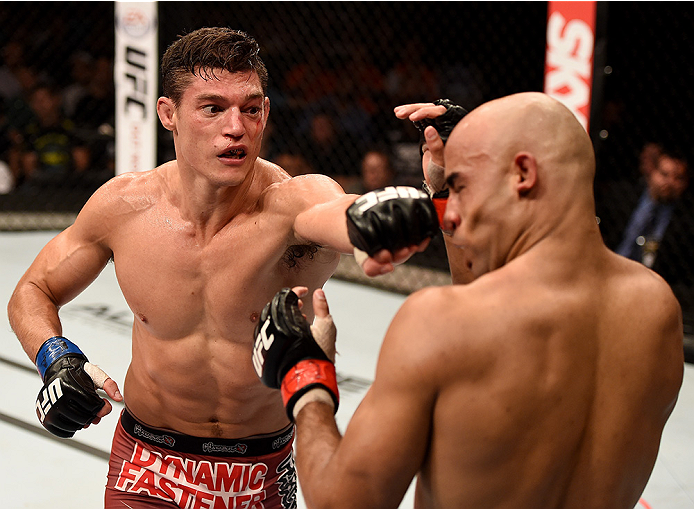 It was a long flight home from Uberlandia for
Alan Jouban
. He lost a disputed decision to
Warlley Alves
that most observers thought he won, he just missed out on a Fight of the Night bonus, and the euphoria of his UFC debut win over
Seth Baczynski
three months earlier faded in the space of 15 minutes. But if there was a silver lining, it was winning over the toughest fans in mixed martial arts.
"Going into the fight, the Brazilian fans are chanting 'You will die,' and then when I'm leaving the fight, they wanted my autograph," Jouban recalled. "So to know that I won over the Brazilian fans and they applauded me and booed him, it felt good. I didn't get the win and I didn't get the money, but I won over a lot of fans and I think I won the respect of my peers as well, which is a big reason why I do this as well. That means a lot to me. So I hurt, but I knew that I did well and gave it all that I had."
He always does. Rapidly gaining steam among UFC fans as one of the most exciting fighters in the welterweight division, Jouban followed up his Fight of the Night win over Baczynski with another thriller, one in which he had to survive a furious first round blitz from the TUF Brazil 3 winner, who was intent on ending the fight as soon as the two were waved into battle.
"We knew he was that type of fighter," Jouban said of Alves. "We prepared for the fast start and I was ready for it. He just happened to catch me off-balance and I landed on the ground and he worked some ground-and-pound stuff. But we very prepared for it and he didn't catch me off guard at all. I knew that he was very explosive and athletic, but I knew he wasn't technically on my level as a striker and in a lot of aspects of MMA, technically."

Jouban weathered the early storm, and as his custom, he roared back.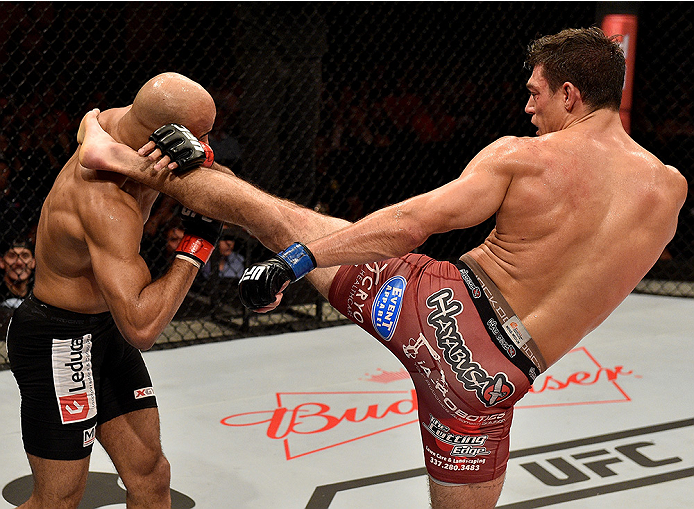 "When I hit him with that liver kick in the first round, that's when it took the steam out of him," he said. "And from there I could see a look in his eyes, and from the complaining I could tell that he didn't want to be there. He said I hit him with low blows and eye pokes that didn't happen, and you know it. This guy doesn't want to be here, and he wants a way out. And I kept pushing the pace and kept trying to finish him. The only thing that held me back was that he was such a 0 to 100 guy. He would fall back and then throw a punch with every single thing that he had on him. I didn't want to get caught with one of those haymakers that he would throw randomly at odd times."
When it was over, Los Angeles' Jouban felt he had done enough to take the decision, but the judges rendered a different verdict. There's nothing he can do about it now, so he did the only thing he could – he went back in the gym and got ready for the next fight, which takes place this Saturday at STAPLES Center against
Richard Walsh
. Australia's Walsh is coming off a controversial decision loss as well, and both have the intention of letting the judges take their fight off.
"I had a dream that I went to the judges and it slipped away, and I woke up and reminded myself that it's not happening this time," Jouban said. "I'm not gonna put myself in danger to do something crazy, but there's a point in fights where you feel like 'I'm good, I'm in control,' but it still could go to the judges, so I'm definitely gonna be looking for a finish. I don't want the judges involved."
That's the attitude that has the UFC putting Jouban on this weekend's main card and fans making sure that they will be in front of their television when the Louisiana native is on the card. That's high praise, and he appreciates it.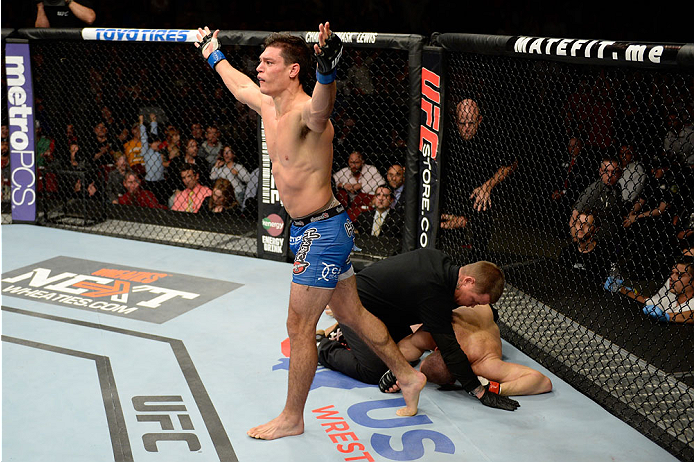 "I see it and my manager sees it and my team sees it, and I think the UFC is starting to see it as well by putting this fight in LA and bumping me up to the main card," Jouban said. "My debut was a dream, and it couldn't have gone any better. Then even though I lost in Brazil, I think they saw the potential in me. And it's something I know is there as well, and not only my fighting ability, but I think they see marketability as well. I would like to think that a lot of fans could identify with my fighting style. I don't try to be a comeback fighter. Obviously I'd like to go in there and just get the clean victory without any injuries, but something about me has me getting in wars in a lot of my fights. Even before the UFC I was in a lot of comeback wars and fans enjoy that. I want to win my fights, but I want to give the audience a great fight as well, and I think they're starting to see that in me."
In other words, it feels like home for the 32-year-old.
"I've been dreaming about the UFC since I've gotten involved in martial arts," he said. "Every year, I write my goals down, and now that I'm in the UFC, I think it all makes sense now. I'm fighting the best guys in the world, and it's always going to be the best guys in the world. And now I get to shine in front of the world. It's a dream for me, it's what I've always wanted, and though it's only my third fight, I'm very comfortable and I feel like it is my home now."