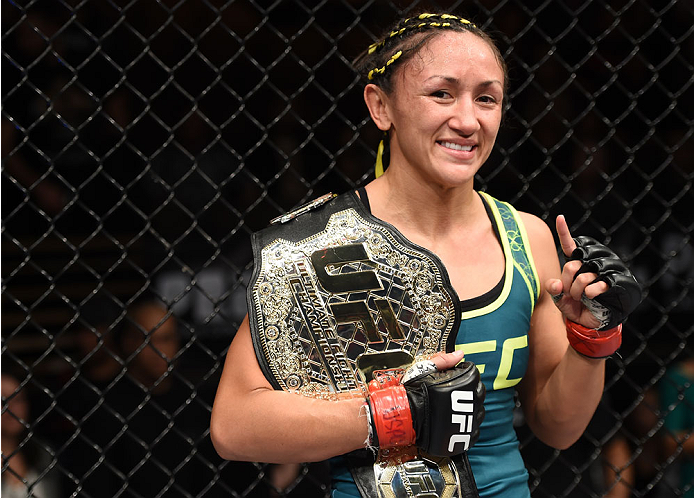 It's been a whirlwind year for
Carla Esparza
.
The typically reserved Torrance, California native became the winner of the 20th installment of
The Ultimate Fighter
on the strength of her tenacity, skill, and sheer will and refusal to be outdone inside the Octagon. Her journey through the reality series' tournament reached the ultimate culmination when she steamrolled a highly-touted
Rose Namajunas
to become the UFC's inaugural women's strawweight champion.
So dominant was the Team Oyama representative's performance that the normally capable "Thug Rose" appeared to have no business being in the same cage with her on fight night. "The Cookie Monster" handled her business in profound fashion, then was elevated to the level of champion on the sport's biggest stage as her reward. For Esparza, winning UFC gold was capturing the biggest prize imaginable, but there would be no time to rest on her accomplishment.
In the aftermath of TUF 20, she set about a hectic schedule of media appearances, and just as the tide seemed to crest on that push, her first official title defense against
Joanna Jedrzejczyk
was set for UFC 185 on March 14 in Dallas, Texas. Yet, while her newfound popularity in the public realm took some getting used to, there was relief found in returning to the familiar as she jumped back to the gym to begin preparation for her first title defense.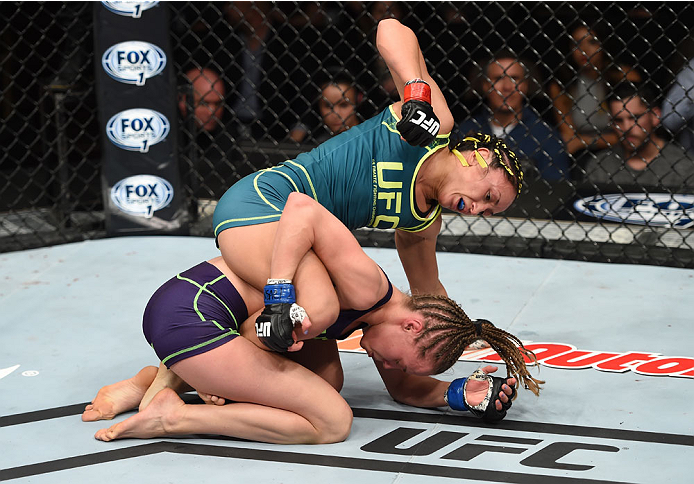 "It's been pretty crazy," Esparza said. "I don't think it's really even set in yet. I've never been on a big Pay-Per-View like this with so many big names and on a card where so many people are going to be tuning in to watch. It's pretty exciting. I think it's all going to hit me when I get to the arena and see all the fans in Dallas.
"It was such a quick turnaround and the UFC is great about understanding that when a fighter is in camp there isn't a lot of time to do as many media obligations. It basically went from being a few weeks of media to being right back into camp. That kept things almost like business as usual."
As the next step of her journey through MMA rapidly approaches, the shift in Esparza's focus will turn drastically. Where she was once one of 16 women battling to reach the top of the strawweight mountain, now she is the confident Queen preparing to defend her crown.
As the saying goes, a fighter is not truly the champion until they defend their title. Esparza is looking to once again leave zero doubt as to her claim as the best 115-pound female fighter on the planet, and she intends to solidify that notion at Jedrzejczyk's expense on Saturday night in Dallas.
"I feel like defending this belt is huge and it's very important for me to get this win. I need to prove I'm the best without a doubt and it's going to be great to do it in front of a huge crowd. I feel like this is all about proving I'm the best, and with that I believe all the promotion will come. I'm excited for that.
"I felt super-sharp going into my last fight and I feel even sharper now. I felt great going into camp and I'm ready for this fight to go anywhere. I think this is going to be the classic striker vs. wrestler matchup, but I'm prepared for whatever happens in there."
While the matchup between fighters and their respective skill sets will be the primary focus during the co-main event, there has been some light-hearted banter between the champion and challenger in the lead-up to the bout. The Polish-born contender will bring a versatile array of talents into the Octagon on Saturday night, but the multi-syllable attack of her last name has gained plenty of attention on social media platforms as well.
Esparza has put 100-percent of her focus on preparing for what Jedrzejczyk will bring in her attempt to dethrone her, and that investment hasn't left much time for the champion to figure out the particulars of her opponent's last name. In fact, Esparza believes it's her duty to the fighting faithful of the UFC's passionate fan base to handle business at UFC 185 to make sure it's not a name anyone will need to learn again.
> Tickets still available for UFC 185 in Dallas
"Not really," Esparza laughed when asked if she knew how to pronounce her opponent's last name. "I tried, but I don't feel I was too successful at it. I think I have to win this fight and keep the title just for that, so people don't have to learn how to pronounce that name."
All lighter fare aside, Esparza is fully aware of how crucial her showcase in Dallas will be. The division she champions is still in its infancy, which makes every fight carry the utmost importance as to how the newest addition to the UFC fold is judged. She is ready to show the world her winning the title wasn't a fluke - not even in the slightest sense - and believes another impressive performance inside the Octagon will go a long way to prove she's going to defend her realm for quite some time.