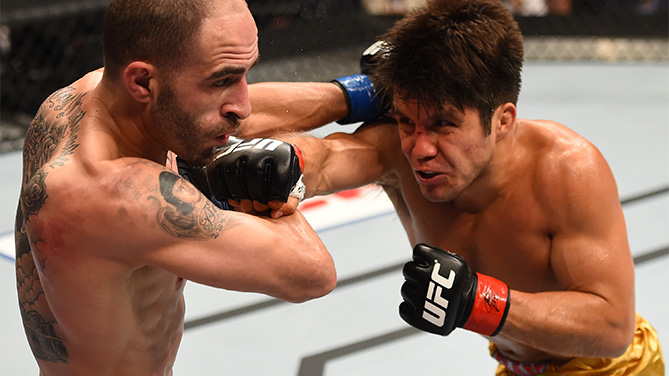 Rising flyweight star
Henry Cejudo
got the toughest test of his pro career from veteran
Chico Camus
in UFC 188 prelim action at Arena Ciudad de Mexico in Mexico City, but he still found a way to win, keeping his unbeaten record intact with a three-round unanimous decision victory.
Camus, a huge underdog heading into the fight, had plenty of success against Cejudo in the opening round, landing crisp punches on his foe while also avoiding the former Olympic Gold medalist's takedown attempts until a quick one at the end of the round by "The Messenger."
> WATCH: Henry Cejudo Backstage Interview
Cejudo began finding his striking rhythm in the second round, and coupled with his control against the fence, the fight tightened up, even though Camus still found a home for his strikes, particularly his right hand.
An accidental eye poke by Cejudo brought a brief halt to the action early in the final round, but Camus didn't miss a beat once the fight resumed, as he kept tagging his opponent with accurate counters. Cejudo was the busier of the two though, and a takedown in the final minute sealed the deal for the Arizonan, who won via scores of 30-27 twice and 29-28.
Cejudo, who contemplated pulling out of the fight due to an illness earlier in the week, improves to 9-0; Camus falls to 14-6 with 1 NC.
"I suffered from food poisoning on Wednesday but did my best for the fans and the Mexican people, but I have to do a better job next time," Cejudo said.
JOHNNY CASE vs. FRANCISCO TREVINO
The interesting lightweight matchup between Johnny Case and Francisco Trevino was shaping up to be a solid action fight before an accidental first round eye poke by Trevino put a damper on matters. Regardless, Case gutted out the three round bout and earned the victory via unanimous decision.
Scores were 30-27 across the board.
Case's striking was sharp from the start, and while Trevino disdainfully shook his head at his foe, he was having difficulty keeping up with the lanky Iowan, who managed the distance between the two perfectly and then tagged the Mexico native with uppercuts up close. With under two minutes to go, Case fell to the canvas in pain after taking an inadvertent eye poke. After a visit from the Octagonside physician and a short break, Case was deemed fit to continue, and he immediately added to his point lead with a quick takedown. Trevino and Case swapped positions on the mat, Case ending up on top at the horn.
The majority of Case's offense took place on the mat in rounds two and three, with a brief guillotine choke being his most significant attempt at finishing the fight. Trevino's defense was solid, but he wasn't delivering much on the offensive end, at least not enough to win the rounds or the fight.
With the win, Case improves to 21-4; Trevino falls to 12-1.