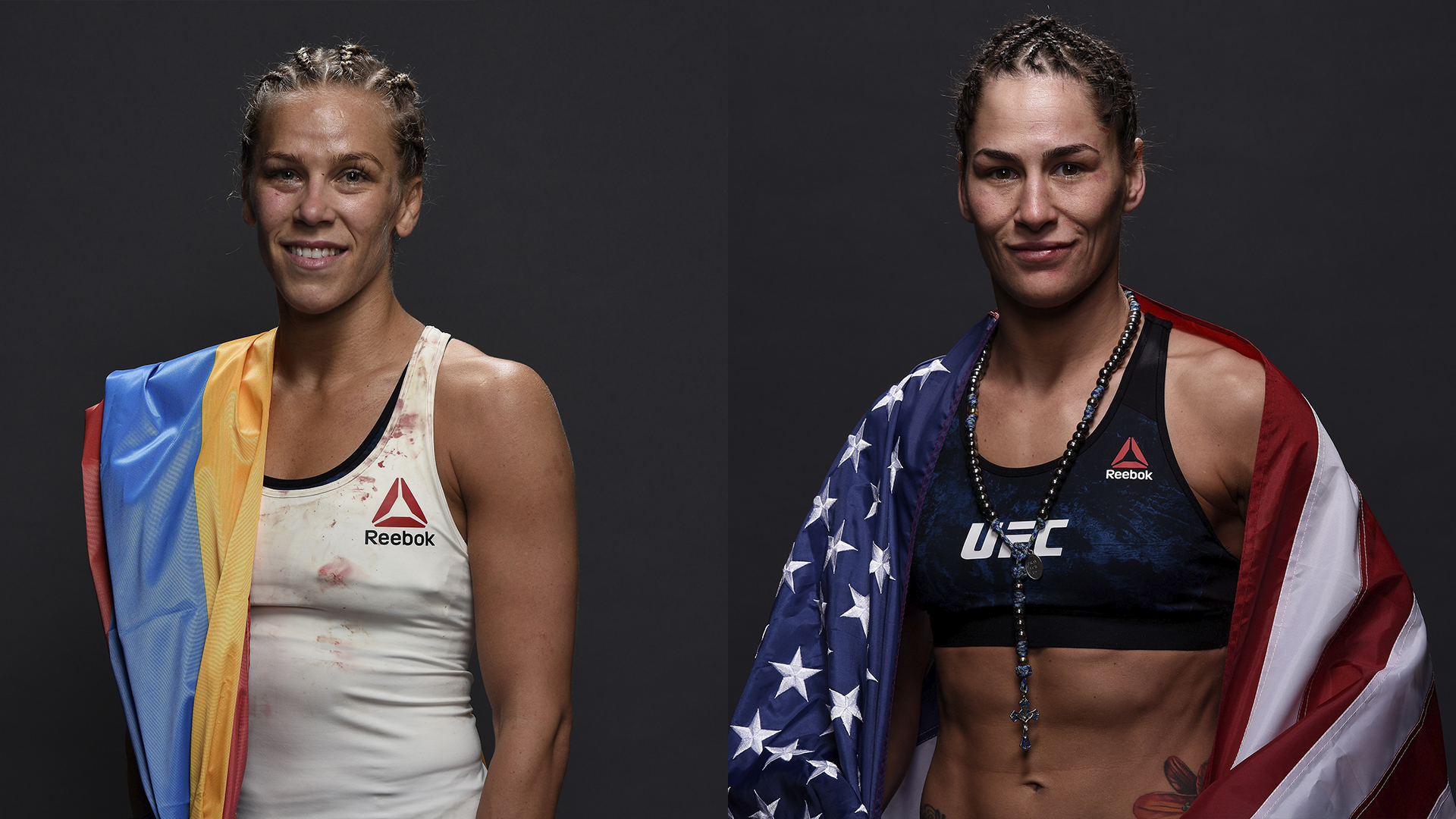 The co-main event at UFC 231 isn't the only fight taking place in the women's flyweight division.
Katlyn Chookagian
and
Jessica Eye
will step into the Octagon before
Valentina Shevchenko
and
Joanna Jedrzejczyk
square off for the division's belt, and the winner of that fight could be in line for the next title shot.
When the UFC announced Jedrzejczyk would fight for the flyweight belt in her first fight at 125 pounds in the promotion, it was met with some resistance, and even between Eye and Chookagian, the opinions are split.
"Everyone knows who she is. No one knows who the rest of us are," Chookagian said. "It's business. That's kind of how it is. Joanna fighting Valentina brings more attention to the division, so it benefits us in the end. So if it's one more fight, let it bring more attention, then when you get the title shot and you beat the winner of that (fight), then it's better for you."
Eye wasn't as favorable toward the idea.
"I think it's terrible for our weight class," Eye said. "I think that those kinds of fights are what, maybe the — I don't even know that the fans care to see — but it's just mixes up the division. If you want these divisions to have true stances and you want to go to like, this is the world title or this is a stable weight class, then you can't be mixing people up."
Regardless, Eye and Chookagian have a fight of their own to worry about, and it is one that has title-shot implications. Chookagian is victorious in all seven of her fights at 125 pounds, two of which coming in the UFC, and Eye bounced back from a four-fight losing streak to win back-to-back fights at flyweight.
"I think besides the two girls fighting in the co-main event, I think that me and Jessica Eye are the only other girls that really being talked about and taken seriously in this division," Chookagian said. "I definitely think this is a number one contender fight."
.@BlondeFighter believes that she is the most dangerous fighter in the women's flyweight division. Here is why : #UFC231 pic.twitter.com/8n6t33hCq9

— UFC News (@UFCNews) December 5, 2018
Because Eye's UFC career at bantamweight was unsuccessful — she went 1-5 with one no contest — some have doubts on how competitive she can be, but the move back down to flyweight has come with success. With that success, Eye is also brewing confidence.
"Everyone always says, 'You're only as good as your last fight.' If that's the case, I've won both of my last two fights," Eye said. "Why am I still being held to the same standards as when I lost at bantamweight, not to mention I took all of those girls to decisions. And I didn't fight to the level that I'm fighting at now because I didn't trust myself, so if I could go back and redo it, I think I could win those fights, and if I don't get the title shot the next time, then we just keep going."
Whether or not she could rectify the losses on her record is beside the point. What is relevant is that Chookagian is dealing with a confident opponent on December 8. That said, she doesn't see the weight class change as such a major factor.
"I mean maybe she has some inner confidence, and that makes her feel better," Chookagian said. "But a lot of the girls in the top-10 are from 135 coming down, so I don't really feel bad for her because we've all been there. We all just don't complain about it all the time. It's business. You chose to go up to 135, so you can't complain about it if it was your choice."
As fight night approaches, most eyes are rightly fixed on the title bout, but in a division that seems to be catching traction, the bout between Eye and Chookagian is just as important. Given the quality and confidence of both fighters, it's definitely one of the more intriguing and important fights that will go down in Toronto on December 8.
Zac Pacleb is a writer and producer for UFC.com. You can follow him on Twitter @ZacPacleb.