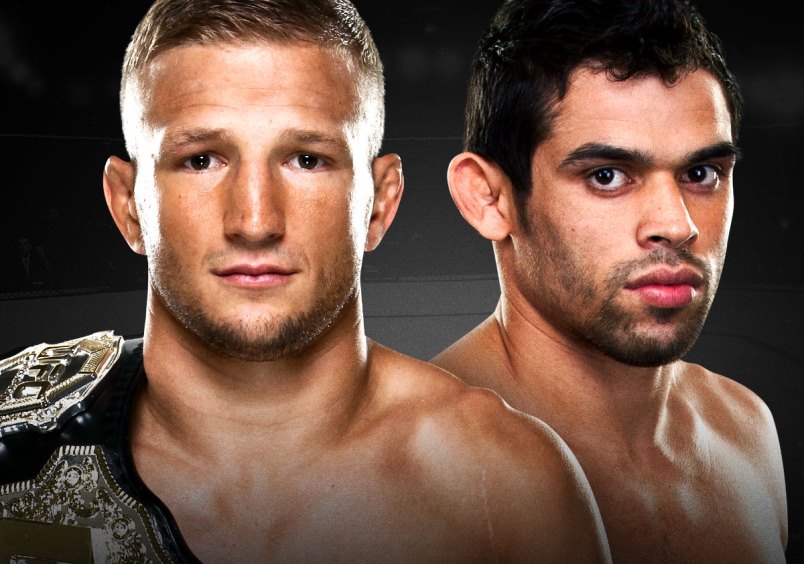 A long awaited bantamweight title fight rematch will go down this Saturday night in Chicago, as champion
TJ Dillashaw
puts his belt up for grabs against former 135-pound king
Renan Barao
in the main event of FOX
UFC Fight Night.
Dillashaw took the belt from Barao more than a year ago in a fight that was considered one of the biggest upsets in UFC history, as the former
Ultimate
Fighter runner-up dismantled the Brazilian over the course of four rounds before finally finishing the fight in the fifth.
Now Barao looks to avenge the loss and regain the bantamweight title.
Also on the card, former
Strikeforce
women's bantamweight champion
Miesha Tate
tries to take the final step towards a rematch with long time rival
Ronda Rousey
when she faces lightning-fast striker
Jessica Eye
.
Eye has been ultra impressive during her UFC career and a win over Tate could facilitate her first title shot since joining the promotion. A win for Tate means she gets a third crack at Rousey after dropping two previous bouts to her while engaging in one of the nastiest rivalries in the history of MMA.
In today's fantasy preview we will break down some of these key matchups happening in Chicago as the UFC showcases another massive card on FOX.
SPLIT DECISION
These are the fights that are just too close to call, but a few minor differences between favorite and underdog could lead one fighter to victory and the other to defeat.
TJ Dillashaw (-220 favorite) vs. Renan Barao (+180 underdog)
In their last fight, TJ Dillashaw not only beat Renan Barao - he pummeled him over the course of 20-plus minutes en route to winning the bantamweight championship. Dillashaw didn't just land a 'lucky' punch and finish the fight either. He put on a stellar performance to beat Barao consistently round after round, which is why he's probably enjoying some favorable odds going into the rematch.
Dillashaw is no fluke when it comes to champions in the UFC. He has the highest striking rate of any bantamweight in the UFC, landing more than 5.5 significant strikes per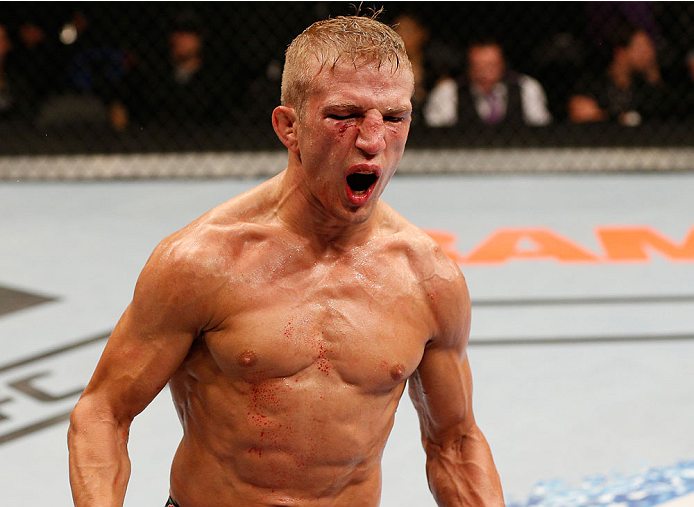 minute while also having the second most knockouts in UFC/WEC bantamweight history. He also has confidence on his side because he's done this before. Dillashaw was a huge underdog in his first fight with Barao and he mauled the Brazilian before snatching the title away from him last May. While the situations are drastically different this time around, Dillashaw knows he's capable of putting on that same kind of performance, and if he does that this weekend, he'll likely walk out with the title still firmly planted around his waist.
Barao knows what he has to do to regain the title and that's get back to the fundamentals that brought him the championship in the first place.
Barao is a fierce finisher with ten wins between the UFC and WEC, and seven of those have been by knockout, TKO or submission. Barao simply overwhelms his opponents with a pressure-based attack that usually includes fast three and four strike combinations that fire off like a machine gun. He also possesses perfect takedown defense, so chances are this fight will take place on the feet unless Barao is the one who decides to go to the ground.
One of the biggest factors that may affect the outcome of this fight is Barao getting down to 135 pounds. A disastrous weight cut cost Barao his last shot at Dillashaw in August 2014 and while he looks ripped and ready for the rematch, there's still no telling how those last few pounds will come off once he's about to hit the scale. There's also the fact that he might over prepare, drop too much weight early and still come into the fight slightly depleted.
Considering those factors, along with the brimming confidence Dillashaw will be carrying into the rematch, it's going to be really tough to see that title flying home to Brazil with Barao when Saturday night is over. Barao is still one of the best fighters in the world, but he may be destined to compete at featherweight as he grows a little older and his body just doesn't allow him to shed the weight necessary to get down to 135 pounds any longer.
Prediction: TJ Dillashaw by TKO, Round 4
Edson Barboza (-125 favorite) vs. Paul Felder (+105 underdog)
This matchup between Edson Barboza and Paul Felder might end up stealing the entire show, as these two strikers will likely put together an instant classic on Saturday night, because styles make fights and this one is a barnburner.
Barboza is well-known for his Muay Thai style, where he lands some of the most devastating kicks in the entire lightweight division. He lands 3.8 strikes per minute and can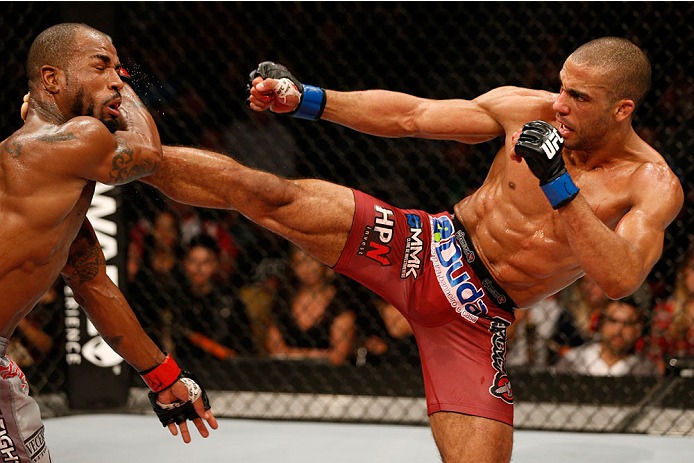 knock out an opponent from anywhere in the cage. Barboza is lightning-fast and particularly deadly when he's at range and can keep his opponents at the end of his punches and kicks.
Felder is no slouch when it comes to striking, and throughout his undefeated career, "The Irish Dragon" has finished 70-percent of his opposition with all of those wins coming by way of knockout or TKO. Felder is not only dangerous on the feet, but he's also very accurate. He lands just over 47-percent of his strikes while matching Barboza's output at about 3.8 strikes landed per minute.
Where this fight might bode well for Barboza is with Felder's defense on the feet.
Felder only has 50-percent defense while standing and while Barboza has actually absorbed more strikes per minute from his opponents, the Brazilian has faced a much tougher slate of contenders during his UFC career. Felder is a top prospect and someone who could be a top 10 fighter one day, but if he can't defend his legs or body from Barboza's versatile striking attack, he could be in for a very long night when he steps into the Octagon in Chicago.
Prediction: Edson Barboza by unanimous decision
Jim Miller (-135 favorite) vs. Danny Castillo (+115 underdog)
Another impossibly tough fight to pick on the FOX UFC Fight Night prelims is the matchup between Jim Miller and Danny Castillo, who have both suffered a slide in recent fights and now will try to rebound this weekend.
Miller has been a consistent top 10 fighter for most of his UFC career, but he's suffered losses in several bouts while facing the best competition in the lightweight division.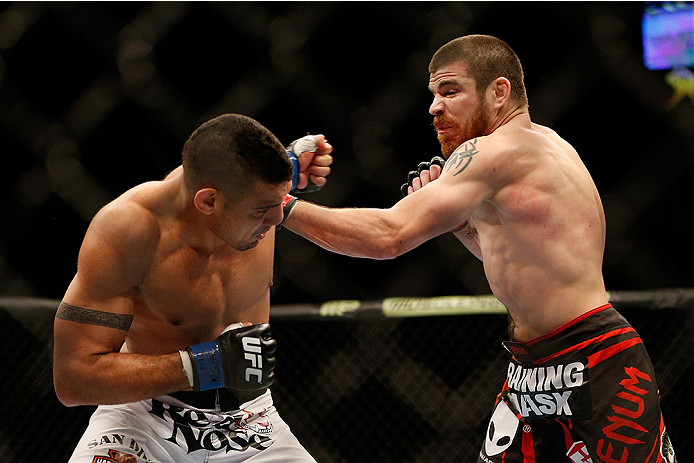 Most recently, Miller got out wrestled and out sized by rising contender
Beneil Dariush
and he'll face another great grappler this weekend in Castillo.
Castillo averages over three takedowns per 15 minutes in the cage and he has great ground control on the mat. He hits his takedowns with over 40-percent accuracy and he has the ability to grind an opponent into the dirt over three rounds, which might be Castillo's strategy to ensure he gets a win after a couple of recent losses.
That said, Miller is solid offensive performer on the feet and on the ground and he showcases some of the best submission grappling whenever he hits the canvas. Against Dariush, he was facing another elite Brazilian Jiu-Jitsu practitioner, but this time around, Miller will have that advantage when he takes on Castillo. Knowing that he can wrap up a submission if the fight does hit the ground might even make Miller more confident on the feet and willing to take more chances to either get the knockout or knockdown so he can finish Castillo on the mat.
Prediction: Jim Miller by submission, Round 2
KNOCKOUT PICKS
These are the fights that appear to be a little more one-sided, but remember that this is MMA, where anything can - and usually does - happen.
Joe Lauzon (-250 favorite) over Takanori Gomi (+210 underdog)
There's little question when it comes to Takanori Gomi's legendary status in the lightweight division over the course of his career, but he seems to be on the backside of his best days and that might not bode well for him against a finisher and grappler the likes of Joe Lauzon.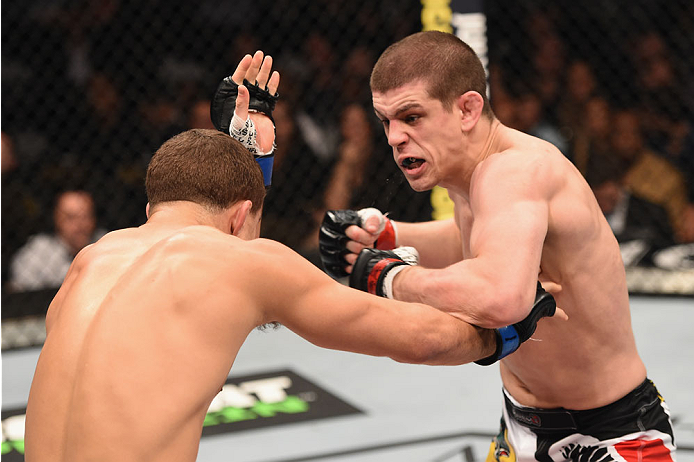 While Lauzon has experienced his own fair share of ups and downs lately, he's suffered most of his losses to the upper echelon of fighters at 155 pounds and it's hard to know if Gomi is that same level of athlete these days.
Gomi is always dangerous on the feet, where he lands nearly four strikes per minute with just under 42-percent accuracy. He has some of the most vicious knockout power in the history of the division, but he often gets caught up in a slugfest, which leads to many of Gomi's biggest mistakes.
Lauzon has to know that standing and trading with Gomi is like playing with fire, and chances are he will get burned in those exchanges. Lauzon is very proficient on the feet, but if he puts Gomi on the mat, this fight might be finished in a hurry. Lauzon averages almost three submission attempts per fight and he lands his takedowns with over 42-percent accuracy. He might need only one, however, to put Gomi on the ground and into panic mode, where Lauzon can apply a submission and put this fight away.
Prediction: Joe Lauzon by submission, Round 2
Gian Villante (-225 favorite) over Tom Lawlor (+185 underdog)
Tom Lawlor will go from the middleweight division to light heavyweight as he faces a huge challenge in Gian Villante this weekend in Chicago.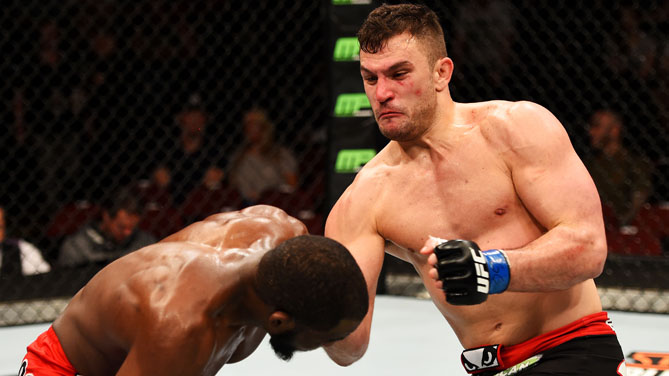 In his best performances, Lawlor is a hard-nosed wrestler who can put an opponent on the ground with great accuracy and a fierce grappling style that's tough to match. Lawlor is more than capable of taking just about anybody in the UFC down, but his wrestling just may not be enough in this matchup with Villante.
Villante is a monstrous fighter for 205 pounds, with knockout power in both hands and an ever-improving ground game working with middleweight champion
Chris Weidman
. Villante has struggled with his conditioning in the past, but it may not matter if he can land the knockout blow early in the fight against Lawlor. Villante is also facing an opponent in Lawlor who has been out of action for over two years. That's a long time to be out of the Octagon and come back to a bigger weight class and expect to find success.
The odds are just too much in Villante's favor to believe he won't put Lawlor away sometime within the distance.
Prediction: Gian Villante by knockout, Round 2
Elizabeth Phillips (-175 favorite) over Jessamyn Duke (+155 underdog)
There's a little less confidence in this selection than the previous two, but Elizabeth Phillips should be able to get the job done against Jessamyn Duke in this matchup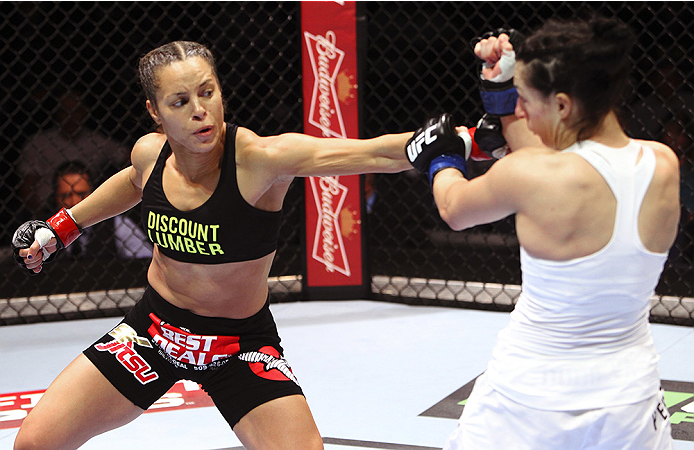 between two bantamweight women both in desperate need of a win.
Phillips has lost two razor-close split decisions in her two UFC fights, but both times she could have arguably won if not for the judges leaning ever so slightly towards her opponents when the final scores were tallied. Phillips is still a very tough customer, especially on the feet, where works well from distance and inside the clinch.
She will have to deal with Duke's huge range because she's one of the tallest fighters in the 135-pound division. Duke actually out lands Phillips when it comes to strikes landed and accuracy on the feet, but experience still seems to be the biggest hindrance to this former Ultimate Fighter competitor. Duke got thrown into the deep end of the division as soon as the reality show was finished and you have to wonder if she wouldn't have done better with a little more seasoning in fights outside the Octagon.
Duke still has tremendous upside if she has time to develop, but facing a crafty veteran like Phillips might not be the best way to do it. This isn't going to be an easy fight for Phillips to win, but she knows how to pressure Duke and rack up the points on the scorecards so this time she walks away with the victory instead of a split decision loss.
Prediction: Elizabeth Phillips by unanimous decision.
UPSET SPECIAL
Jessica Eye (+165 underdog) against Miesha Tate (-190 favorite)
It might be a changing of the guard this weekend as upstart Ohioan Jessica Eye looks to secure her first title shot as she faces Miesha Tate in the co-main event at FOX UFC Fight Night in Chicago.
There's no question that Tate has proven to be one of the best fighters in the world at 135 pounds, especially when she's been able to control an opponent on the ground with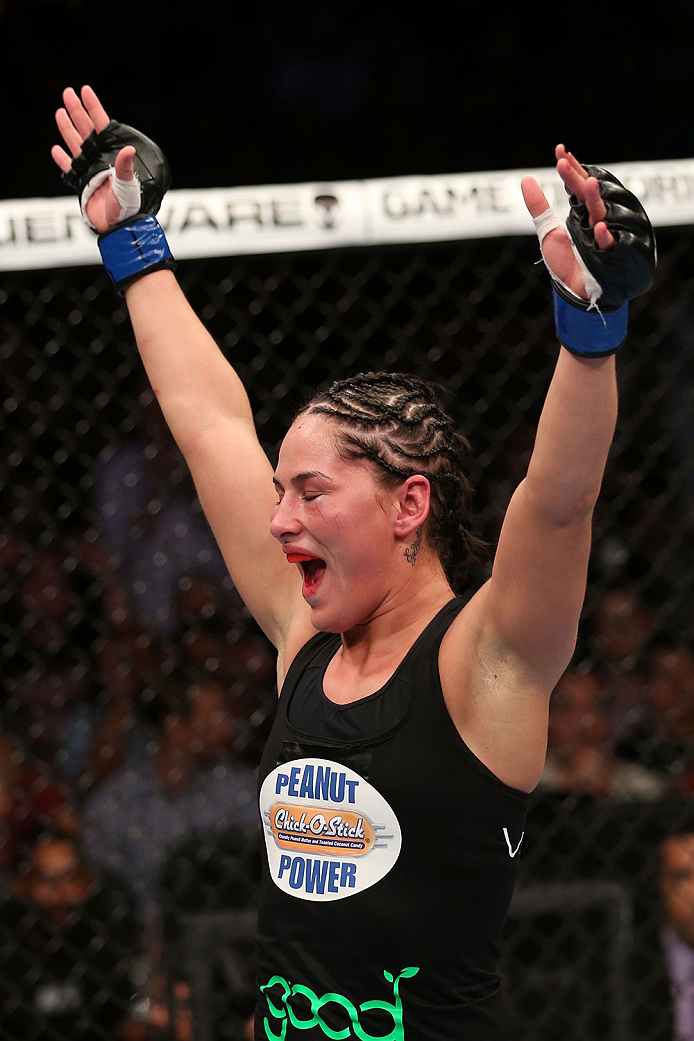 her world-class grappling. The problem lately has been Tate's inability to pull off a dominant win and instead eking out close decisions over fighters such as
Liz Carmouche
and
Sara McMann
. Now there's no shame in winning tight fights against the best fighters in the world, but Tate might be climbing an uphill battle this weekend if she can't get Eye to the ground.
Eye is a brutal striker with great combinations on the feet, and she primarily uses a boxing-based style, which should keep her legs on the ground and away from Tate's takedowns. Eye lands over five significant strikes per minute, which is more than double Tate's output on the feet, and if the former Strikeforce champion can't shoot in early to get this fight to the mat, she might be forced to eat a barrage of punches that could seal her fate by the time this bout gets deep into rounds two or three.
Tate is highly proficient on the ground, where she averages over two takedowns per 15 minutes in the Octagon, and Eye hasn't exhibited the best defense with her wrestling, especially from her fight with
Alexis Davis
, where getting put on the ground likely cost her the fight. Still, Eye has to know Tate wants this fight on the mat, and if she can stuff an early takedown to rattle her opponent's confidence, that could go a long way to her victory on Saturday night.
Eye seems to be ready for the next level of competition, and her confidence is brimming going into this fight. Tate has been able to pull off some spectacular wins throughout her career, but she might just take too much damage on the feet this time around to counter with wrestling and get the scorecards on her side.
Prediction: Jessica Eye by unanimous decision