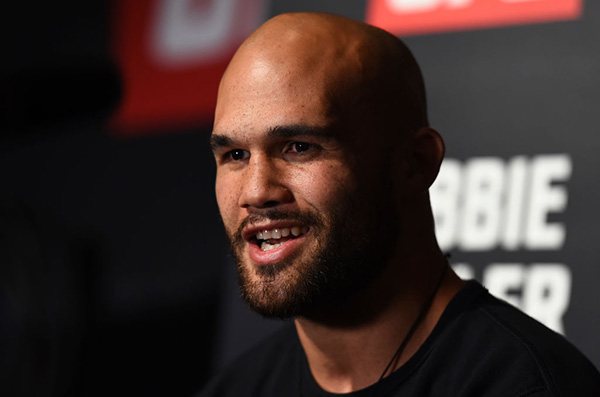 After 15 years of talking to Robbie Lawler, I think I've finally cracked the code. For years, my colleagues and I have tried to break him in pre-fight interviews, eager to find out the story behind a fighter who lives up to his nickname "Ruthless" whenever he's got a gumshield in his mouth and gloves on his hands.
And here it is…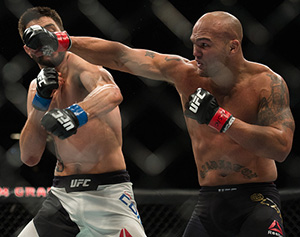 For Lawler, the fight is the story. There is no elaborate tale that he wants to tell us, no inner, philosophical meaning behind the job he's made a living with since 2001. He's a fighter, he fights, and that should be good enough for all of us. And to his credit, he's never changed that attitude over the course of his career.
"I never went out and tried to be anybody but me," Lawler said as he prepares for Saturday's main event against
Rafael Dos Anjos
. "This is who I am, take it or leave it. I just go out there and fight and try to put on exciting fights and train hard. Life's a lot easier when you're just being you and not trying to be somebody that you're not. I'm happy with who I am, happy with everything I accomplished, and through the ups and downs, I'm still me."
As someone who makes his living interviewing people and trying to tell their story, I hate to say this, but Lawler's approach has grown on me over the years. It's almost comforting to know that like death and taxes, the 35-year-old will be the same guy he always is in an interview setting. And it's very comforting to know that on fight night, he's the same guy as well. Many wondered if that would be the case in his last fight against Donald "Cowboy" Cerrone in July.
Out for a year following the loss of his title to
Tyron Woodley
in 2016, Lawler largely disappeared from the public eye, which made that absence seem a lot longer to his fans. But he embraced the extended break.
"It was just right," he said of the 12 months away. "The layoff was nice. And another thing is, when I'm gone, I'm not in the media, I'm not doing stuff, so that's probably why it seemed like a lot longer."
RELATED: Robbie Lawler on Unfiltered | Reasons to Watch Winnipeg | Media Day Face-offs
Lawler reintroduced himself in style in the first round with Cerrone, getting off to a torrid start that thrilled the crowd in Anaheim. But in the second, Cerrone rebounded, putting everything on the line for round three. Then "Ruthless" truly returned, as he delivered his usually late-fight assault en route to a unanimous decision win.
"It was definitely a good experience to go in there and fight 'Cowboy' and get off any rust or any issues that I might have had," he said. "It was a good comeback fight for me. I'm glad 'Cowboy' stepped up and put on a show with me."
As for the final round blitz that has become his trademark over the last several years, Lawler says, "I think that's just something that happens through the course of a fight. It's close, I won the first, he probably won the second, and I just needed to go out there and get in his face and force a fight, and that's pretty much what I did. My coaches got on me a little bit, and it was time to show up and go to work."
This weekend, he'll have his first business trip outside the United States as he faces Dos Anjos in Winnipeg. How did he go 40 pro fights without ever going international?
Ruthless since day one.@Ruthless_RL #UFCWinnipeg pic.twitter.com/zHRtYI5GeJ

— UFC (@ufc) December 12, 2017
"I don't know, I guess it just wasn't meant to be," he chuckles, making it clear that he doesn't have a bucket list of places to fight in over the next few years. "I just show up and train and see where the journey takes me."

The journey makes a stop in Manitoba for his fight against a former lightweight champion making a lot of noise now at 170 pounds. But to just to make it clear, the Brazilian's noise-making has been confined to a pair of wins in the Octagon, not on social media. In this sense, Dos Anjos and Lawler are kindred spirits, content to fight, not talk.

"Anybody could trash talk me, anybody could say whatever they want about me," Lawler said. "It's not gonna bother me. I'm just gonna show up and go to work and train every day. I don't really follow the sport too closely, so it doesn't really matter. I'm just gonna show up and try to get a W."

So as someone not scouring MMA sites and social media to find out the latest scoop, is it safe to say that when he was welterweight champion, Lawler never looked at a possible SuperFight with Dos Anjos?

"I don't really play in those realms of 'What Ifs' and this guy and that guy," he said. "Whoever the UFC is bringing to me, all right, let's fight."

Lawler laughs, knowing that this line of questioning is usually greeted with talk of dream fights squashed or of possibilities for the future and all that fun stuff that keeps the machine moving. Lawler isn't interested in all that. His story will be told in the Octagon on Saturday. But what of Sunday, when a win could put him back in a title fight against the man who took the belt from him? That's compelling stuff, right?

"It could be kind of exciting, but I don't really focus too much on that," he said, refusing to bite, refusing to be anyone but Robbie Lawler. "A fight's a fight. That (another title) is more for my fans and the people who've supported me all these years. That title will be bigger for them than it is for me, but it would be something I'm happy to give them."