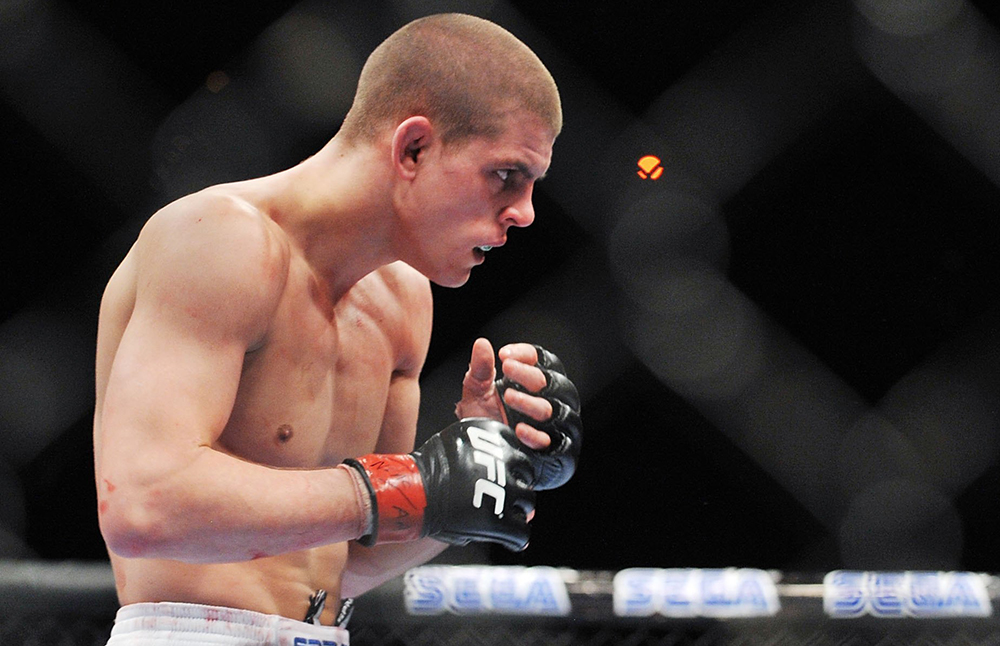 It's hard to believe that it's been over ten years since Joe Lauzon first stepped into the Octagon, spoiling the return of
Jens Pulver
with a 48-second knockout in September 2006.
The Monday after that Saturday win, Lauzon was back at his IT job, fighting just a nice side gig for the 22-year-old, who retained the wonder of a fight fan every time he made the trip to his next UFC bout.
"I remember when I first came up and sitting in the van with
Georges St-Pierre
," Lauzon said. "He's in the back seat and him and (coach) Firas (Zahabi) are just talking, and I'm like, 'Oh my God, it's Georges St-Pierre.' (Laughs) And not that people look at me like that today, but I've definitely been around for a long time. I've been through good stuff, I've been through bad stuff, and I've seen a lot of people come and go."
RELATED: Matchup with Held | Gracie brothers breakdown Lauzon's win over Varner
Today, Lauzon is 32, a married father, and fighting is his full-time gig. As he approaches his Sunday bout against Marcin Held, his 23rd trip to the Octagon, the Massachusetts native is tied with his
Ultimate
Fighter 5 cast mate,
Nate Diaz
, for most post-fight bonuses in UFC history, and his legacy as one of the promotion's most popular action heroes is set. You could say that in the always-stacked lightweight division, he is the elder statesman.
"I don't feel old day-to-day, I really don't," he laughs. "In fight camp, you're sore, so during that I definitely feel old, but other than that, I feel really, really good all the time. I've had a couple fights where I got beat up a good amount, but for the most part, I've been fortunate, and I don't feel old until people start talking about it."
Note that I didn't say he was old, but that he was the division's elder statesman.
"Elder is old," Lauzon laughs. "I am a more experienced guy. I know how to maneuver and navigate the UFC and deal with stuff a lot better than most people, especially the young guys. But I don't physically feel old. I don't think I'm any slower or weaker. I'm definitely more experienced and I feel like I'm way more skilled than I used to be. I feel good. The time will come eventually. When I'm getting beat up by really young guys in my gym, I'll say, 'All right, this is it. We're all done, put me out to pasture.' But I don't feel like that yet. And I think we train a lot smarter than most people since the beginning. So my ten years are different than the typical fighter's ten years."
That's true in many ways. Over the last decade, Lauzon has not just been able to stay relevant in the sport (check out his Performance of the Night win over
Diego Sanchez
and Fight of the Night battle with
Jim Miller
in 2016 for proof), but he's also stayed true to himself while staying out of Twitter wars and trash talking with opponents, earning the respect of fans, pundits and peers along the way.


"I'm glad to stay out of all the drama," he said. "There are so many people picking fights on Twitter, like their Twitter game plan is gonna make a big difference (in a fight). Twitter is great for interacting with people, but I want to spend my time in the gym, not arguing on Twitter. I think everyone else is looking for that shortcut, but I try to stay out of that."

As for the staying relevant part, Lauzon lives by the old adage of "Train smarter, not harder."

"I think it's just listening to my body and recovering when I need to," he said. "I only spar when I'm in fight camp. We used to spar 10 weeks out, now it's five weeks. I've done it so much that I don't need a 10 week camp anymore. I don't need 10 weeks to beat myself up and get injured. If I don't have a fight coming up, I'm not sparring. I listen to my body."

It wasn't always that way for Lauzon, a thinking man's fighter who used to follow the typical route in a macho sport where admitting you need a rest is a cardinal sin.

"I'd have tape on my wrist, tape on my ankle, a kneepad here, an ice pack on my shoulder, just trying to limp through to get to the next training session," he said of the old days. "Now, if I have to take a day off, I'll take a day off. I'm in the gym every day but I'm not necessarily killing myself every day. My mentality is that I'm an athlete, this is what I do. If I want to get to the next fight, I've got to be smart."

Joe Lauzon has made it to Phoenix, and he's ready for Marcin Held. And more than ten years later, the thrill of doing this is still there. The only thing different is that there's more to this for him than there was when he was fighting on Saturday and going back to an IT job on Monday.

"It's three fold now," Lauzon said of his reasons for fighting. "In the beginning, it was a hundred percent trying to improve myself and just getting better. Now, that's still there, but number two is the adrenalin, because once you get a taste of it, it's tough to get away from it, and number three, it's my full-time job now. It's providing for my family. I got (his son) Joey an awesome Power Wheel thing for Christmas, and I got him that because I can afford to do that. This is what I do for money. I'm a prizefighter, I fight for money."