Julian Lane knows that the phrase, "Let me bang, bro," will follow him for eternity. But nearly five years after his plea on The Ultimate Fighter 16 went viral and became a part of the fight game lexicon, he's at peace with it.

"I'm immune to it," he laughs. "I actually embrace it now. That's what people know me by, and just because someone says that, it doesn't mean they're dogging me. It's cool."

The 29-year-old, who faces Ramsey Nijem on Wednesday's episode of The Ultimate Fighter: Redemption, is at peace with a lot of things these days, and he's certainly not the same person he was back in 2012, when he was a 4-0 hothead with dreams of UFC glory.

Those UFC goals are still there, but the father of three daughters has more focus than he did when he first entered the spotlight.

"It's crazy to think that was five years ago," he said of TUF 16. "It feels like it just happened. I've built up a lot of experience since then and I feel like I have a lot more to bring to the table to compete in the UFC. I'm 29 and it's my prime time."
Wednesday he gets to bang ..

ALL NEW #TUFRedemption | 10pmET/7pmPT | on @FS1!! pic.twitter.com/NKyotO7sn6

— UFC (@ufc) May 22, 2017
As for the first impression he left, he knows it wasn't a great one.
"I'm known for my antics on the last show, and it wasn't the best impression, but it's publicity, and I feel like publicity is publicity," Lane said. "Would I do it again? No, of course not. I can barely watch that now, but things happen for a reason. They brought me back for TUF: Redemption and people are gonna tune in to see that crazy dude with the red Mohawk."
That's the hook for viewers to watch Lane, but for the Ohio fighter, he is living up to the show's title as he seeks redemption in the form of getting the shot in the UFC he never got after TUF 16.
It hasn't been from lack of trying, as Lane has fought 15 times since his first run on the reality series, going 7-7-1 while fighting the likes of UFC vets Paul Felder and George Sullivan. Yet during that run, Lane didn't know the word "No," as he basically accepted any fight presented to him, regardless of the circumstances around it.
"I would say 80 percent of my fights were short notice," he said. "I never had that guidance in fighting, and I'm just starting to get that."
That fighter's mentality runs deep in Lane, who recalled his early training days as being "on a text-to-text basis every day." Not exactly the best method.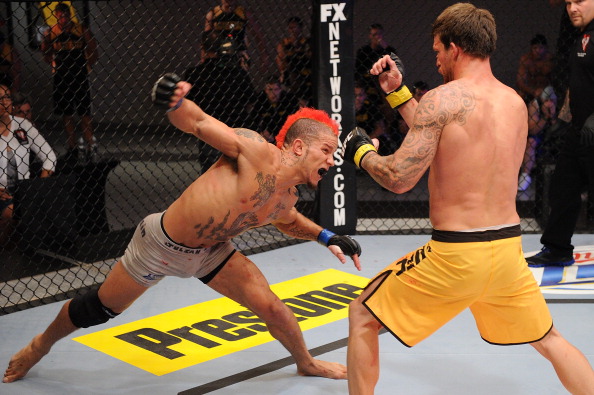 "Someone would text, 'Hey, going to the gym?' Then we'd show up and spar. Monday is boxing, Tuesday is jiu-jitsu and Wednesday is kickboxing. Thursday was MMA rounds, and Friday was an open day. I'd do cardio in on my off-time at the YMCA and I basically filled my whole day up with workouts. That was my way of training."
He's refined things, but a late-notice loss to Bradley Desir last September was a setback, one that got turned around with the call for TUF 25.
"That was the best thing that could happen to me, especially coming off a loss," he said. "It was a blessing and a good opportunity."
Now he's treating this as a career.
"Yeah, definitely," Lane said. "It's going to be smart decisions now. I've done a lot of good things, I just haven't been the smartest about it, and I'm taking the right turn this time. I'm 29, I've probably got five good years to make a solid run and try to get that UFC title, and I'm definitely gonna train my ass off. I've been working hard and I'm in the best shape I've ever been. I think it's gonna keep getting better and people have a lot to look forward to. I'm gonna be around and hopefully wearing that UFC strap."