There are plenty of things to like about
Rose Namajunas
, both in and out of the Octagon. May 13, 2017 was just another reason to like "Thug Rose," as she sat next to fellow UFC standouts
Holly Holm
and
Valentina Shevchenko
during the Dallas card that featured
Joanna Jedrzejczyk
's successful title defense over
Jessica Andrade
.
As the camera panned to Shevchenko and Holm, the two smiled. When it hit Namajunas, she just glared, with her death stare going viral moments after it happened.
"In my head, I'm like, 'What am I doing here?'" she laughs. "Of course, I'm a fan of the sport, but to be sitting there ringside and feeling the pressure to do something for the camera, it's like, Joanna just put on this amazing performance, 'How do you feel about that, Rose?' It was a 'I just want to fight her already' kind of feeling."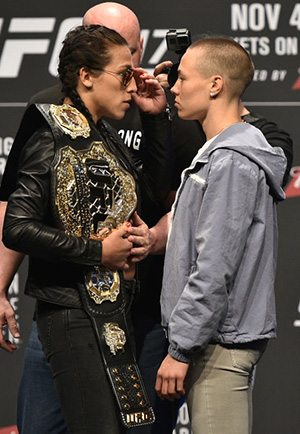 On Saturday night in Madison Square Garden, the 25-year-old gets her shot at Jedrzejczyk's strawweight title, and with it, a chance to halt history as the Polish standout attempts to break her tie with
Ronda Rousey
for most wins by a woman in UFC championship fights.
Namajunas is the underdog for the fight, and she knows it, but despite Jedrzejczyk's popularity, there are plenty of people rooting for the Milwaukee native to score the upset, and that may just be a testament to the personality of the former TUF finalist.
"I try to be as honest as possible, and I think that it's refreshing for a lot of people," she said. "I don't try to put on some character or façade. There are definitely some people who make it interesting with, for lack of a better term, 'beefing up their character.' But I try not to do that and I try to just be myself because it's just draining to put on some type of act. So I think that's what people like. I definitely changed a lot over the years, but I think I'm pretty consistent in my character and consistent with my feelings and my honesty towards things."
And after basically growing up in public in the nearly three years after TUF, she can admit that if she defeated
Carla Esparza
in her first shot at the 115-pound crown back in December 2014, she might not have been ready for life at the top.
"Probably not," Namajunas said. "Now, I think whatever God puts in my way, I'm ready for that moment, so that's all I'm really concerned about. Whatever's in the future that comes my way, it's not at the forefront. It's just day by day. Can I handle today? That's all I've got to think about. And if I can do that, then I can do anything."
RELATED: Pre-order UFC 217 | Joanna Jedrzejczyk: Like A Boss| UFC 217 Embedded
Since the loss to Esparza, Namajunas has been a different fighter, going 4-1 with three finishes. The only loss during that stretch was a split decision against Kowalkiewicz, but she bounced back with a second-round finish of
Michelle Waterson
in April that propelled her into this fight. But more importantly, Namajunas has settled into life outside the Octagon, with a look at her social media accounts outside of fight camp showing someone embracing everything she can experience. So does training put a damper on those experiences, or does she still feel the same about the grind to prepare for a bout?"There are definitely things I don't like about training sometimes or there are moments when that voice creeps in and wants to mess things up and crash the party, but I try and have a positive outlook on all of it because of everything I've been through," she said. "Even all the struggle and the hard times, I'm so grateful for it because that's what makes the good times worth it. You look back on those times in a loving way because it makes you stronger; it's what makes you be able to appreciate all the good stuff."
If she wins this weekend, there will be more good stuff. A lot of it. Along with more pulls on her time and a gang of challengers looking to take that belt away. Sounds pretty inconvenient, but for someone who never really talked about the belt and all that comes with it, Namajunas seems to be just fine with that kind of life change.
"All the options that I have in my life now will just increase ten-fold, and it means a lot," she said. "There are so many things that I can do and my dreams can come true. I can buy a piece of land, I can be that much closer to buying certain things that I want to get and I could potentially bring my grandmother from Lithuania over to America. It's that much easier."
Then she pauses before continuing, letting the fighter side of her come out.
"In terms of what it means to me and my ego, it means that I'm the best in the world at the time," she said. It just means that if you put me in a room with millions of people and we all gotta get out, I'm probably the one that's gonna get out. I'm the best in the world."


Some would say that just making it to this point has already marked her as someone who can get out of that room. But there's still beating Jedrzejczyk to make it official. That opportunity comes on Saturday. In the meantime, there's likely to be more trash talk and more mean mugging sent the challenger's way. And it's even more likely that it won't work on Namajunas.

"I think that's just what she's gotta do to feel comfortable going in there," she said of Jedrzejczyk's pre-fight attempts to get under an opponent's skin. "If she can break you mentally, then it just makes that fight easier. But it's just kind of boring at this point and I think it's played out. I think it further puts me into my face, where it's total indifference. It comes down to punches and kicks and that's really about it."

We've seen that face before, and if we're lucky we'll get the "Thug Rose" stare again sometime this week. Yet once the dust settles in New York City and Namajunas gets back home, expect nothing but smiles.

"Every time I look out from my back porch - I finally got my new house and made it a home - I go, 'Man, all this hard work got me here,'" she said. "Sometimes I don't seem deserving, but at the same time I do, and I feel so blessed. Every punch to the face, every sore muscle, every time that I want to cry, it's just one more drop in the bucket that's going to overflow with more blessings in my life."

Not deserving???

"Everything seems so perfect sometimes," she said. "I'm really hard on myself, but I definitely got better with it over the years and I've improved my outlook on life. I feel like I can make anything that I want to happen in my life happen, I've just got to work hard."