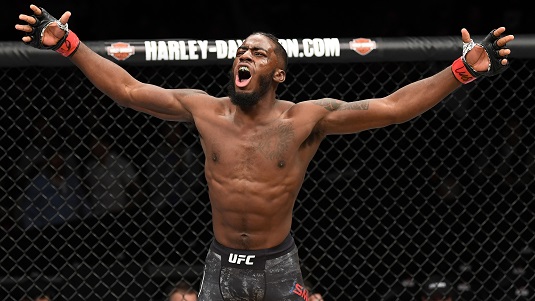 For the second year in a row, the UFC brings its February pay-per-view event to Australia with a fight card filled with emerging talent from the Oceanic region and a championship clash featuring the area's first UFC titleholder.
Last year, Robert Whittaker didn't get the opportunity to defend his title on home turf as a late-stage injury knocked him out of his UFC 214 scheduled clash with Luke Rockhold. This year, "The Reaper" is healthy and ready to put his belt on the line against fellow former TUF winner Kelvin Gastelum in the main event of this weekend's 12-fight show at Rod Laver Arena in Melbourne.
While the twin middleweight bouts at the top of the fight card dominate the poster and are garnering the most attention — rightfully so — Saturday's event also features a host of up-and-coming competitors looking to use this opportunity to begin their 2019 campaigns in impressive fashion and hopefully catapult themselves to bigger opportunities next time out.
Here's a look at three such fighters to keep an eye on this weekend.
This is the UFC 234 edition of On the Rise.
Devonte Smith
Fighting out of Factory X Muay Thai in Colorado, Smith earned his way to the UFC with a first-round technical knockout victory on the Contender Series in August and made it clear he was someone to pay attention to going forward by wiping out TUF alum Julian Erosa in his Octagon debut three months later.
Boasting lighting fast hands and sound fundamentals, the 25-year-old is one of several legitimate prospects under the tutelage of Kru Marc Montoya and someone who is capable of making great strides in the lightweight division almost immediately.
Although his bout with Erosa lasted just 46 seconds, it still highlighted what makes Smith such an intriguing and dangerous addition to the 155-pound weight class. His jab is sharp and swift and he uses it often, and if you're bold enough to leave your hands low like Erosa did, "King Kage" has the speed and power to make you pay in an instant.
Paired off with South Korean veteran Dong Hyun Ma, Smith gets an opportunity to take a significant step forward Sunday morning in Melbourne, as the "Maestro" enters on a three-fight winning streak and brandishing a 16-8-3 record overall.
If Smith can score another impressive victory, he'll establish himself as one of the top rising stars in the loaded lightweight division and earn himself another move up the competitive ladder next time out.
Kai Kara-France
After competing on Season 24 of The Ultimate Fighter but failing to get invited to stick around after losing to top seed Alexandre Pantoja, the Auckland-based Kara-France collected five wins in six starts to earn a call to the UFC cage when the Octagon touched down in Adelaide at the start of December.
Over the course of 15 minutes, the 25-year-old City Kickboxing representative made it crystal clear that he deserves to be competing at this level as he defeated Elias Garcia en route to earning his first UFC win and extending his winning streak to six. Compact, quick and capable of tremendous output, Kara-France has the potential to be a contender in the flyweight division and a consistently entertaining action fighter going forward.
This weekend, he welcomes Raulian Paiva to the UFC after the 23-year-old extended his winning streak to an even dozen with a split decision victory over Allan Nascimento on the all-Brazilian edition of the Contender Series during the summer.
He's clearly made adjustments since his time in the TUF house, and his performance against Garcia opened a lot of eyes. Now it's time for Kara-France to deliver an encore that makes it clear that wasn't a one-time thing and that after several of his teammates and training partners enjoyed breakout campaigns in 2018, this year is his year to climb into the spotlight.
Jalin Turner
They say you never get a second chance to make a first impression, but in the fight game, not all first impressions are created equal.
Following a first-round stoppage win on the Contender Series, Turner's promotional debut came at UFC 229 against Vicente Luque - a surging Brazilian contender in the midst of an extended run of success and coming off a blistering first-round knockout win over Chad Laprise. He was thrown into the deep end of the talent pool and things went about as poorly as you might have anticipated, with Luque collecting another first-round stoppage win and Turner catching an ugly loss in his first foray into the Octagon.
But "The Tarantula" is much more talented than his maiden voyage into the UFC cage might suggest and he should get a greater opportunity to show that this weekend in Melbourne, where he takes on Australian veteran Callan Porter.
Just 23 years old, Turner has incredible size and length for the division, standing six-foot-three. When he's at his best, the San Bernardino-based fighter works at range, mixing in kicks to all levels and frustrating opponents who struggle to get inside and pay the price every time they try to close the distance.
He's trained with an assortment of outstanding fighters over the years, all of whom sing his praises, so although his debut was disappointing, Turner is someone who deserves a second chance and has the potential to make people rethink their initial impressions with a win this weekend.