On the heels of an entertaining debut in Hidalgo, Texas, the UFC schedule rolls on with the Octagon making a second trip to Brasilia and the Ginasio Nilson Nelson for a fight card headlined by an exciting female catchweight clash between Cris "Cyborg" and Swedish newcomer
Lina Lansberg
.
But while the bulk of the attention going into this bout will be directed towards the Brazilian Muay Thai wrecking machine and the "Elbow Queen" who clash in the main event, the truth is that this is a deep collection of fights featuring several under-the-radar talents with legitimate upside that we strongly recommend you start following.
This is On the Rise.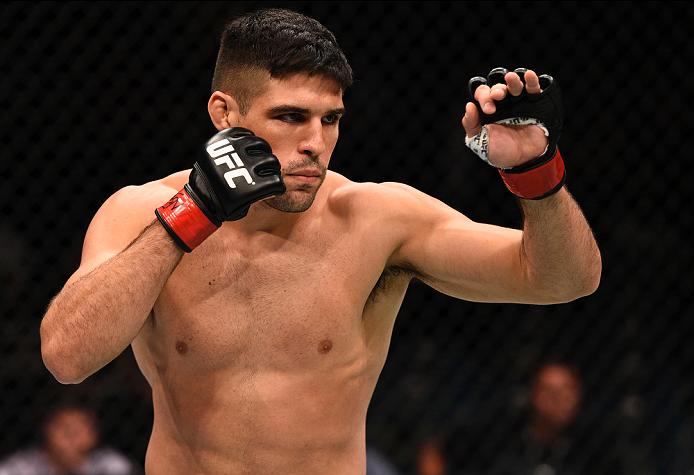 Vicente Luque
After falling to
Michael Graves
, who has appeared in this space twice, last July at
the Ultimate Fighter:
ATT vs. Blackzilians Finale, the 24-year-old Luque has rebounded with a pair of slick submission finishes to reestablish himself as a prospect to watch in the welterweight division.
Fighting in his hometown of Brasilia for the first time in two years and doing so on the biggest stage in the sport, you can be sure that Luque will be looking to put on a similar performance against
Hector Urbina
, another American Top Team product, when they step into the cage together on Saturday night. With a penchant for hunting chokes, "El Toro" is going to want to take a little advice from the Wu-Tang Clan and protect his neck.
While he's already got 15 fights under his belt, Luque is still putting together the various facets of his game and sharpening his tools after starting his career at a very young age. His last two outings have shown what he's capable of and if he adds a third straight submission win to his resume, more people will be taking notice of the up-and-coming Brazilian as we head into 2017.
MORE FROM FIGHT NIGHT BRASILIA: Reasons to Watch | Strikers set to collide in the main event | Under-the-Radar fights | Strikers invading BrazilStevie Ray
"Braveheart" has quietly started his UFC career with three straight victories to push his overall winning streak to five. This weekend, he steps into the cage with
Alan Patrick
.
A standout on the UK fight scene before debuting in the UFC with a short-notice stoppage win over
Marcin Bandel
in April 2015, the 26-year-old Scotsman is one of several athletes that has been making regular trips across the Atlantic to train at Montreal's Tristar Gym. After being a late scratch from this summer's event in Ottawa, Ontario, you know that the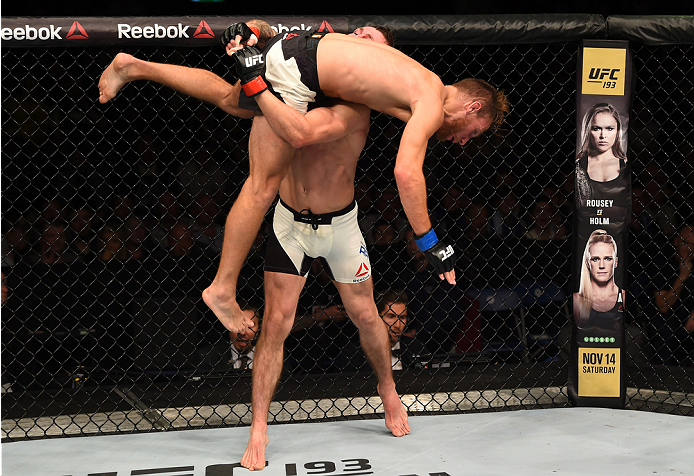 feisty lightweight is champing at the bit to get back in action.
Ray is a well-rounded talent who has shown strong finishing instincts and the ability to grind out wins when the situation calls for it through his first three Octagon appearances, and with a strong showing on the road against Patrick in this weekend's UFC FIGHT PASS Featured Bout, he'll continue to climb the ladder in the loaded lightweight division and should find himself sharing the Octagon with some more familiar names going forward.
Glaico Franca
After winning the lightweight competition on Season 3 of The Ultimate Fighter: Brazil, Franca was thrown into the deep end of the division in his sophomore appearance, drawing then-unbeaten
James Vick
. "The Texecutioner" came away with the decision win and Franca gained a wealth of experience from the loss.
The 25-year-old Franca welcomes unbeaten Long Island product
Gregor Gillespie
to the Octagon this weekend as he looks to rebound. With good size for the division, a clean jab and solid ground skills, "Nego" has the raw skills to be an interesting prospect in the 155-pound ranks.
Right now, it's about garnering more experience and learning to put those tools together in the best way possible, which can only come through getting more reps against strong competition inside the Octagon. Gillespie might be a newcomer, but he's no joke and should Franca hand him his first loss, the Brazilian will reestablish some forward momentum heading into next year.