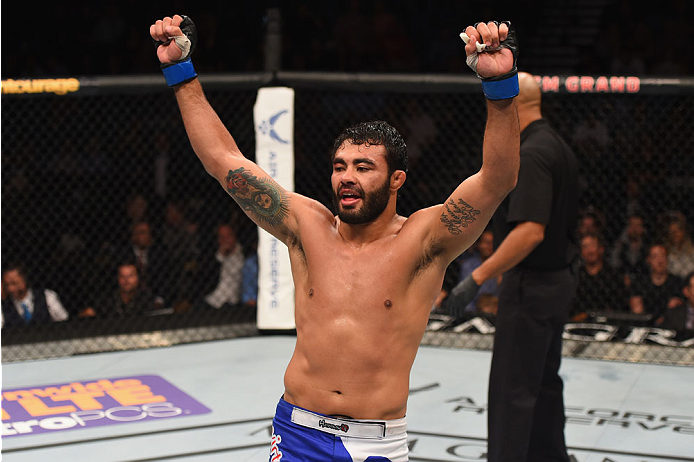 Rafael "Sapo" Natal is currently No. 15 in the official UFC middleweight rankings, a feat the Brazilian has been striving quietly for over the past few years.
"I finally cracked the Top 15 and now I need to work that much harder to crack the Top 10," he said. "A win over Kevin Casey (at UFC Fight Night: Johnson vs Bader) will be another step in the right direction."
The fight takes place this Saturday in Natal's backyard of Newark, New Jersey. The Renzo Gracie black belt and jiu-jitsu instructor at Gracie's New York academy trains in the tri-state area, spending time with a vast Gracie web of training partners that includes Matt Serra, Ray Longo, Ricardo Almeida, Jamal Patterson and Frankie Edgar.
"I'm very lucky to have such a great team behind me," he said. "I also have my Sapo team back home in Brazil, so I have good training wherever I go. To fight so close to home is always exciting, because people who are close to you have the opportunity to come see you fight, and I'm happy to have so many friends coming."
Known primarily for his submission game, Natal's past three wins were close fights that showcased an improved stand-up game that helped him defeat the likes of Uriah Hall, Tom Watson and Chris Camozzi. Natal has won six of his last eight and is on three-fight win streak.
But in The Ultimate Fighter alum Casey, Natal will have the opportunity to hit the ground with one of the sport's best grapplers.
"He's a Gracie black belt out of California under Rickson so it will be a great test for me," Natal says. "He showed in his last fight that he has great jiu-jitsu and heavy hands. This will be a war for sure and a huge fight for me. We both come from jiu-jitsu and it will be a great show."
More on Fight Night New Jersey: Watch it on FOX this Saturday | Reasons to watch | Bader focused on fights, not chasing title | Sage Northcutt's secret to success | Barberena happy to derail Super Sage's rise | Ortiz ready to cement comeback in Newark | Watch: Under-the-radar fights this weekend | Watch: Rothwell's rise | Watch free fight: Ryan Bader vs. Keith Jardine | Watch free fight: Anthony Johnson vs. Yoshiyuki Yoshida | Watch Road to the Octagon: Alcantara vs. Rivera, Barnett vs. Rothwell, Johnson vs. Bader
Rickson is UFC Hall of Famer Royce Gracie's older brother, and, in a way, this match could be seen as a competition between the West Coast Gracies and their cousin Renzo on the East Coast.
"(Kevin Casey's) a Gracie black belt out of California under Rickson so it will be a great test for me." -- Rafael Natal
"I don't think it's anything serious like that," Natal says, "but it will be an exciting fight. I am focused on winning. My stand-up has improved a lot since I started boxing with Mark Henry, but wherever this fight goes, I am well prepared. There's no pressure to recognize my instructors Draculino [Vinicius Magalhaes] and Renzo, but everybody wants to see who has the best jiu-jitsu. I want to prove to the guys that I have the best jiu-jitsu in the division."

Natal last fought in May 2015 when he took a split decision against Hall, but he took time off for eye surgery after discovering a detached retina when he visited Brazil to celebrate the victory with his family.

"It was very bad but it's 100 percent now," he said. "I was lucky to have very good doctors over there and the surgery went perfect. I took the necessary time off to heal properly, and didn't do any sparring until it was cleared by the doctors and thank God everything went well."

Natal is a veteran and understands the fight game better than most. He says he doesn't ever go into any bout with any set game plan because he knows that fights take on a life of their own once the referee starts the action.

"Some guys are really hard to take down, or perhaps they are hard to hit because they have great footwork and head movement, so I don't go in and think I'm going to do this or that," he said. "With Casey, he will try to take me down and I will try to take him down, so in this fight we're likely going to show some good jiu-jitsu, but you know I train Muay Thai and boxing a lot, so the best moments of my career happen organically. In my own career, for instance, if I was to fight the Rafael Natal five years ago, this version of me today would kill him. I keep improving and my dream is to fight for the belt."

"Sapo" teaches jiu-jitsu every night at Renzo Gracie Academy in New York City. He is consistent and leads by example. Watching him teach recently, one observes the respect both professional and recreational fighters have for him, and he is a natural teacher.

"I love to teach jiu-jitsu," he said. "Jiu-jitsu has taken me around the world. It has led me on this journey and my dream was to be a UFC fighter, and I'm living my dream. I teach because not only is it my job, but it's what I love to do. To give the gift of jiu-jitsu to those who want to learn is also a gift to me."