Ovince Saint Preux hit Las Vegas for UFC 197 fight week with what seemed like not a care in the world.
The No. 6-ranked light heavyweight thinks all the pressure Saturday night is on his opponent: Jon Jones, the pound-for-pound top ranked fighter in the world returning after more than a year away from competition.
RELATED UFC 197 CONTENT: Order UFC 197 | Read: Reasons to watch UFC 197 | Jones is on road to redemption, wants back everything he lost | OSP thriving in underdog role, determined to win | Watch: Rankings Report | Matchmakers Silva & Shelby break down UFC 197 bouts | UFC 197 Countdown - Jones vs. Saint Preux
OSP used the David versus Goliath comparison to explain why he thinks he can take down the most dominant light heavyweight in UFC history. It only took David one stone to take down Goliath, Saint Preux said.
Jones, while the heavy betting favorite, is taking Saint Preux and his David-like approach to the fight seriously because upsets are all too common in MMA.
"I'm definitely not overlooking OSP," Jones said at Thursday's Ultimate Media Day at the MGM Grand Garden Arena. "OSP has a bunch of first-round finishes and he has great knockout power. Whenever you're fighting someone with great knockout power you really have to be on point and on your game."
Saint Preux enters the bout with the third-best mark in light heavyweight history for least number of strikes absorbed per minute. His 1.96 strikes absorbed per minute is slightly better than Jones himself, who is also known for his ability to avoid sustained punishment.
Against Jones, who holds the wrestling and experience advantage, OSP is going to need to be able to avoid damage. Unfortunately for the former Tennessee Volunteer football player, Jones has landed the most significant strikes (916) in the division's history.
Stats aside, what makes Jones one of the best to ever grace the Octagon is his mental fortitude when it comes to the fight game and his unparalleled preparation.
Jones has been around the block so many times it's impossible for him to take any challenge lightly.
"That's why I have to take him so seriously, because no one gives him a chance except me," Jones said. "I know that in order to become a top 10 fighter in the world you got to have some talent. You see these huge upset stories all the time. My physical ability is one of the reasons why I'm the champion. But my mind toward this game, toward sports – I respect him and I know better than to take someone lightly."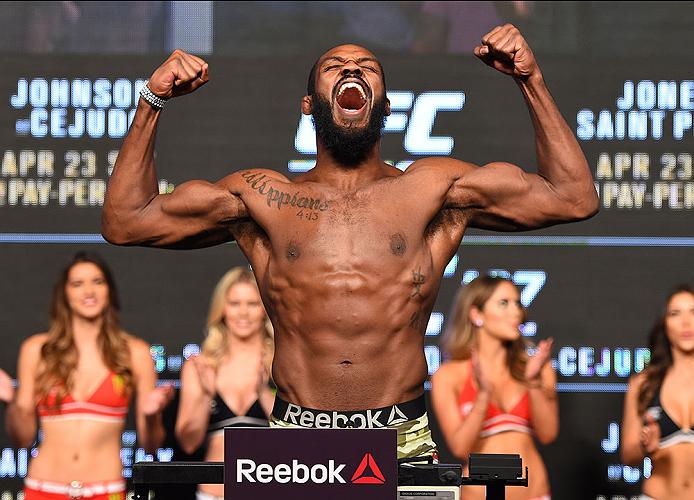 Saint Preux feels that he presents problems for Jones. He's unorthodox in his style on the feet, with his length, and on the mat with his jiu-jitsu.

"He brings a lot more experience than the guys I've fought previously," Saint Preux said of Jones. "I'm a different style, though. I'm a big 205-pounder; somebody with size that can hit you. Hopefully that's a good enough challenge for him."

When the Octagon door shuts and Saint Preux is finally face-to-face with Jones, a man he's been watching and preparing to fight for years, he thinks he'll get the best Jones there's ever been.

"(I'm expecting the version of Jon Jones) that I've always seen. That's the version I want to fight anyway," Saint Preux said. "It makes me that much better and it will make the fight that much more epic."

Jones is having fun this week, you can see it in his demeanor and playfulness with fans at Open Workouts. But don't get it twisted.

When the cameras are off Jones is studying, discussing strategy and planning tactics for the fight. He's taking Saint Preux seriously at UFC 197.

"My dad used to say growing up; he said 'Never let a fish off the hook. When you get a fish on your hook, you reel his ass in. You don't let him swim around. You get that net ready and get him out of the water as soon as possible,'" Jones said. "That's what I'm going to do with [Saint Preux]. I'm going to try and put him out as soon as possible. There is no playing games because I respect this guy."