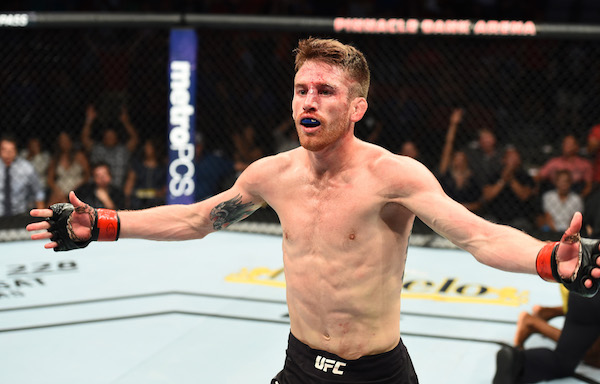 Cory Sandhagen wasn't quitting. His left arm was being torqued in directions it wasn't designed to go in, but there was no panic, no thoughts of giving up in his August bout with Iuri Alcantara.
The Brazilian veteran made life difficult for the Coloradan almost as soon as their fight began, rocking him on the feet before getting the fight to the mat and sinking in what was seemingly a fight-ending armbar. Yet for nearly two minutes, Sandhagen refused to give in, his only thoughts being of escape.
"It's all problem solving," he said. "A lot of the time, I don't recall a lot of the things that happen in the fight or recall any of my thoughts at all. In the Alcantara fight, I do remember, maybe because the position needed a lot of thinking in order for me to get out of it. I do remember having a lot of puzzle problem solving thoughts where I was like, 'Okay.' It never was, 'Oh, I should be tapping.' It was never, 'Oh he's punching me right now; Oh, my arm is really extended.' It was, 'How am I gonna keep myself safe and get out of this?' It took me a while to get, but I was able to do so."
Before he did, Sandhagen also had to deal with blood streaming from a cut on his nose thanks to Alcantara's strikes, and as he recalls the fight, he remembers being more bothered by blood getting into his eye than his arm nearly being broken.
"The funny thing is, in that fight, I think there was so much adrenaline going on where I never felt my arm," he said. "Afterwards, I definitely felt my arm and thought it was very injured afterwards, but nothing ended up being wrong with it. I never recall thinking, 'This is very painful.' I do remember him hitting me and those also not being painful. But the cut on my nose dripped blood into my eye, so while I was down there, I also couldn't see very well, so I remember thinking, 'This is really not good.' I broke my orbital in fights and wasn't able to see for a couple minutes, and it sucks. You spend too much time pondering that and you're just getting punched more and more. So it's about moving past that and figuring out how to make it work."
Sandhagen made it work. Immediately. Escaping from the armbar, the 26-year-old got right down to business, nearly stopping Alcantara with a furious ground-and-pound attack. The Brazilian barely made it out of the round, but the second didn't go any better, with Sandhagen finishing him via strikes 61 seconds into the frame.
Now 2-0 with two finishes in the UFC, Sandhagen is one of the top prospects in the bantamweight division as he heads into a January 19 matchup with veteran contender John Lineker.
More importantly, his courageous stand against Alcantara placed him in that select crew of fighters willing to go above and beyond the call of duty in search of victory. Yes, everyone who makes that walk is courageous, but few would have been trapped in that armbar and opted to continue. Where does that type of grit come from? Sandhagen is stumped.
"That's a really tough question to answer," he admits. "I don't really know what separates people in those moments. I know that when things get really hard for me, I point my head forward and I sprint harder at the goal. I know that not everyone's like that. But I do see it in a lot of fighters. I just go in like I'm not losing this fight. Tomorrow does not matter. One year from now does not matter. I'm going to go home with this win and that's all that matters to me in that 15 minutes that I'm in there."
It's assumed that something like that is in your blood. You either have it or you don't. But it wasn't always like that for Sandhagen, who points to his one pro MMA loss against Jamall Emmers in February 2017 as a turning point.
"It wasn't a grueling fight; there was nothing bad going wrong for me or for him," said Sandhagen, who dropped a decision to the Contender Series alum. "I just remember thinking, 'Can this fight just be over already.' And when I lost and I had to look at myself in the mirror and look at the person that didn't do every single thing that he could have done to win that fight, that deeply, deeply disturbed me, and it made me question a lot of things about myself and how far I can go in the sport. But instead of saying, I don't have it or that fighter isn't inside of me, I just figured out how to find it. When you're in the fight and things are going really ugly, there needs to be a reminder of how much you want it."
Following the loss, Sandhagen began seeing a Sports Performance coach, and while you can't solely credit his subsequent four-fight, four-knockout streak to his work with this coach, it certainly hasn't hurt the Aurora native.
"All it is is a reminder," he said. "This is what matters right now, and you're going home with this win and you're going to do what you have to do in order to make that happen. When things get ugly, it's very easy to crumble, and if you don't remind yourself or have a reminder of why it is so important to you, then it's easy to quit then."
Seeing those lessons in action isn't just an example to fight fans, but fans of his who are far removed from the fight business: the kids he works with at Mount Saint Vincent's in Denver.
Working on math and reading with traumatized and abused children that range from six to 13 years old, Sandhagen may be on the verge of big things in the UFC, but that won't let him stray from a gig that is more than a job to him.
"This is one of those jobs where if you're not a very passionate person about actually getting these kids to have better lives, you're not going to have any motivation to show up," said Sandhagen, who has worked at Mount Saint Vincent's for four years. "It's hard work emotionally. You have to enjoy the job to do it, and I really do enjoy it."
And no, these kids aren't watching every fight card or scouring the internet for news on the big stars of the UFC, but Sandhagen's lessons apply to anything they choose to do, and that makes it all worth it for the bantamweight standout.
"The few kids that I do actually get to spark a little bit of light in, I think it helps because they listen," said Sandhagen. "I tell them that even if you want to do something cool like be a DJ or be a professional athlete or whatever it is, you have to be able to do math so that people aren't screwing you over in the future. So with the few I get to talk about it with, I think that they look up to me. I wish that I could be there a little bit more. I'd like to think that they have someone to look up to a little bit."
Sandhagen is a good example for any of them. He works hard, cares about his craft, and refuses to let adversity stop him. On January 19, when he faces one of the top bantamweights in the world, there will likely be more adversity. He knows it, too. And it doesn't bother him in the slightest. He's been there before. And he can't be broken.
"I know that I'm human and I know that the person I'm fighting is human as well, so for me to act like I'm gonna go and just completely destroy Lineker is completely foolish," Sandhagen said. "I'm ready for a really gritty fight where I could possibly get hurt if I don't stay very focused, and that doesn't scare me. It brings me confidence knowing that I have that type of mindset and I'm ready. If the Alcantara fight repeats itself, I'm going in ready for that. I see a lot of guys make the mistake of thinking they're going to walk through someone, things start going poorly and they just fold. I always prepare for the worst."