Setanta Sports News debuts weekly UFC® slot tonight
A brand new, in-depth UFC® discussion show will make its debut today (Thursday) on Setanta Sports News.
The 30minute slot on the UK's ground-breaking 24-hour sports news slot will see regular Setanta News hosts joined by Gareth Davies - MMA journalist for the Daily Telegraph - to discuss the latest happenings from the Octagon™.
The weekly slot will be screened at 7:20pm on Thursday and repeated two hours later at 9:20pm and is part of Setanta News's on-going commitment to the world's premier mixed martial arts organisation.
Barely six months after its launch, Setanta News has become destination television for UFC® fans with regular news updates, studio guests such as Chuck Liddell, Arianny and Michael Bisping, and breaking results from all UFC® events.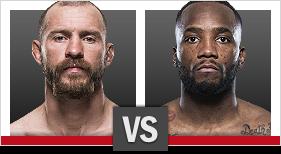 Saturday, June 23