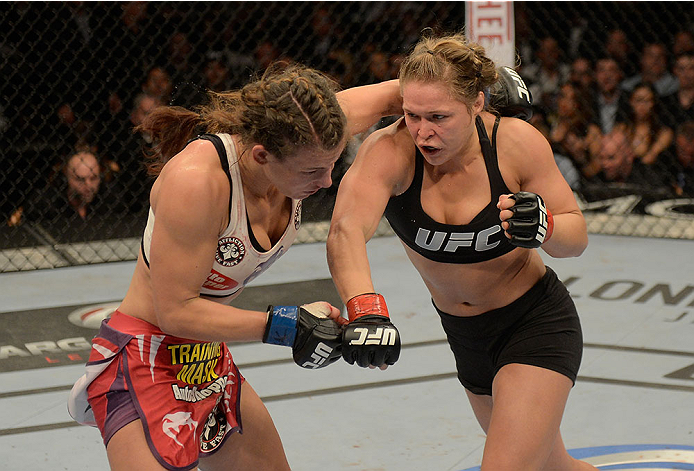 When
Strikeforce
shuttered its doors after its final show in January, fight fans bowed their heads in respect for the organization but raised them shortly thereafter when they realized that the top guns from the promotion would soon be making their way to the
UFC
Octagon. And when you look at the list below, you'll see just what kind of impact they had in their new home.
10 -
Yoel Romero
A member of the 2000 Cuban Olympic freestyle wrestling team, Yoel Romero's lone Strikeforce fight resulted in a knockout loss to Rafael "Feijao" Cavalcante. But once the "Soldier of God" migrated to the Octagon, he looked to be a changed fighter in his new weight class – middleweight – as he knocked out
Clifford Starks
and
Ronny Markes
in devastating fashion.
9 –
Amanda Nunes
Another fighter who didn't exactly set the world on fire in Strikeforce was Brazil's Amanda Nunes, who went 1-1 in the promotion in 2011. But once unleashed on the bantamweights of the UFC, Nunes showed off the ferocity that earned her such accolades over the years, needing less than a round each to pound out TKO victories over
Sheila Gaff
and
Germaine de Randamie
in 2013.
Watch on UFC Fight Pass (where available)
8 –
Alexis Davis
With only one loss (in a classic against
Sarah Kaufman
) since 2010, Alexis Davis' place among the best in the women's bantamweight division was already established. But to cement that place, Davis picked up three wins in 2013, one in Invicta over TUF 18's Shayna Baszler, and two UFC victories over
Rosi Sexton
and
Liz Carmouche
.
Watch on UFC Fight Pass
7 –
Tim Kennedy
Longtime middleweight contender Tim Kennedy closed the show on his Strikeforce career in January with a submission victory over
Trevor Smith
, and while his clear-cut decision win over
Roger Gracie
didn't light any fires, he certainly made an impact on the division in November when the U.S. Army veteran knocked out
Rafael Natal
in front of the troops in Kentucky.
Watch on UFC Fight Pass
6 –
Bobby Green
After a 2011 loss to Gesias Cavalcante, California lightweight Bobby Green quietly built a four fight winning streak in Strikeforce, earning him a call to the UFC. But "King" wasn't quiet anymore once he hit the Octagon, earning a Submission of the Night win over
Jacob Volkmann
in February, and then going on to stop
James Krause
and decision
Pat Healy
to finish off a big 3-0 year.
Watch on UFC Fight Pass
5 -
Tyron Woodley
One of the most highly-touted imports to arrive in the Octagon in 2013, Tyron Woodley didn't disappoint, needing just 36 seconds to dispatch
Jay Hieron
in his February debut, and while a controversial split decision loss to
Jake Shields
in June slowed his momentum, he got it all back – and more – with his Knockout of the Night win over
Josh Koscheck
in November.
Watch on UFC Fight Pass
4 -
Gilbert Melendez
Longtime former Strikeforce lightweight champion Gilbert Melendez might have been on top of this list if not for his controversial title fight loss against
Benson Henderson
in April, but his effort in that bout, and his stirring Fight of the Night win over
Diego Sanchez
in October made it clear that "El Nino" remains among the best 155-pounders on the planet.
Watch on UFC Fight Pass
3 -
Ronaldo Souza
Another former Strikeforce champion, Ronaldo "Jacare" Souza, was always a scary groundfighter. But when he started adding knockouts to his resume, he got even more frightening. In 2013, he showed off all aspects of his game, submitting
Ed Herman
in Strikeforce in January and
Chris Camozzi
in his UFC debut in May, and in September, he closed out the year with a TKO win over
Yushin Okami
. UFC middleweights, beware.
Watch on UFC Fight Pass
2 -
Daniel Cormier
Daniel Cormier first made his name as an Olympic wrestler, then as the Strikeforce Heavyweight Grand Prix winner. But in the UFC he's taken things up a notch, defeating
Frank Mir
and
Roy Nelson
in dominant fashion before announcing that in 2014, he'll be taking a shot at the 205 pounders, starting with
Rashad Evans
in February.
Watch on UFC Fight Pass
1 -
Ronda Rousey
In and out of the Octagon, the first woman to hold a UFC championship had an impact that really can't be quantified. Suffice to say that when Ronda Rousey is on a card, the world will be watching. In February, Rousey made her debut with a submission win over Liz Carmouche, and after a coaching stint against
Miesha Tate
, she closed out her rivalry with Tate at UFC 168 in December with a victory that earned her Submission and Fight of the Night honors.
Watch on UFC Fight Pass

HONORABLE MENTION – Adlan Amagov, Liz Carmouche, Jorge Masvidal, Ovince St.Preux, Miesha Tate