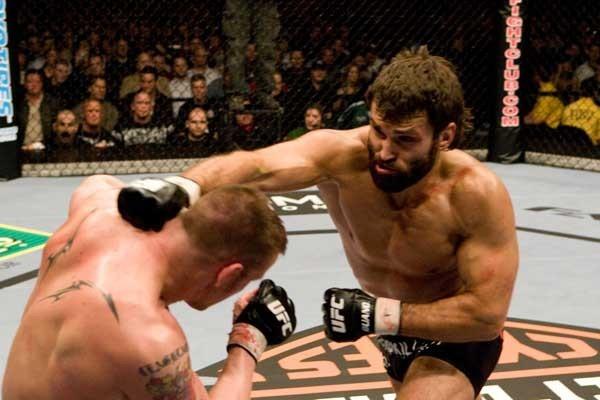 There is always something deeper when the ground work of construction has been experienced.
Six years have passed since Andrei Arlovski last stood inside the Octagon, and on Saturday night at UFC 174, he will be returning to a place he had a hand in building. While stars like
Chuck Liddell
and
Randy Couture
are credited with taking the organization's visibility and popularity to great heights in the mid-2000s, it was during that time "The Pit Bull" was laying the foundation for the future of a heavyweight division very much in need of repair.
Where single-disciplined specialists like
Mark Coleman
and
Frank Mir
had ruled the division before him, the heavy-handed Belarusian's time atop the heavyweight fold showed flashes of what was yet to come. Arlovski's mixture of crisp kickboxing and Sambo presented a drastic change of pace from the days of ground and pound and single-shot, head-hunting brawlers, and his style produced results inside the Octagon.
In the three years spanning from 2002-2005, Arlovski put on an impressive run where he collected six consecutive victories - all coming by way of stoppage - and picked up the heavyweight title in the process. He would go on to defend the strap on two occasions and solidify himself as the face of the UFC's heavyweight division.
Nevertheless, the Greg Jackson-trained fighter would part ways with the organization and spend the next six years competing on numerous platforms around the world. That period was one filled with both rough patches and glory, but through it all he never allowed his status as a legitimate threat fade into oblivion.
The 35-year-old always felt there was a resurgence one big punch away, and in 2011, that's exactly what he ignited. Over the last three years the Chicago transplant has returned to form as he's gone 6-1, 1 NC over his last eight showings. That run not only returned Arlovski's name to relevancy in the greater scheme of the heavyweight mix, but earned him another shot in a division he once championed.
The former champion will once again step into the Octagon to trade heavy leather when he squares off with
Brendan Schaub
this Saturday at UFC 174. And while several years have passed since he last had his hand raised under the brightest lights in the sport, Arlovski is confident it will only take "one clean shot" to begin a new chapter in his quest for heavyweight dominance.
"It feels great to be back," Arlovski said. "I'm very excited and I can't wait to face Brendan Schaub on Saturday. The best heavyweight fighters in the world right now are in the UFC. Brendan Schaub is going to be my first step back to where I want to be. I'm really focused on this fight.
"It is definitely different now," he added in regard to his return. "There is more attention on the sport and not just for the fighters. The UFC has taken some huge steps and now it is the biggest promotion in the world. They have the best fighters in the world and I'm very excited to be back fighting inside the Octagon. I'm ready to put on a great fight."
Where Arlovski will carry a streak of momentum into his upcoming tilt, his opponent will also have the benefit of a rolling tide. After a brief rough patch, "The Hybrid" rebounded strong as he picked up victories in his next two outings, the most recent of which came at the expense of his former housemate on The
Ultimate
Fighter
Matt Mitrione
, as he submitted the former NFL lineman in the first round of their bout at UFC 165 last September.
During this recent stretch, Schaub has also made some distinct changes in his attack. Where he once relied on a boxing-heavy approach, the Colorado native has transitioned to taking the action to the canvas, where he allows his ever-improving submission game to take over.
While Arlovski certainly acknowledges Schaub's skills when the fight hits the ground, he's confident he'll be more than capable anywhere the fight goes.
"People are definitely underestimating me on the ground in this fight," Arlovski said. "He has a brown belt in jiu-jitsu and I only have a purple, but I'm not too worried about it. He has a higher rank in jiu-jitsu, but I will definitely be able to defend myself on the ground. My skills are sharp and I'm focused.
"Fighting in the heavyweight division, the fight can end with one clean punch on the chin. I have to keep my hands up and move around. I think my boxing and kickboxing are sharp and I'm ready. My coaches have shown me some good stuff and I'm ready wherever this fight goes. I've trained hard for a striking fight, but I've also trained hard in my wrestling and on the ground as well. I've really pushed myself in every discipline during this training camp. We'll see where this fight goes, but I'll be ready."