In the fourth round of his UFC welterweight title fight against
Tyron Woodley
last November,
Stephen Thompson
won. It wasn't a victory that went on his record or earned him a championship belt. You might say it was more important than that.
"I took a beating in that fourth round, but I learned a lot about myself and I gained a lot more fans after that, just inspiring people," he said. "And I think that's awesome."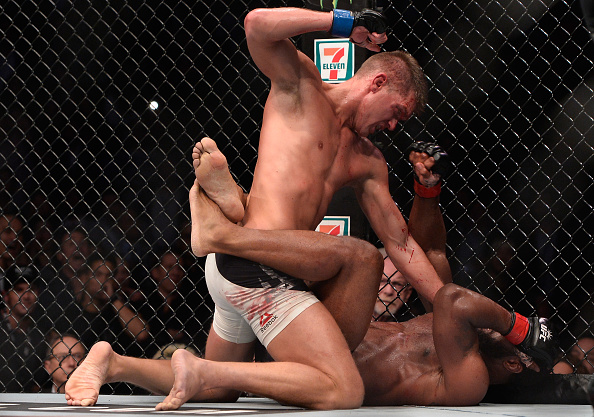 It was. It was the moment when you saw that Thompson wasn't just a flashy knockout artist who was great at being the hammer. As he was rocked, dropped and nearly submitted by Woodley, "Wonderboy" proved that he could survive being the nail and still come out of his corner for the fifth and final round and win it on all three judges' scorecards.
He wouldn't win the fight, but neither did Woodley, with the final draw verdict prompting an immediate rematch that takes place this Saturday in Las Vegas. But the final result wasn't the most important part of that UFC 205 bout – it was the journey to get there.
"You're being pushed to your limits, and where most people would give up, you're finishing on top and you're conquering that fear that everybody has or getting tired or getting knocked out or almost getting choked out," Thompson said. "When you conquer that, it's one of the best feelings ever."
If Thompson was known as one of the most affable and glass half-full fighters in the UFC before November 12, that night didn't change anything in the slightest. If anything, he's embracing life in the Octagon even more heading into the UFC 209 main event.
RELATED CONTENT: Preview Woodley vs Thompson 2 | Fight Flashback to UFC 205 | GSP calls Thompson best striker he's seen | Fighting is in the Thompson's blood
"We're in the biggest fight sport in the world, with the potential to make history, and millions of people watching all over the world," the 34-year-old explains. "This is a once in a lifetime opportunity. Why not enjoy it? Why not go out there, have fun, win or lose? It's a true sport. If he beats me, he's the better man that night. If I beat him, I'm the better man that night. I'm blessed to be where I'm at. I fight for the fun of it, for the honor and for the glory. My true job, I feel, is teaching here at Upstate Karate. I fight for the fun of it. The money's a bonus thing, so I don't need to fight to make a living. I do it just to prove myself and see what I'm capable of. Life's too short not to enjoy it."
The proud native of Simpsonville, South Carolina is enjoying life these days, especially with a world championship possibly around the corner. Of course, going through five rounds of hell with Woodley isn't exactly what anyone wants to endure to get that belt, but Thompson feels like he got a good enough read on the champion the first time that it should help him in the rematch. Then again, Woodley has seen him for 25 minutes as well, but Thompson believes "The Chosen One" hasn't seen everything.
"I think I have the advantage with that because he didn't see the normal Stephen 'Wonderboy' Thompson out there," he said. "Go back and watch the
Jake Ellenberger
and
Johny Hendricks
fights. I was very hesitant during that last fight, and I didn't throw a whole lot of the things I normally throw. So he didn't really get to see a whole lot – my entire arsenal – but I have felt him. It does give me confidence going into this next one knowing that he was a hundred percent and I wasn't. And I can't even tell you why that was. I don't know if it's because you've got your good days and your bad days, I have no idea. But Tyron's a smart guy. You know he's going to go back and make some changes too, and that also makes it difficult because you don't know what kind of changes he's going to make. For me, it makes it more exciting because I want to fight the best."


Throughout Thompson's kickboxing and MMA career, he's never had a rematch, so this is new territory for him. Sometimes, knowledge can make a fighter tentative the second time around, or push him to be more aggressive than in the first bout. There's usually no middle ground. But as International Boxing Hall of Famer Ray "Boom Boom" Mancini once told me, when he went through a fight with someone, he knew them better than anyone because he saw what was on the inside. Thompson agrees.

"It is crazy because you do learn a lot about somebody and you don't know how somebody truly is until you fight them," he said. "That guy right there is tough mentally, spiritually and emotionally. You see a lot of pretend tough guys go through the same thing and they give up, and you see a side of them that they're trying to hide from everybody else. So you do see somebody's true self. Tyron is a champion for a reason. He's a tough guy, I hit him with some shots and he was still there and he's fought some really good fighters. So you do learn a lot about somebody and I had a lot more respect for him after the fight."

Now they'll do it again, with round six kicking off on Saturday night. And while Thompson knows plenty about Tyron Woodley now, he also knows even more about the man in the mirror, so if it gets tough once more, he's ready to keep going.

"Of course, I never want to go through that again," he laughs when talking about the fourth round of the last fight. "If I can avoid it, that would be great, but it makes everybody else that you face a little nervous knowing that, 'When I step out there into the Octagon, I'm gonna have my hands full. No matter what happens, this guy's not gonna give up. He's gonna be there.'"

He laughs again.

"It was pretty cool, and not cool at the same time."