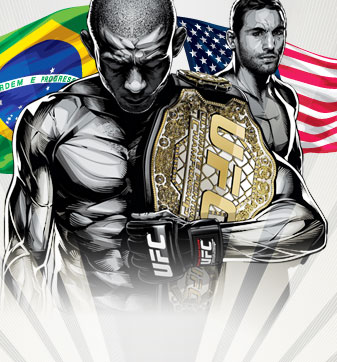 Following a two-week hiatus, the UFC returns on Saturday with a powerful card coming straight from Brazil, as featherweight champion
Jose Aldo
looks to further cement his legacy as the best 145-pound fighter on the planet when he takes on
Chad Mendes
.
Mendes is streaking into this fight with five wins in a row, including four by knockout. He lost to Aldo in their previous bout, but two years later, Mendes believes more than ever that he's ready to take home the title.
Also on the card, former light heavyweight title contender
Glover Teixeira
returns to action for the first time since losing to champion
Jon Jones
when he takes on highly-touted top 10 fighter
Phil Davis
.
In today's fantasy preview, we're going to break down the key fights on the main card, including the headline bout between Aldo and Mendes, to hopefully give you a leg up on the competition for this week's UFC Pick Em game.
JOSE ALDO (-220 FAVORITE) VS. CHAD MENDES (+180 UNDERDOG)
It's awfully hard to pick against Jose Aldo. He's been a force of nature ever since he arrived in the WEC and he's continued that reign of terror in the UFC. He's on a 14-fight win streak in the UFC / WEC, holds more knockouts and knockdowns than any fighter in featherweight history and he's logged more cage time than any other 145-pounder on the planet. His leg kicks are one of the most vicious offensive weapons in the entire UFC, and he's impossibly hard to get to the ground (91.57 percent takedown defense).
But lately it does seem like the competition is starting to catch up to Aldo, or maybe he's not as interested in the competition? He cruised to victory over
Ricardo Lamas
in his last fight, but Aldo was in complete control the entire time and never really seemed to possess the killer instinct to finish the fight. The same could be said about his previous fight as well, where he took out "The Korean Zombie"
Chan Sung Jung
, but only finished the fight when his opponent suffered a separated shoulder and he saw the opening to put him away. He's gone to decision in four out of six fights since coming to the UFC versus finishing seven out of eight fighters in the WEC.
Mendes will definitely bring the fight to the champion, so Aldo can't rest much in this matchup. Mendes has not only completely revamped his striking game, dusting off four out of his last five opponents, but he still possesses a powerful wrestling background with nearly 60 percent takedown accuracy, which is almost 20 percent higher than the UFC average. Mendes has also learned from his last loss against Aldo, where he blinked for a second and got caught with a fight-ending knee strike, accounting for the only loss of his career.
Mendes is hungry and looks like a killer lately. Aldo is still dangerous, but there has to be a question raised about his game lately. The final result could see a new UFC champion - the first ever featherweight champion not named Jose Aldo in the promotion's history.
Prediction: Chad Mendes by TKO, Round 3
GLOVER TEIXEIRA (-320 FAVORITE) VS. PHIL DAVIS (+260 UNDERDOG)
Glover Teixeira and Phil Davis are in eerily similar circumstances, where both got outshined in their most recent fights. The difference is that Teixeira got beat by the best light heavyweight in the world, Jon Jones, while Davis suffered a big upset loss when he fell to
Anthony Johnson
, who was making his first appearance at light heavyweight in the UFC.
Davis has to know the pressure is on him to perform in this fight after such a lackluster showing his last time out. He definitely has the skills to go with the best light heavyweights in the world, but he also hasn't been blowing out the competition much lately either. The key to this fight for Davis is getting the match to the ground. He's a punishing force on the mat, where he's landed nearly 38 percent of his significant strikes. He's also finished three separate opponents by submission, including an anaconda choke finish over top-ranked light heavyweight contender
Alexander Gustafsson
.
Davis will have to work hard to get this one to the ground, however, because Teixiera has 75 percent takedown defense and he's never easy to put on the canvas. Teixeira is also an impossibly tough competitor, but defensively he has shown some holes during his UFC career. He's only blocking 56.13 percent of the strikes against him, although he should be okay in this one, given Davis only lands at just over 35 percent accuracy.
Teixeira does have some really good firepower on his side, with four finishes since coming to the UFC (two by TKO, two by submission). He's got the second-highest striking rate in the light heavyweight division and he's landed 259 ground strikes, which is where he does the bulk of his damage, despite being known as a stand-up fighter.
This fight all comes down to range and distance. If Teixeira can keep Davis on the end of his punches and then initiate the clinch and punish the former NCAA wrestling champion with body shots and dirty boxing, he should go on to victory. Davis needs to stay close to Teixeira, but only for the purpose of landing the takedown. He can use his long legs and powerful kicks on the outside, but playing the kickboxing game with Teixeira will be dangerous. If Davis doesn't look for the takedown early, he could be in trouble late.
Prediction: Glover Teixeira by unanimous decision.
DARREN ELKINS (-175 FAVORITE) VS. LUCAS MARTINS (+135 UNDERDOG)
Another upset that might go down on Saturday night is during the featherweight fight between Darren Elkins and Lucas Martins.
Elkins is a strong wrestler who loves to grind his opponents against the cage and on the mat over the course of 15 minutes. He averages just over two takedowns per fight, but that doesn't tell the story of Elkins' strength in the clinch, where he loves to beat up opponents round after round after round. Elkins' wins have mostly come by decision, where he just overwhelms his opponents for an entire fight and drains their energy with his high intensity output.
Martins might be the perfect spoiler, however, with his lightning quick hands and good takedown defense. He blocks almost 72 percent of the takedowns attempted against him and as a former lightweight he's got good size for the featherweight division. Martins is a nasty finisher. He's put away all three of his wins by knockout or submission since coming to the UFC and he shows no fear in any of his fights. He lands 4.36 significant strikes per minute and showcases almost 62 percent defense as well. As long as he can stay off the cage, he should be able to give Elkins nightmares on the feet at a distance.
It all comes down to cage control, but if Martins can stay away from Elkins' wrestling-heavy attacks, he should decorate his record with another TKO victory.
Prediction: Lucas Martins by TKO, Round 2
DIEGO FERREIRA (-185 FAVORITE) VS. BENEIL DARIUSH (+135 UNDERDOG)
One of the best prospects to watch in the UFC at the moment is undefeated lightweight Diego Ferreira. Since debuting in the Octagon earlier this year, he's been nothing short of devastating. He finished former
Ultimate
Fighter winner
Colton Smith
in just 38 seconds before putting away an Ultimate Fighter finalist in
Ramsey Nijem
by TKO back in August.
Ferreira is a rare breed of submission fighter because he's not only slick and dangerous with his jiu-jitsu, but he hits like a truck and has no fear of standing and trading with an opponent. He faces another Brazilian Jiu-Jitsu black belt in this fight when he takes on Beneil Dariush, but the striking game may be the biggest difference between these two fighters.
Dariush has shown knockout power, but his real strength comes from his submission game, where he's put away both of his opponents since coming to the UFC. In his one loss, he got overwhelmed by strikes and that could happen all over again in this one.
Ferreira lands 4.26 significant strikes per minute and throws up nearly six submission attempts per fight. He's never been taken down in his UFC career (albeit only two fights so far) and he's not bad at getting his opponents to the mat. Chances are in this fight, Ferreira will opt for a striking attack, where he knows he has the advantage over Dariush. If he puts pressure on Dariush in the opening moments, Ferreira might just rack up his second straight victory by knockout or TKO
Prediction: Diego Ferreira by knockout, Round 1