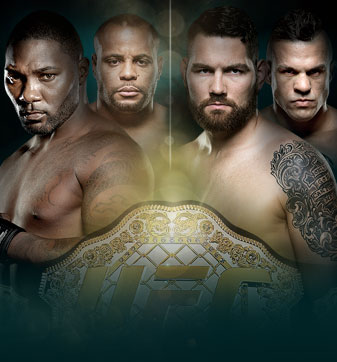 When UFC 187 is completed, it may go down as one of the biggest and most important cards of the year, as two titles will be decided while new lightweight and flyweight contenders may also be crowned by the time this show is over.
With Jon Jones being stripped of his title, Anthony Johnson and Daniel Cormier will battle for the vacant gold with a new light heavyweight champion being crowned at the end of the main event.
In addition to Johnson vs. Cormier, the middleweight title will finally go up for grabs as Chris Weidman looks to keep his undefeated streak alive as he faces legendary Brazilian Vitor Belfort in a matchup that's more than a year in the making.
Donald "Cowboy" Cerrone will look to cement his spot as the new top contender at 155 pounds in his fight with John Makdessi while John Dodson will try to do the same to earn another shot at the flyweight title when he faces Zack Makovsky.
With so much at stake, UFC 187 is chock full of big matchups and tough picks, so in today's fantasy preview we're going to try to dissect the fights that could be a toss up, those that seem like a sure thing and at least one potential upset that could be brewing on Saturday night in Las Vegas.
SPLIT DECISION
These are the matchups that are just too close to call, but a few key factors could separate winners from losers in these UFC 187 matchups.
Daniel Cormier (-145 favorite) vs. Anthony Johnson (+125 underdog)
The bout to determine a new light heavyweight champion might be one of the toughest title fights in recent memory in which to select a winner. On one side is two-time Olympian Daniel Cormier, who, outside of his fight with Jon Jones in January, has looked virtually unbeatable in every other professional bout in his career. On the other side is Anthony Johnson, who has resurrected his career as a light heavyweight with three straight wins since returning to the UFC, including victories over two top 10 opponents, including Alexander Gustafsson and Phil Davis.
One of the main reasons this fight is so difficult to pick is because both fighters excel in striking and wrestling, not to mention tremendous defense in those areas as well. Cormier lands 3.69 significant strikes per minute, with his offense split evenly between those landed in close and those landed at distance. Add to that the fact that Cormier has never been knocked down in his entire career and it's clear that he's hard to hit and when he does get tagged, his chin is like granite. Don't forget Cormier is also an Olympic-caliber wrestler with 42-percent accuracy when he tries to take a fight to the ground.
On the flipside, Johnson is actually more dangerous on the feet with the most sub one-minute knockouts in UFC history (four) and he has the second highest knockdown rate of any fighter currently competing inside the Octagon. His wrestling is also top notch, as he stuffs 85-percent of the attempts against him while countering with over 57-percent accuracy offensively.
If there's something that slightly separates these two athletes, it may come down to experience. Johnson is a real veteran of the UFC, but he's never fought for a title before or really been that close to contention before his current run. Cormier has been competing at or near the championship level since he was in college, so this isn't a moment that will overwhelm him or surprise him in any way. As an added bonus, Cormier won't be seething with anger going into this bout the way he was against Jones in January. The huge ebb and flow of emotion threw a few hurdles at Cormier in the lead up to the fight and now he'll be able to just focus on getting the job done, and outside of his one fight with Jones, it's something he's done every single time he's stepped inside the cage.
Prediction: Daniel Cormier by unanimous decision
Chris Weidman (-500 favorite) vs. Vitor Belfort (+400 underdog)
The odds in this middleweight title matchup make it seem like this should be a one-sided affair for champion Chris Weidman, but the reality is that this could be his toughest fight yet since coming to the UFC.
Belfort has been champing at the bit to get in the cage with Weidman for nearly two years now and while he's been out of action for more than a year, it's given the crafty veteran plenty of time to break down and dissect Weidman with his coaches and trainers. Belfort looked better than ever in his last few fights and while it can't be ignored that he's had to undergo certain changes after going off of testosterone replacement therapy, the Brazilian has had plenty of time to adapt his body, especially considering all the delays to this fight.
Weidman has looked nearly invincible since coming to the UFC, but he's never faced a fighter as dangerous as Belfort, especially in the early rounds of a fight. Belfort is a knockout striker at all times, but in the first and second rounds he's lethal. Belfort has earned 11 career wins in the UFC by knockout - the record holder in that category - while he also has the most first round finishes in promotional history as well (12). Belfort is an incredibly fast starter, so his best chance to win will come in the first 10 minutes of this fight.
If the bout goes into the third round and beyond, that's where Weidman can really take over. He's been five rounds before and doesn't seem to slow down much, whether the fight is in the first minute or the last. Weidman also has a tremendous wrestling base to try and ground Belfort in those early rounds to hopefully take some of the steam out of his sails before he ever gets a chance to unload one of his patented flurries or head kicks.
Weidman just needs to survive and not get caught early and he can win late. That's easier said than done while facing maybe the most dangerous striker in the history of the UFC, but Belfort has to know that if this title fight gets into the championship rounds, his chances of winning diminish greatly.
Prediction: Chris Weidman by TKO, Round 5
Travis Browne (-440 favorite) vs. Andrei Arlovski (+350 underdog)
This is another fight that, on paper, seems like a one-sided affair with Travis Browne having such heavy odds in his favor, but if heavyweights have taught us anything, it's that they are highly unpredictable and one punch can change the entire fight in an instant.
Arlovski has enjoyed new life since coming back to the UFC in 2014 with two wins in a row, including a recent knockout over Antonio "Bigfoot" Silva. Arlovski has always been a top-notch fighter, but it seems like being back home in the Octagon has really reignited his fire to reach the top of the division. Arlovski has incredibly fast hands for a heavyweight and he only needs one good combination to end this fight. Add to that Browne's lackluster defense on the feet, where he only stops 43.87-percent of his opponent's strikes, and this could be just the opening Arlovski needs.
While Browne's defensive woes cost him in past fight with Fabricio Werdum and Antonio "Bigfoot" Silva, his ability to dole out punishment has kept him from actually losing any other fights in the UFC. Browne possesses a wide array of weapons on the feet and when you add his long reach and vast punching power, he can put Arlovski's lights out quick if the former champion isn't careful.
These two fighters also know each other extremely well after training together for a big part of their careers at Greg Jackson's camp in New Mexico.
While this bout really could be a toss up once they get in the Octagon, the slight edge goes to Browne, who has picked up a few new tools while working with his striking coach Edmond Tarverdyan in California. Browne knows Arlovski very well and if he can predict his movements and tendencies in the opening two rounds, it could lead to victory for the Hawaiian.
Prediction: Travis Browne by TKO, round 2
KNOCKOUT PICKS
These are the fights that appear to be a little more lopsided and give a clearer path to victory for one fighter over another, but remember that this is MMA and anything can - and usually does - happen
Donald "Cowboy" Cerrone (-390 favorite over John Makdessi)
It's actually somewhat strange that Chris Weidman and Travis Browne are bigger favorites in their fights than Donald "Cowboy"' Cerrone is going into his bout against late replacement John Makdessi.
Cerrone was preparing for a wrestler for the past few months, as he was supposed to face undefeated Russian contender Khabib Nurmagomedov, but a training injury forced him off the card and Makdessi stepped in to replace him.
Makdessi is a pure striker, so right away he plays into Cerrone's hand with his willingness to stand and trade with one of the best kickboxers at 155 pounds. Cerrone snaps off leg kicks with precision and does maximum damage every time he lands, and he also has a wide variety of punches that can hurt opponents in close or at distance.
Another big positive for Cerrone is that he's actually been off for a few months since his last fight in January against former lightweight champion Benson Henderson. While Cerrone prides himself on fighting as often as the UFC needs him, the Colorado native needed some much needed time off after fighting twice in the span of three weeks to open 2015. With his batteries recharged and a full training camp to prepare, Cerrone is going to be very tough to beat this weekend.
Makdessi has plenty of pop in his hands to hurt Cerrone if he happens to catch him in an exchange, but otherwise this should be a one-sided fight until the referee calls a stop to the action.
Prediction: Donald "Cowboy" Cerrone by TKO, round 2
Joseph Benavidez (-600 favorite over John Moraga)
John Moraga also has a big hill to climb in his fight this weekend against former title contender Joseph Benavidez, who has only lost to two opponents during his entire career (Dominick Cruz and Demetrious Johnson). And unless something strange happens at UFC 187, his record will stay intact.
Benavidez is an impossibly tough puzzle to figure out because he approaches his offense from so many different angles. He hits like a truck with both hands and Benavidez has adapted a few kicks to his arsenal as well, especially after training with Duane "Bang" Ludwig for the past two years. Benavidez also has great wrestling, and just like his buddy Urijah Faber, he's deadly when he gets into scrambles with fighters on the mat.
Benavidez is lightning quick with his submissions and while Moraga will likely have the better overall wrestling, he may not be able to match the Team Alpha Male fighter when it comes to reversals on the mat, not to mention getting caught in one submission or another during an exchange. Benavidez thrives on his opponents making a mistake, and all Moraga has to do is get caught slipping for a moment, and this fight is over.
Prediction: Joseph Benavidez by submission, round 3
John Dodson (-400 favorite over Zach Makovsky)
John Dodson returns this weekend after suffering a serious knee injury in 2014 that's kept him out for the better part of a year, but now he's back in action and gunning for another shot at the UFC flyweight title. Standing in his way is Zach Makovsky, who has plenty of championship experience and has shown top 10 level skills with a 3-1 record since joining the promotion.
For Makovsky to win, he's going to have to depend on his wrestling to put Dodson on the mat. The only thing he can hope for is that Dodson is somewhat tentative about planting on his surgically repaired knee and then maybe Makovsky can slip in and get this fight to the mat.
The problem is Dodson not only has tremendous takedown defense - over 82-percent going into this fight - but he's nearly impossible to keep on the ground and no one in the UFC has been able to do it ever since he debuted on The Ultimate Fighter season 14.
Dodson also packs a serious punch, maybe carrying the most power of any flyweight in the division. He hits hard and can put anybody's lights out with a single shot. That said, given the injury and time off, maybe Dodson plays it a little safer this fight. He also has to know that with a win he's likely staring down a title shot later this year against Demetrious Johnson. Whether he goes to the judges or he finishes the fight inside the first couple of rounds, Dodson should still be a lock to get a win.
Prediction: John Dodson by unanimous decision.
UPSET SPECIAL:
Josh Burkman (+210 underdog against Dong Hyun Kim)
If there's a good upset to keep an eye on Saturday night, it's the preliminary card matchup between Josh Burkman and Dong Hyun Kim.
There's no doubt Kim is a top-notch welterweight who was on a serious knockout streak prior to his last loss to Tyron Woodley, but Burkman matches up well with him in several areas of the fight.
Burkman is a solid wrestler, so Kim may not be able to rely on his ground game to get him to the mat by if he finds himself in trouble at some point during this fight. Burkman has also dramatically improved his striking game, where he's earned knockouts in two of his last four fights. Burkman is well versed in submissions, and as former title contender Jon Fitch learned recently, he's got a wicked guillotine choke that can put somebody to sleep in a hurry.
Burkman also said after his last fight with Hector Lombard that he wasn't feeling anywhere close to 100-percent going into the bout and he still managed to make it the full three rounds with one of the top five welterweights in the world. Burkman knows how to impose his will, and if he can get Kim backing up and unable to fire off punches or look for the takedown, he could shift the momentum in his direction in a hurry.
Prediction: Josh Burkman by split decision