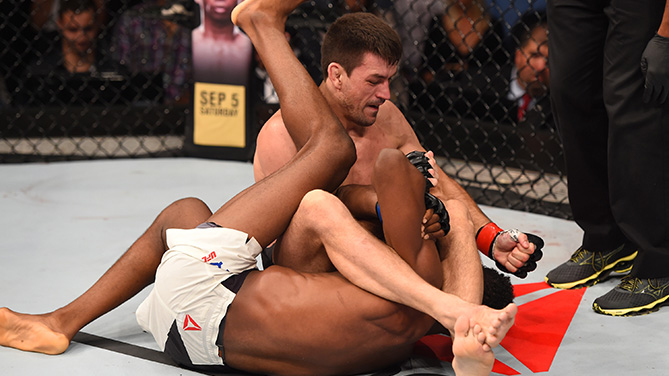 MAIA vs. MAGNY

Neil Magny's hot run at 170 pounds is no more, as veteran welterweight contender Demian Maia snapped the American's seven-fight winning streak with a second-round submission win.

Maia went on the attack as the bout opened, getting a single leg takedown that put Magny in trouble immediately. To his credit, the Coloradan kept Maia at bay, but the veteran jiu-jitsu black belt kept pressing, landing several hard ground strikes before a late armbar attempt was interrupted by the horn ending the round.

The fight went right back to the mat in round two, Maia moving into the mount quickly. Magny got loose, but wasn't able to get off his back, and Maia went on to take his foe's back. Magny tried to hold on, but eventually, he was forced to tap out to a tight rear naked choke at the 2:52 mark.

With the win, the number six-ranked Maia, who won via submission for the first time since 2012, moves to 16-4; the number 13-ranked Magny falls to 15-5.
World class Brazilian Jiu Jitsu on display by @DemainMaia! #UFC190 prelims on @FOXSports1 http://t.co/DVpL4kcUMs

— #UFC190 (@ufc) August 2, 2015