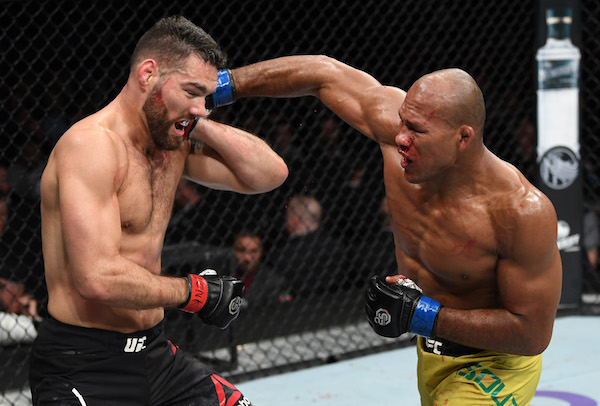 Saturday's main card was a middleweight showcase, as all four bouts prior to the main event were contested in the 185-pound weight class.
Bookended by Top 10 pairings and featuring crucial contests in between, the UFC 230 main card was always bound to shake up the standings in the middleweight ranks and that's exactly what happened on Saturday evening at Madison Square Garden.
CHRIS WEIDMAN vs. JACARE SOUZA
JACARE AND WEIDMAN!! #UFC230 pic.twitter.com/8ChQDw70z9

— UFC (@ufc) November 4, 2018
Back for the first time since beating
Kelvin Gastelum
at home on Long Island two summers ago, Weidman looked to solidify his place as next in line for a title shot by getting his hand raised inside New York's historic arena.
Eager to foil his plans and usurp his position in the pecking order was Souza, the former Strikeforce champion who had become perennial bridesmaid amongst middleweight standouts since transition to the UFC.
Following an early feeling out process, these two started slinging leather, with Weidman stinging Souza with a sharp right hand midway through the round. Rather than rushing in carelessly, Weidman stayed patient and measured, picking his spots as the Brazilian recovered and looked to return fire. While Weidman worked head shots, "Jacare" attacked the body, connecting with a series of heavy shots to the former champion's midsection in the final minute of the first.
Weidman was back out sharply to start the second, working off a quick jab and low kicks, but Souza stayed in his face, throwing big power and trying to make the fight ugly. A hard right hand from Weidman cracked home, but it only seemed to wake "Jacare" up, as the veteran charged forward, firing hands, looking to even the score despite dealing with a clearly broken nose.
After two close, competitive frames, Souza came out chopping at Weidman's leg with kicks and more shots to the body as the local favorite countered with movement and clean, straight punches up top. As the round progressed, Weidman started turning up the pace, but Souza would not relent, connecting with a series of rights.
A second later, Souza brought the fight to a sudden, devastating halt, hitting Weidman with a right hand on the forehead that sent him crashing to the canvas in a heap.
It was a painful way for the fight to end for the proud New Yorker, but a tremendous performance from "Jacare" that vaults him into the thick of the title chase heading into next year.
Official Result: Jacare Souza def. Chris Weidman by TKO (strikes) at 2:46 of Round 3
DAVID BRANCH vs. JARED CANNONIER
"This moment is a true blessing. I didn't do everything I wanted to in the fight but I made the most of my moment. My goal is the same as it's always been: gold." ~@KillaGorillaMMA #UFC230 pic.twitter.com/VlX6WSVYyI

— UFC News (@UFCNews) November 4, 2018
Branch came away with the short straw when the UFC was forced to reshuffle the lineup following
Luke Rockhold
's injury, going from facing Souza to squaring off with Cannonier, a divisional newcomer coming off a first-round loss in his final light heavyweight appearances.
The Bronx native promised to take the change in stride and let his performance shine through, but it was Cannonier who capitalized on the short-notice opportunity.
Branch started hot, attacking with takedowns right out the gate. He was never able to find any real success in the grappling department and as the round wore on, his entries were slower and Cannonier was able to get back to his feet with greater ease.
Between rounds, Cannonier's coaches from the MMA Lab told their charge that Branch was tired and seconds into the middle stanza, "The Killa Gorilla" landed a monstrous right hand down the middle that instantly floored the heavily favored Branch. The middleweight newcomer pounced and pounded out the finish, securing easily the biggest win of his career.
Official Result: Jared Cannonier def. David Branch by TKO (strikes) at 0:29 of Round 2
KARL ROBERSON vs. JACK MARSHMAN
Middleweights came to FIGHT tonight!#UFC230 pic.twitter.com/PRw9YvTwAr

— UFC (@ufc) November 4, 2018
The least recognizable names in the collection of middleweight combatants on the main card, Roberson and Marshman were looking to rebound from losses in their most recent outings and use their placement on the pay-per-view portion of Saturday's event to introduce themselves to a wider audience.
Mission accomplished.
When the fight began, Roberson looked like he was fighting at 1.5 times speed, sliding out of the way of everything Marshman had to offer and countering with clean shots upstairs and thudding kicks to the body. But the tough Welshman took everything Roberson offered and kept firing, finding a little more success late in the first and early in the second.
Just when it looked like they were going to trade in the pocket, Roberson ducked under for a high-amplitude take down, landing in side control and working Marshman over from top position.
The third started with Roberson cracking Marshman with a counter left hook to the jaw and it became a recurring feature of the frame. Somehow, "The Hammer" kept coming forward, prompting Roberson to once again get underneath for the takedown, eventually advancing to mount and closing out the fight in a dominant position.
This was a lopsided win for the former kickboxer and should result in greater opportunities for "Baby K" in 2019.
Official Result: Karl Roberson def. Jack Marshman by unanimous decision (30-26, 30-27, 30-27)
DEREK BRUNSON vs. ISRAEL ADESANYA
"I'm different. I don't mean that in a disrespectful way, but with all due respect, I have no respect. I'm just having fun with it." - @Stylebender after his TKO win over Derek Brunson. #UFC230 pic.twitter.com/OvlxSy6qOr

— UFC News (@UFCNews) November 4, 2018
Saturday's main card began with one of the most anticipated bouts of the month, as Adesanya looked to continue his stellar rookie campaign by picking up his fourth win and toppling a Top 10 fixture in his pay-per-view debut.
But while "The Last Stylebender" entered with a ton of hype and momentum, Brunson held a significant edge in experience, having been a stalwart in the 185-pound ranks for the last several years and earned a reputation as one of the tougher outs in the upper tier of the middleweight division.
After four minutes of fending off takedowns and showing that he has the defensive skills to force guys to stand with him, Adesanya stung Brunson with a knee as he reached in for another takedown and from there, he patiently picked his shots and put the veteran away. Showing incredible patience and precision, the 29-year-old measured his attacks, catching Brunson clear and sitting him down multiple times, forcing referee Herb Dean to step in just before the end of the round.
Official Result: Israel Adesanya def. Derek Brunson by TKO (strikes) at 4:51 of Round 1