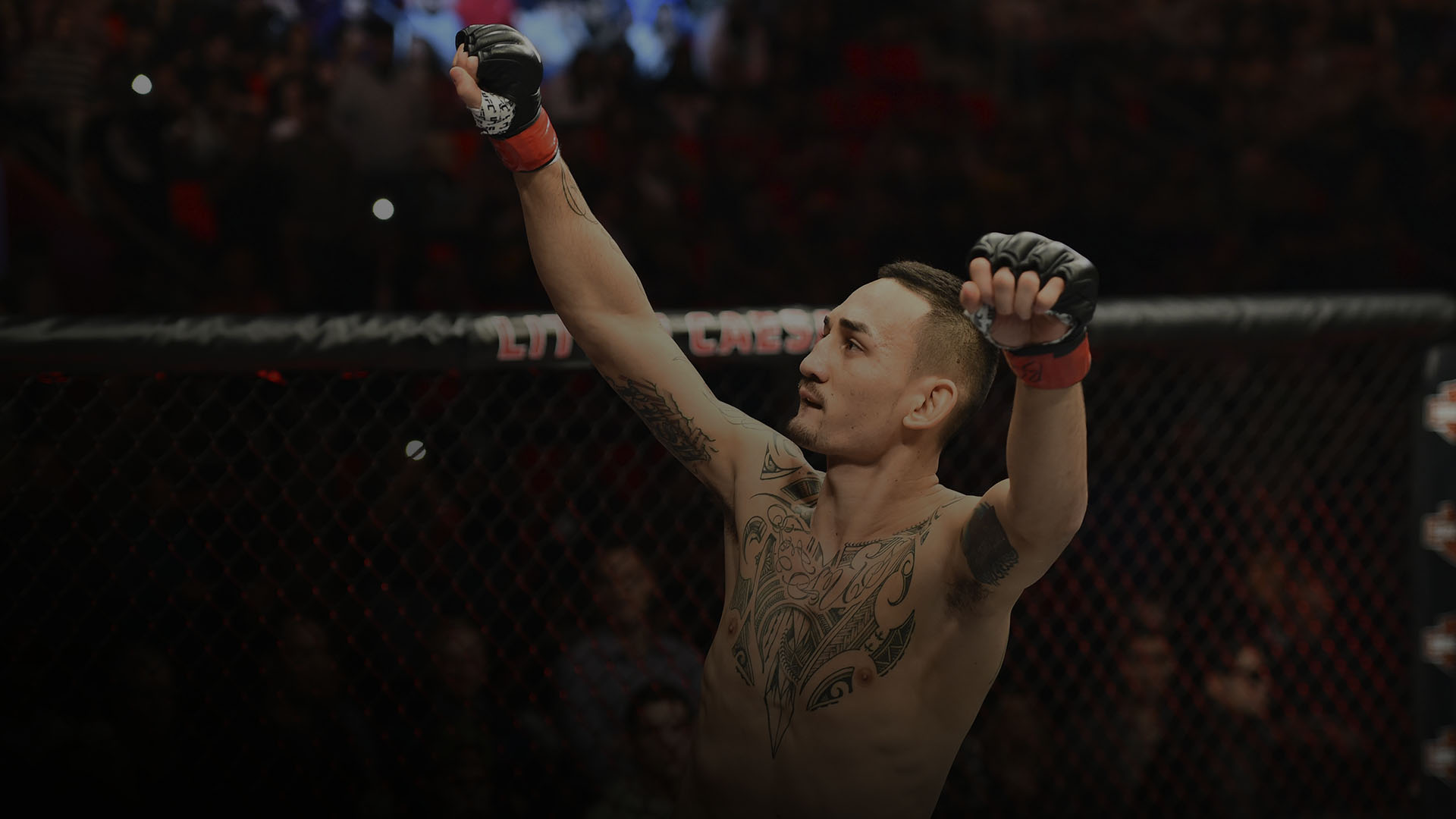 MAX HOLLOWAY VS. BRIAN ORTEGA
It's been a long time coming for this highly anticipated featherweight title fight between champion Max Holloway and challenger Brian Ortega. While Holloway was dealing with some health issues that kept him from competing when the match was originally made in July, he's since recovered and anxiously awaits his next title defense. Holloway is on an unbelievable run with 12 straight wins, including a pair of TKO victories over legendary former featherweight champion Jose Aldo. As for Ortega, he's undefeated over his entire career, including seven straight fights in the UFC. Most recently, Ortega became the first fighter in history to earn a KO win over Frankie Edgar and now he will attempt to become champion. This is the best of the best facing off in the featherweight division as Holloway attempts to defend his title and Ortega looks to dethrone him.
VALENTINA SHEVCHENKO VS. JOANNA JEDRZEJZCYK
Former women's bantamweight title challenger Valentina Shevchenko has anxiously been awaiting her shot at the new UFC women's flyweight title. After debuting in the division with a dominant win earlier this year, Shevchenko has been itching for the chance to prove she's the best 125-pound women's fighter in the world, and this weekend will give her that opportunity. Her opponent is former strawweight queen Joanna Jedrzejcyzk, who looks for new life at a new home in the flyweight division. Jedrzejcyzk also has a little bit of past business to settle after falling to Shevchenko three times in the past when they met in Muay Thai bouts. Jedrzejczyk will look to avenge those past losses and become the first woman in UFC history to hold titles in two different divisions.
JIMI MANUWA VS. THIAGO SANTOS
Light heavyweight slugger Jimi Manuwa will look to get back on track this weekend when he faces former middleweight contender Thiago Santos. Manuwa has dropped back-to-back fights for the first time in his career and there's no doubt the heavy-hitting British fighter wants to return to the win column at UFC 231. Standing in his way is Santos, who decided to move to 205 pounds after a long career spent at middleweight. Santos is coming off a brutal TKO victory over Eryk Anders in a Fight of the Night performance in his first bout at light heavyweight and he'll look to duplicate that kind of finish when he steps into the Octagon with Manuwa in Toronto.
ALEX OLIVEIRA VS. GUNNAR NELSON
Alex Oliveira has found new life as a welterweight, with a 4-1 record over his past five fights, including a stunning second-round submission win against former interim champion Carlos Condit earlier this year. Now Oliveira will look to build on his current two-fight win streak when he faces one of the best grapplers in the world at 170 pounds. Gunnar Nelson has long been considered a top prospect at welterweight, but injuries have kept the Icelandic submission specialist on the sidelines for more than a year. On Saturday, Nelson will not only attempt to get back on track with a win, but he'll make quite a statement if he can finish Oliviera in this one.
HAKEEM DAWODU VS. KYLE BOCHNIAK
Expect fireworks in this featherweight throwdown between Hakeem Dawodu and Kyle Bochniak. Both fighters are well known for putting on a show, with Dawodu getting his first win in the UFC in his most recent performance back in July. Meanwhile, Bochniak is fresh off a Fight of the Night outing in his last fight with Zabit Magomedsharipov as he looks to stop the rollercoaster ride of alternating between wins and losses in his UFC career.
CLAUDIA GADELHA VS. NINA ANSAROFF
A key strawweight matchup at UFC 231 will see former title challenger Claudia Gadelha take on Nina Ansaroff, who comes into the fight off three straight wins as she continues to climb up the rankings. Gadelha will undoubtedly be her toughest test to date, as the Brazilian has consistently been ranked as one of the top five fighters in the world in the 115-pound division, with a 3-1 record in her past four fights. Gadelha would love to get back into the title hunt, but she's got a hungry contender in front of her in Ansaroff this weekend.
KATLYN CHOOKAGIAN VS. JESSICA EYE
On the same night a new women's flyweight champion is crowned, a top contender could emerge in this matchup between Katlyn Chookagian and Jessica Eye. Thus far, both fighters are undefeated at flyweight in the UFC, with Chookagian and Eye picking up two wins at 125 pounds in the UFC. Chookagian is a volume striker with a strong kickboxing background, and the same could be said for Eye, who has always shown some of the best boxing in the women's division. With a chance to shine on the same card where the new flyweight champion will be crowned, Chookagian and Eye will look to impress when they clash at UFC 231.
ELIAS THEODOROU VS. ERYK ANDERS
Canada's own Elias Theodorou has long asked for a shot at former University of Alabama football standout Eryk Anders, and now he'll get his chance. Theodorou has earned wins in four of his past five fights while climbing into the top 15 rankings in the middleweight division. Meanwhile, Anders is coming off a heartbreaking knockout loss in a war with Thiago Santos that he took on short notice, but that won't stop him from gunning for the finish when he clashes with Theodorou in an opportunity to get into the rankings himself.
OLIVIER AUBIN-MERCIER VS. GILBERT BURNS
In a showdown pitting groundfighting aces against each other, Olivier Aubin-Mercier will attempt to get back on the winning track when he takes on multi-time grappling champion Gilbert Burns. Aubin-Mercier suffered a setback in his last fight, but the former Ultimate Fighter finalist has gone 7-2 in his past nine fights while proving to be a tough out for anybody in the world at 155 pounds. Burns will also look to bounce back from a loss in his last fight while taking on a Canadian on his home soil.
DEVIN CLARK VS. ALEKSANDAR RAKIC
As the light heavyweight division continues to add more and more talent, Devin Clark and Aleksandar Rakic are going to try and make an impact when they clash on Saturday night. Clark is a training partner and teammate of former champion Jon Jones, which means he's working with one of the best fighters on the planet to help him get ready. With a strong wrestling background, Clark has gone 3-1 over his past four fights, including a win in his last outing. Rakic is undefeated thus far in his UFC career, with back-to-back wins over Francimar Barroso and Justin Ledet. To go three for three, Rakic will have to get past a very tough opponent in Clark.
BRAD KATONA VS. MATTHEW LOPEZ
Recent Ultimate Fighter winner Brad Katona will get his second fight in the UFC this weekend as he takes on veteran bantamweight Matthew Lopez. While he was competing on the reality show, Katona was fighting as a featherweight and still managed to go on an undefeated run through the tournament before winning his weight class a few months ago. Now back at a more natural 135 pounds, Katona will try to stay undefeated while facing Lopez, who will try to play spoiler and get himself back in the win column after a pair of TKO losses.
CHAD LAPRISE VS. DHIEGO LIMA
Hard-hitting Canadian Chad Laprise will fight in front of a friendly audience in Toronto while attempting to bounce back from a loss in his last outing. Despite that setback, Laprise has found new life at welterweight, where he's also picked up two jaw-dropping KOs as well. Two-time Ultimate Fighter finalist Dhiego Lima has not found his footing in his latest run with the UFC after dropping his past two fights. Lima does not want to get that third consecutive defeat, and to prevent it he's going to have to deal with Laprise and his knockout power.
DIEGO FERREIRA VS. JESSE RONSON
Following two wins in a row, Diego Ferreira will look for a third when he faces Canadian veteran Jesse Ronson, who makes his UFC return after four years away from the promotion. Ferreira has looked better than ever in his most recent performances, including a blistering knockout of Jared Gordon in his last fight. As for Ronson, he faced some serious struggles after leaving the UFC, but he's recently mounted a four-fight win streak to earn his way back, and he'll attempt to pull off the upset after taking this matchup on short notice.