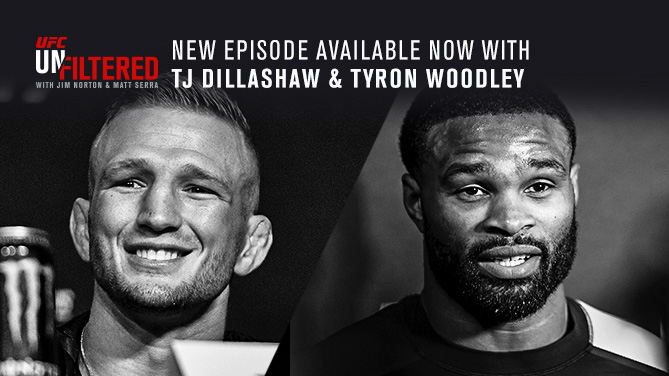 UFC Bantamweight champion
TJ Dillashaw
calls in and discusses his UFC 227 rematch with
Cody Garbrandt
, why the fight with
Demetrious Johnson
didn't come to fruition,
Marlon Moraes
as a potential number one contender, how his perspective has changed since the birth of his son, and more. Later, UFC Welterweight champion
Tyron Woodley
joins the show and talks about a matchup with
Colby Covington
, potentially becoming a fan-favorite in their fight, being willing to bet $10,000 a takedown, training with Floyd Mayweather, doing standup comedy, and more. Plus, the guys recap Week 1 of Dana White's Tuesday Night Contender Series, PVZ's broken arm, and Mighty Mouse vs.
Henry Cejudo
2.

Full Episode TJ on moving on from Mighty Mouse to Cody Garbrandt TJ on not knowing why the Mighty Mouse fight didn't come together TJ on being able to blend all his techniques together Tyron on why Colby Covington's cardio won't matter when they fight Tyron is willing to bet Colby Covington $10,000 per takedown Tyron on becoming a fan favorite against Colby Covington