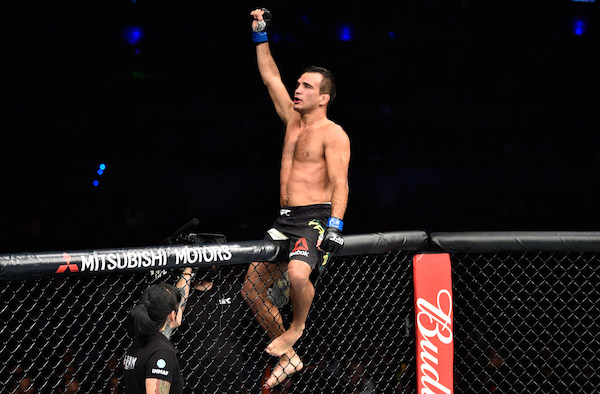 Rani Yahya is 7-1 over his last eight fights after beginning his tenure in the bantamweight division with a bout against
Johnny Bedford
that ended in a no contest following an accidental headbutt.
Overall, the 34-year-old Brazilian is 11-3 with that no contest verdict inside the Octagon, making him one of the most unexpected fighters with double-digit wins and a winning percentage greater than 70 percent on the roster.
That's not a knock on Yahya, either.
If anything, it's a knock on everyone that has been sleeping in the Brazilian submission specialist since he first made the cut down to the 135-pound weight class a little under five years ago, though the humble veteran believes it's his fault he's currently underrated.
"I blame myself for that because of some of the performances I had in the past and because I didn't work very well on my social media, which is something I'm looking to get better at too," says Yahya, who carries a three-fight winning streak into his main card assignment against
Ricky Simon
on Saturday evening at UFC 234.
"I didn't like to do many interviews or socialize with people, but to survive in this game, this business, I had to change all of this. What I feel now is the UFC is giving me a good opportunity to show that I changed my way of thinking. I'm very excited and I feel thankful for this opportunity."
As is often the case in this sport, everything changed for Yahya following the lone loss in his otherwise stellar run in the bantamweight ranks.
After finishing Bedford in their rematch, the second-degree Brazilian jiu-jitsu black belt collected three more wins, leading to a matchup against
Joe Soto
in Fortaleza, Brazil. While he struggled out of the gate in the UFC, Soto had found his footing and earned consecutive submission wins heading into the contest.
Yahya came out sharp to start, showing more aggression and comfort on the feet than in previous outings while finishing the opening round by displaying his trademark top game. But as the time in the cage started to pile up, the Brazilian started to fade, opening the door for the durable former bantamweight title challenger to orchestrate a comeback.
Covered in blood due to a clash of heads at the start of the second round, Soto became the aggressor and as Yahya's gas tank ran dry, the Californian pulled away.
"After that fight, I felt that I was against a wall," said Yahya of the March 2017 meeting with Soto that prompted him to make serious changes in his professional career. "That fight made me realize that I had to fully dedicate myself and change many things that I was doing.
"The main thing is that I changed the whole way I trained and changed my camp. I used to be my own head coach, so I used to put myself in the worst position and push myself way too hard.
"I switched my camp, that was the first thing," continued Yahya, who now trains at American Top Team in South Florida. "I also changed my mentality because when I decided to make that move, I was 33 years old and I had to fully dedicate myself to doing this. I would be in shape all the time, not only when I have a fight camp."
The results have been immediate and impressive.
In the three fights since making the switch, Yahya has gone 3-0, earning submission victories in all three bouts, including a pair of first-round stoppages. But while his grappling has always been outstanding, the most noticeable changes have come in his striking and conditioning, both of which have improved exponentially and turned the ground specialist into a more well rounded and dangerous threat.
"I feel very excited for the evolving process," said Yahya. "If we compare two years ago to now, I'm having my best performances and I'm finally having a chance to fight on pay-per-view. This is the best sequence of wins that I'm having. I had four wins in a row before and now I'm at three wins in a row, but I finished all my fights, with two first-round finishes.
"I have to be thankful to God for keeping my healthy to do this, to give me the wisdom to search for ways to evolve and having the opportunity to grow even more. I'm excited."
A big part of what has him excited is the opportunity to share the cage with Simon this weekend in Melbourne.
Long considered one of the top prospects in the division, the Vancouver, Washington product scored a solid win on Season 1 of the Contender Series to push his record to 10-1, but didn't receive a contract to compete in the UFC.
Eight months and two impressive wins later, Simon accepted a short-notice opportunity against
Merab Dvalishvili
in Atlantic City, where he secured one of the most controversial victories of 2018 when he choked the Serra-Longo Fight Team member out with a mounted guillotine in the final seconds of the fight.
As an encore, the 26-year-old grappler dominated
Montel Jackson
, establishing himself as one to watch in the division going forward.
"Ricky Simon is a good young prospect," Yahya said of the man he'll face this weekend. "He's a good wrestler, a good fighter, and he comes out very aggressive all of the time. I feel it's the perfect matchup for me.
"I'm very thankful for the opportunity because I feel this is a big opportunity for me to show that I deserve to fight against the best."
If he pushes his winning streak to four on Sunday in Melbourne, it will be hard to keep the ranked Brazilian from taking another step forward in the ultra-competitive bantamweight ranks, especially if he adds a fourth straight submission finish to his resume.
And if he does, maybe then the underrated Yahya will finally shake free of the poor first impression he feels he made with UFC fans and be recognized for what he is — a dangerous and improving threat in a deep and talented division.