LAS VEGAS
Nick Diaz was asked during his UFC 183 Media Day appearance on Thursday afternoon if his no show for Wednesday's open workouts was a calculated decision.
He grinned and raised his pinky finger to the side of his mouth, doing his best Dr. Evil impression, hinting that his headline-making absence was all part of a master plan. In reality, when it comes to Nick Diaz, nothing is planned.
"You never know how things are going to go," Diaz said. "Of course I'm going to try and cancel out possibilities of what's going to happen. You never know what's going to happen. I know you're going to get something. You're going to get some ups and some downs with either direction. There's always somewhere to go."
Diaz was quick to apologize to the fans who attended the open workouts to watch him perform, but also said that he isn't prepared to sacrifice his health and training for anything.
When Diaz got to the airport on Tuesday, he realized that he wasn't prepared to make his way to Las Vegas just yet. He had left some of his luggage at home and decided it was better for him to retreat to his house rather than rush off to Vegas.
"I had to go back home for some things so I didn't make it here as soon as I would have liked to. I apologize to all the fans, especially all the ones that were here to see the open workout," he explained. "I didn't really put too much thought into it, I was just focused on the fight."
Fans packed Studio B at the MGM Grand to watch their favorite UFC fighters speak to members of the media. Diaz drew the biggest crowd and he spoke for about a half hour.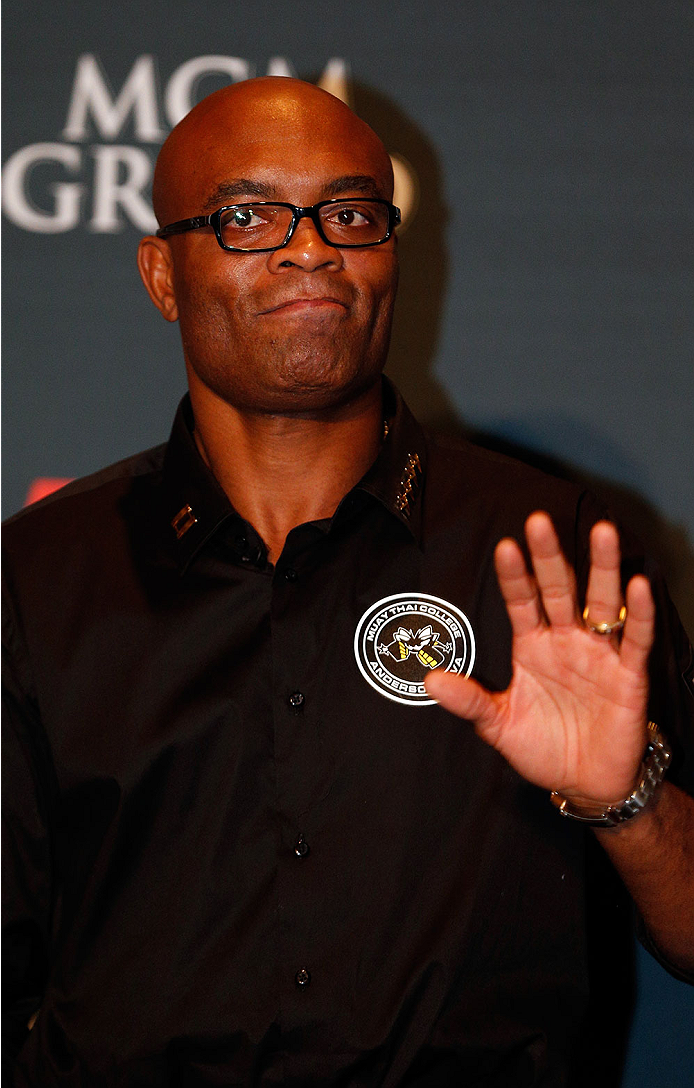 Anderson Silva arrived late to the proceedings, and Diaz' opponent Saturday night seemed a bit tired from all his media obligations the day before. He continued to express his happiness to be back after a career-threatening leg break sidelined his career.
But Diaz was certainly the man of the hour. He said he realized it was inconsiderate to skip out on the open workouts, but he has a lot of things going on in his head before a fight of this magnitude against Silva.
"It would be irresponsible for me to go out there and take an ass whooping, which is probably going to happen regardless," Diaz said. "Whether I win or I lose. Just like in every fight I've done. I anticipate the worst case scenario going out there, just like I always do and always have."
When Diaz retired after his loss to Georges St-Pierre, he knew it wasn't going to be forever. But he had things to do. He had to find a new management to help get him the fights he wanted. He moved, he rested, and he began to train the right way.
Now he's back and in a better frame of mind. He's focused on his health and making it to fight night at 100 percent.
"There are a lot of things going on, so I'm just dealing with that. I'm not going to stress out over it and I'm not going to lose sleep over it or anything," Diaz said. "I'm going to do what I need to do to get here and be at 100 percent and at the best of my ability. I'm focused on what is most important, which is my health and safety. "
Diaz shook hands with Silva after the two had their staredown on both sides of UFC President Dana White at the end of media day. They even exchanged a hug.
In Diaz's eyes, Silva is one of the greatest to ever step inside the Octagon.
"I don't like to make big opinions on other fighters, like who's the best and who's what," Diaz said. "But sure, I think he's the most important fighter out here in the UFC. Him, Georges St-Pierre, BJ Penn – these are the top guys you can talk about."
Now everything moves on to the weigh-ins on Friday, which should be interesting. When it comes to Diaz, things are always interesting.
Diaz knows what he's going to do.
"Right now, fighting for what I have to fight for is motivating. Keeping my head on my shoulders after what I've got myself into is what motivates me," Diaz said. "It enhances my sense of security. … When you wake up and you have to fight me you're going to be like, 'Sh*t. Now what am I going to do.' Hopefully you're like me, you already got it figured out."