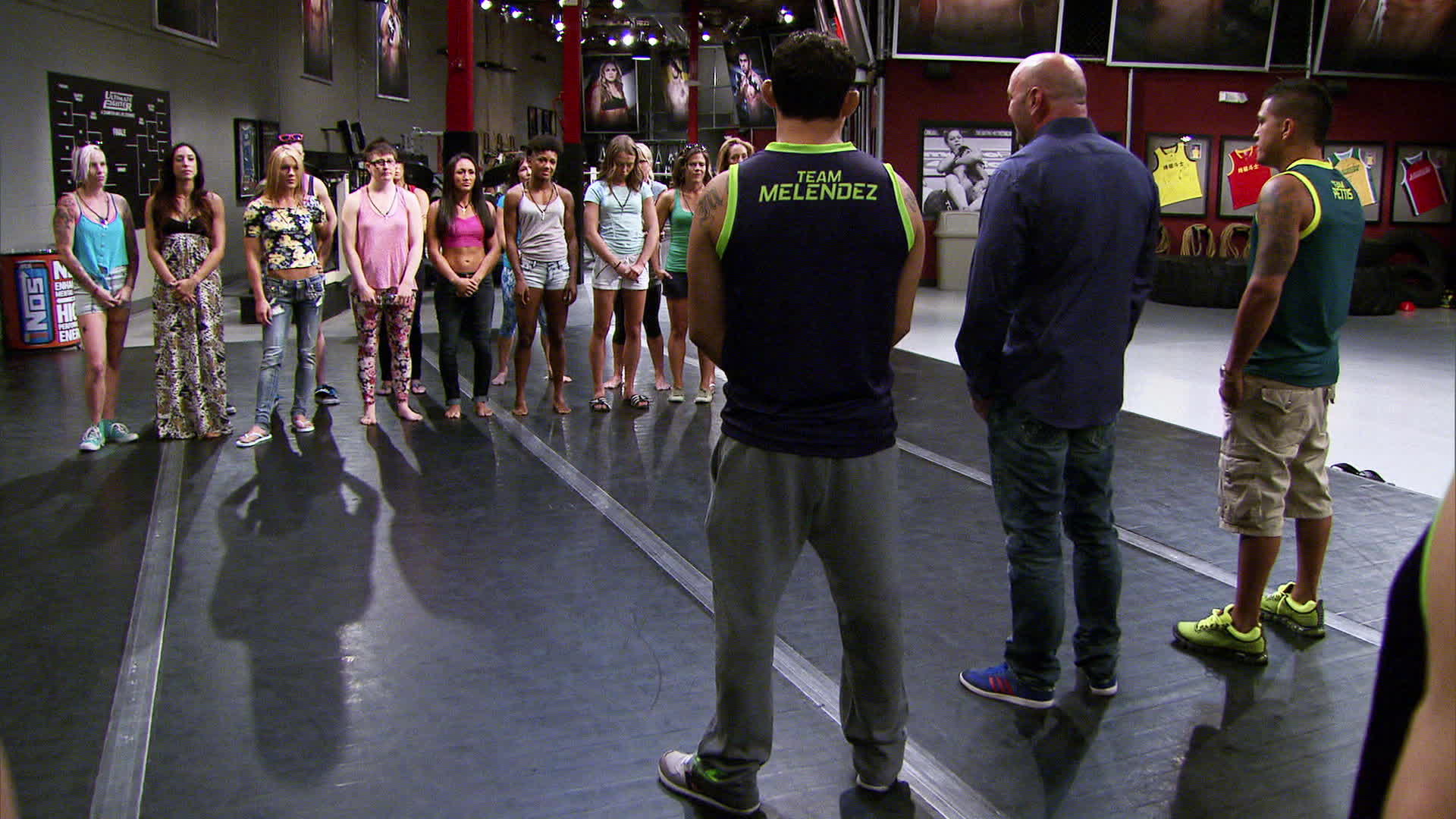 The episode opens with a short explanation from UFC President Dana White. Even if you've watched the previous 19 seasons, things are different this time around. Not only is this the full all-female edition of TUF, it will also crown the first ever UFC strawweight champion. Eight of the fighters are recent signees from Invicta FC, and the other eight were chosen form open tryouts in Las Vegas. After some background info on a few of the fighters, Dana White shows up at the TUF Training Center with this season's coaches in tow -- lightweight champion Anthony "Showtime" Pettis and #1 contender Gilbert Melendez.
Before the coaches start to get comfortable, Dana White introduces another twist to the season's format. This time around, all the fighters have already been ranked from 1-16 with the matched predetermined. The coaches (unaware of these rankings) will evaluate each fighter and then pick teams as we normally see. If a coach drafts the #1 ranked fighter, the opposing coach automatically gets the #16 seed. If they choose #2, the other coach gets #15 etc.
> Watch: The Ultimate Fighter Media Day
Each coach takes the fighters through their evaluation process and the differences in style are already apparent. Melendez takes a softer, more relaxed approach. He has the fighters do some light drills and also talks to them to get a sense of their personality. Pettis, on the other hand, is a bit pushier and has intense physical assessments. With the evaluations done, Dana White flips a coin. After the longest coin roll in TUF history, the coin finally reveals that Pettis wins. He chooses the first pick and takes Carla Esparza. The rest of the selections are as follows:
Team Pettis
#1 Carla Esparza
#14 Randa Markos
#10 Alex Chambers
#9 Justine Kish
#5 Aisling Daly
Team Melendez
#16 Angela Hill
#3 Tecia Torres
#15 Emily Kagan
#13 Lisa Ellis
#11 Heather Clark
#8 Bec Rawlins
#12 Angela Magana
Since Anthony Pettis had the first pick, that gives Gilbert Melendez the right to choose the first fight. He decides to go with his first pick Tecia Torres who will take on Randa Markos.
> Read: Meet The Strawweights - Randa Markos
We cut to video package highlighting Tecia Torres. Raised by a single mother, she used martial arts as a way to stay on the straight and narrow. She started karate at the age of 5 and took up jiu jitsu when she went to college at 17. Undefeated in her young career, Tecia is a dangerous striker with a vicious side kick. Coach Melendez plans on using that striking background to lead her to victory. He feels that Markos's only strength is on the ground and wants to avoid that as much as possible.
> Read: Meet The Strawweights - Tecia Torres
Tecia's opponent Randa Markos also comes from a humble background. Born in Iraq, her family fled the country in 1988 due to the Iran/Iraq war. Now living in Canada, her route to MMA began when she tried out for the school's wrestling team in the ninth grade. Her parents pulled her off the team, so she did what any teenager would do -- lie about it next year. Eventually her parents caught on, but they fully supported her and now she has the opportunity to become a UFC champion. Turns out that Gilbert Melendez's assessment of Markos was spot on. She wants to bring this fight to the ground. Despite being a heavy underdog, Randa has convinced a few of her teammates that she's capable of winning in her short time with them. We'll see if she can pull the upset because it's fight time!
ROUND ONE
There's a short feeling out process and Randa breaks the calm with a bullrush. She lands a couple punches and immediately shoots for the takedown. Tecia defends and circles back to the center of the cage. Tecia answers with a blitz of her own, and Randa shoots again. She can't finish the single leg, and Tecia jumps to take her back. There's a quick scramble and the two are back on their feet. Tecia strikes again, but gets too aggressive. Randa uses the momentum to put Tecia on her back, but immediately finds herself fighting off a kneebar. Even from bottom position, Tecia continues to attack and drives elbows. She also cinches up a rarely seen reverse triangle choke. The round ends with Tecia driving elbows into Randa's midsection.
> Watch: The Ultimate Fighter: Red Carpet Event
ROUND TWO
Randa comes out flat-footed. The two trade kicks and Tecia rushes in with a combo. She finishes with a hard body kick, but Randa grabs the leg and scores another takedown. Tecia goes for another leglock, but can't finish. Randa works from half guard and smothers any of Tecia's submission attempts. She gets a little too lax, though, and gives an opening for an armbar. Randa escapes and drops some short strikes. At the 30 second mark, Randa finally gets some position and drops elbows until the round ends. Randa thinks that she's won the fight, but Coach Pettis tell her to get on her feet. We're heading to sudden victory.
ROUND THREE
Randa attacks with inside low kicks in the opening moments of the round. Both fighters have slowed their pace and pick their shots more carefully. Tecia lets her hands loose first and Randa answers back. She continues to charge forward, lands a knee and forces the clinch against the fence. Tecia takes the positional advantage and grinds Randa out. They finally separate with two minutes to go. Knowing that she has to pick it up, Randa charges forward and desperately searches for the takedown. Tecia defends the takedown and takes dominant clinch position. It looks like the fight will end there, but Randa hits a lateral drop and puts Tecia on her back. Working from top position, Randa finally advances past Tecia's guard. She fights off a submission attempt, moves to mount and the round ends.
> Check Out Octagon Photos from the Fight
Anthony Pettis walks up to Randa after the bell rings and tells her, "You did exactly what you had to do. You just took out their first pick." Turns out Showtime was right as all three judges give the round to Randa. The first fight of a historic TUF season turns out to be a historic upset.
We wrap up with the next week's fight announcement. It will be #2 ranked Joanne Calderwood facing off against #15 Emily Kagan. Can Calderwood bring Team Pettis to 2-0? Will Emily Kagan pull off another amazing upset? Why are both teams upset with their coaches? Find out this and more next week on The Ultimate Fighter!