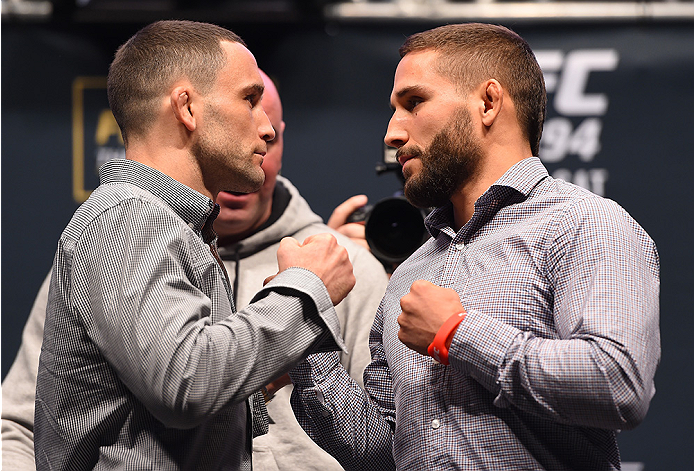 The latest installment of The Ultimate Fighter will come to an end Friday night with the finals in the lightweight division, while Top 5-ranked featherweights Chad Mendes and Frankie Edgar battle it out in the five-round main event.
Edgar has been on a tear lately, winning his last four fights, including finishes over both BJ Penn and Cub Swanson. Most recently, Edgar dispatched Mendes' teammate Urijah Faber by decision and he'll look to cement his spot in the 145-pound challengers' race with a win on Friday.
Mendes is looking to bounce back after a tough loss in his last fight when he stepped up on short notice to face Conor McGregor at UFC 189. Mendes was beating McGregor throughout the first and second rounds, but his gas tank eventually ran out and he was finished by strikes.
Now Mendes will look for some revenge while hopefully putting himself in line for another shot at the belt with a win over Edgar.
In today's fantasy preview, we're going to examine that main event and some other intriguing bouts taking place on The Ultimate Fighter: Team McGregor vs. Team Faber Finale card.
SPLIT DECISION
These are the fights that are just too close to call, but a few minor differences between favorite and underdog could lead one fighter to victory and the other to defeat.
Frankie Edgar (-165 favorite) vs. Chad Mendes (+145 underdog)
The main event of Friday's card might just be one of the toughest matchups to call all weekend.
Edgar has looked better than ever lately while integrating a heavy dose of wrestling to go along with his versatile boxing attack. He is also consistent at all times and one of the hardest working fighters in the sport. He may not get a lot of first-round knockouts, but where Edgar truly excels is adding up the volume of punishment from the first second of the fight until the last, and there are very few, if any, fighters in the division who can keep up with him.
Mendes obviously addressed his conditioning issues from the last fight because he actually had a full training camp to prepare for this matchup. That being said, Mendes' best shot will come early when he's swinging with the most power. Mendes needs to work to get a big lead through the first couple of rounds to try and break Edgar's spirit, because the longer he allows the former lightweight champion to stick around, the worse things get for him.
Mendes has the kind of wrestling that could counter Edgar, and offensively he's a force of nature with his takedowns. Still, you wonder: With both fighters highly proficient in grappling, could this become a mostly stand-up affair?
If that happens, Mendes needs to get a finish - something no fighter has ever been able to do against Edgar - because his game is power and not so much accumulation from round to round. Edgar just has to stick to what got him here in the first place - stick, move, hit combinations and get out again. If Edgar keeps Mendes at range and never allows the powerful featherweight to get inside where he can land those devastating punches, his chances of winning multiplies exponentially.
Prediction: Frankie Edgar by unanimous decision
Joe Lauzon vs. Evan Dunham
Perennial bonus baby Joe Lauzon will try to secure another post-fight award when he takes on Evan Dunham in a bout between two of the most consistent lightweights in the UFC.
Lauzon may never fight for a title, but he's one of the most exciting, can't miss fighters on the UFC roster, and has been for many years. His mix of power punches and deadly submissions make him the kind of fighter who is always looking for the finish, and chances are he'll find an opening at some point or another whenever he steps into the Octagon.
Dunham might be the more well-rounded fighter, but he's not quite the finishing machine that Lauzon has been during his career. Dunham is incredibly durable, with solid striking and a better than average wrestling base that has served him well during his UFC career. Lately, Dunham has been able to pick up a couple of wins in a row, including one over the always dangerous Ross Pearson, where he was able to subdue the striker from England and pick up a unanimous decision victory.
Dunham is a much more active striker, landing double what Lauzon does per minute, and that could serve him well as he will likely fend off a slew of takedowns from the submission specialist. Lauzon puts his opponents on the mat more than two and a half times per fight with just under 44 percent accuracy, so he doesn't miss all that often. If Lauzon's takedowns negate Dunham's willingness to commit to combinations on the feet, that could be a game changer.
Lauzon is relentless with his pressure, and if he can find a way to drag Dunham to the ground, he will start fishing for submissions immediately. Still, Dunham isn't easy to put away, and if he keeps this fight standing, he would seem to have a slight edge with his striking and overall offensive output.
Prediction: Evan Dunham by split decision
Marcin Wrzosek vs. Julian Erosa
Former Ultimate Fighter housemates will face off this weekend as well, with Polish fighter Marcin Wrzosek taking on Julian Erosa. Both fighters were surprisingly good this season, considering neither of them was an early pick to make it deep into the competition and then they ended up in the semifinals.
Erosa's style was extremely frustrating for the fighters he faced this season, but it could work to his advantage once again. Erosa likes to mimic fighters such as Dominick Cruz with a combination-heavy striking attack complimented by quick feet and fast movement. Erosa's style could best be described as hit and move, because he'll jump in for a quick jab or two and then he's moving left or right to avoid counters from his opponent.
Wrzosek is no slouch on the feet either, and he packs a much bigger pop than Erosa does when he's striking. Wrzosek is deceptive with his power, but when he finally uncorks a shot, it does damage and he has a way of finding openings in his opponent's defense that always allows him to land a couple of those in every fight.
For Erosa to win, he just needs to stick and move and never stand directly in front of Wrzosek and risk eating one of those big punches. Wrzosek could take a page out of his teammate Artem Lobov's playbook and just go after Erosa as soon as the fight starts and never allow him to get his timing down on the feet. Still, judging by previous performances, Erosa's highly frustrating pace will add up in volume and that kind of style can rack up a lot of points on the judges' scorecards.
Prediction: Julian Erosa by unanimous decision
KNOCKOUT PICKS
These are the fights that appear to be a little more one-sided, but remember that this is MMA, where anything can - and usually does - happen.
Artem Lobov vs. Ryan Hall
Artem Lobov will attempt to cap off his spectacular run on The Ultimate Fighter with another finish, as he takes on late replacement Ryan Hall. Hall steps in for Saul Rogers, who was unable to compete on the show due to visa issues.
Hall is actually a great prospect for the future, with world class jiu-jitsu skills to boot, but he's got a tough road ahead of him this weekend.
Not only is Lobov a nasty, one-punch knockout artist, but he also worked with Hall just a couple of months ago as the American traveled to Ireland for training. At the time, neither of them knew they'd be fighting, but Lobov likely found out right away how he matched up with Hall on the ground, which is the place he'll end up in the most danger during this fight.
If Hall can't latch on to one of Lobov's legs early or find a way to drag this to the ground, he's probably in for a long night. Technically, it might be a short night because Lobov isn't trying to make it to the third round. Many times he doesn't even allow the fight to make it past the first.
Prediction: Artem Lobov by TKO, Round 2
Tony Ferguson (-160 favorite) vs. Edson Barboza (+140 undedog)
The odds in the lightweight featured bout between Tony Ferguson and Edson Barboza are really close, so this is by no means an automatic lock, but there are a few reasons to believe one fighter has a solid advantage over the other.
Ferguson has looked like a world beater as of late, thanks to a dominant string of victories, including finishes over Gleison Tibau and Abel Trujillo before a suffocating performance over Josh Thomson in his last fight. Ferguson gets in his opponent's face and doesn't let up on the pressure until the fight is over. He works extremely well from the clinch and his wrestling is second to none in the division.
If all those things go well for him, it's going to be tough for Barboza to unleash the hellish striking arsenal that works best at a distance. Barboza might have the most punishing leg kicks in the entire sport, but he needs space to work and that's something Ferguson rarely affords his opponents. Unless Ferguson makes the gargantuan mistake of standing on the outside and winging punches with Barboza, he should be able to find an opening before putting the Brazilian on the mat.
Once the fight lands there, Ferguson lands strikes in succession and has a wide array of submissions in his arsenal, including a nasty D'arce choke.
Prediction: Tony Ferguson by submission, Round 3
UPSET SPECIAL
Mike Pierce vs. Ryan LaFlare
Mike Pierce will return to action for the first time in more than two years following an injury-induced layoff, and while he's certainly got the odds against him when he takes on welterweight prospect Ryan LaFlare, this is one fighter to never count out until the fight is over.
Pierce has been one of the toughest matchups at welterweight over the last few years, going 4-1 over his past five fights. He is an impossibly strong fighter for the weight class and he's got a great wrestling base that could give LaFlare trouble if he opts for that style of attack. It can't be ignored that LaFlare was absolutely stifled dealing with Demian Maia's takedowns in his last fight and Pierce is certainly a higher caliber wrestler than the Brazilian.
When Pierce has lost outside of his last defeat in the Octagon, where he was caught in a heel hook early in the first round, he's been nearly impossible to deal with, even while facing the best of the best in the division. Pierce fought both Johny Hendricks and Josh Koscheck to split decisions in fights he arguably could have won.
If Pierce comes back healthy, he could put pressure on LaFlare with a heavy wrestling and clinch game that could give him rounds on the judges' scorecards, and that adds up to a victory at the end of the night. Make no mistake, if Pierce isn't on point after his long layoff and LaFlare is able to take advantage of that, this fight could shift in momentum in a hurry.
Prediction: Mike Pierce by split decision