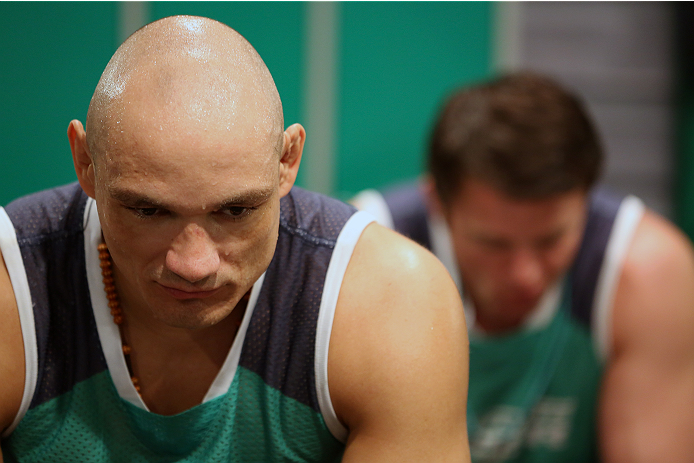 Lo primero que vemos en el episodio de esta semana del
The Ultimate Fighter
Brasil 3 es a Lyoto cojeando en la casa, tras lesionarse un pie en su pelea ante Borrachinha y aún no puede apoyar bien ese pie. Por suerte para él, los doctores le dicen que no es nada serio y que con descanso debe mejorar.
Nos vamos al anuncio de la pelea de esta semana. El Team Wanderlei escoge a Montanha contra
Vitor Miranda
(Team Sonnen). Los dos fueron compañeros de entrenamiento en el pasado y Vitor anda molesto por tener que enfrentarse a un antiguo amigo. A Montanha tampoco le gusta esto, pero nos dice que no tiene nada que hacer, pues fue una orden de su jefe.
Entonces, el entrenador asistente de
Chael Sonnen
,
Vinny Magalhaes
, llama a
Wanderlei Silva
para decirle que es un hipócrita por hacer que excompañeros peleen entre ellos, especialmente porque Wanderlei criticó mucho eso en la edición del TUF Brasil 1. La leyenda se defiende diciendo que es cierto que Montanha y Vitor se conocen, pero que ni entrenan ni viven juntos.
De vuelta en la casa, vemos lo sucia y regada que está la cocina, lo que provoca que suban las tensiones entre los participantes. Cara de Sapato le reclama a Joilton y se pone a gritar que alguien tiene que hacer algo y limpiar. Joilton se molesta porque Cara protesta pero no hace nada y es cuando Demente, cansado de escuchar a todos protestar, se pone a limpiar para que todos se callen. Una solución que acaba con el problema, al menos temporalmente.
Si las peleas en la casa son intensas, en el gimnasio lo son más aún. Sonnen trae al expeleador del UFC,
Yushin Okami
, para mostrar el camino correcto. El japonés levanta la intensidad de las prácticas y vemos asaltos, bien acelerados, que parecen combates de campeonato en el UFC.
De ahí pasamos al desafío de esta semana que se llama ¨El Puente¨. La competencia consiste en crear un puente con palos bien finos, los cuales permitan aguantar a una de las chicas del octágono y, entonces, llevar a cuatro de estas chicas en esas estructuras que ellos hagan. Desde el comienzo, el Team Wanderlei toma la delantera y no miran hacia atrás, consiguiendo un triunfo les permite pasar un día entero en el Spa. Nada mal, ¿no?
Entonces, conocemos un poco más de los protagonistas de esta semana. Vitor nos dice que su primer amor fue el baloncesto hasta que un amigo lo llevó a conocer el muay-thai y ahí dejó todo para dedicarse a las MMA. Hasta se mudó a Estados Unidos para entrenar, pero la tragedia tocó a su familia cuando su hijo de cuatro años se ahogó en una piscina. Ahora, él trata de usar la tristeza de su corazón como motivación.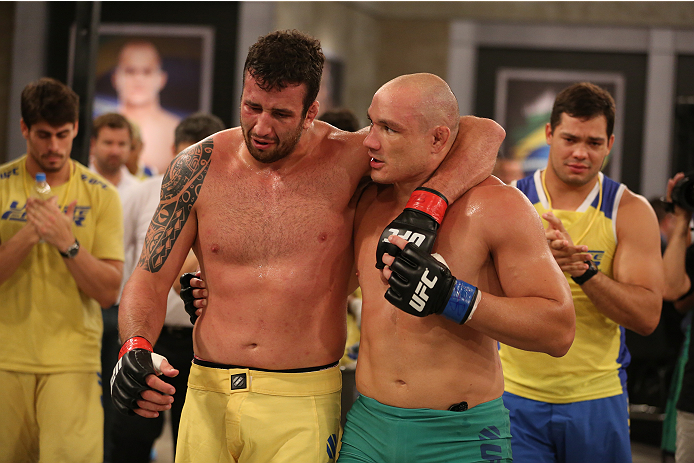 Montanha, mientras tanto, fue un niño gordito que era víctima de las burlas de sus compañeritos, aunque cree que ahora mismo no lo harían. A sus 25 años, él se describe como alguien testarudo y bien competitivo. Ya veremos si todo esto lo lleva al triunfo porque ya es hora de pelear.
Suena la campana y Montanha usa bien su distancia al comienzo. Vitor tira algunas patadas sin que lleguen a su objetivo. Se abracan, intercambian rodillazos. Siguen batallando por llevar el uno al otro a la lona. Pugnan por la posición sin mucha acción. Ahora Vitor conecta buenas patadas abajo, seguidas de varios piñazos arriba. Montanha luce cansado, desgastado. Vitor sigue presionando hasta que conecta con un inmenso golpe al cuerpo. Ahí mismo, mete un derechazo arriba que derriba a Montanha y Vitor le cae encima para con su ¨ground and pound¨ terminar el combate con apenas 23 segundos en el primer asalto. ¡Excelente el vencedor! Al fin, el equipo de Sonnen consigue una victoria.
Ambos entrenadores quedaron impresionados con el trabajo de sus pupilos. Chael alaba la estrategia de Montanha, aunque cuando su oponente encontró su distancia, se acabó todo. ¨Tú no quieres pararte enfrente de Vitor e intercambiar con él¨, agrega.
Wanderlei, por su parte, expresa que las patadas abajo desgastaron a Montanha y le llevaron a ser noqueado. Al final, vemos a los excompañeros caminando uno al lado del otro. ¨Tú sabes que nunca quise esta pelea¨, dice Montanha. Vitor lo abraza y le comenta, ¨hicimos lo que teníamos que hacer. Vas a tener otra oportunidad¨.
Antes de irnos, Sonnen nos aclara con una sonrisa que las mareas andan revueltas, por lo que hay una tormenta en camino. ¿Qué?
Vemos unos un avance de lo que viene en el próximo capítulo. ¿Podrá mantener su buen momento el Team Sonnen? ¿Cuál será la respuesta del Team Wanderlei? ¿Quién ganará el desafío de los entrenadores?
Esto y mucho más en el próximo capítulo del The Ultimate Fighter Brasil 3.
¡No te lo puedes perder!