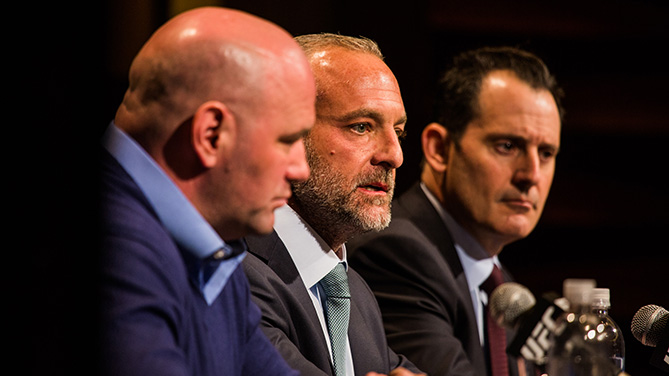 Lorenzo Fertitta:

"Good morning everyone and thank you for coming today. My name is Lorenzo Fertitta and I am the UFC's chairman and CEO. To my left is Lawrence 'Ike' Epstein, who is our chief operating officer. And to my right, of course, is Dana White, our president.

"First, I want to share with you how our press conference and statements are going to work and why we have called this press conference. First, I am going to read prepared remarks that will address what we have done in the past related to drug testing and how we have advocated for both in- and out-of-competition testing over the last few years.

"Dana will then take a few minutes to clarify some recent issues relating to some specific drug tests and UFC athletes. We will then review some statistics to show our recent history of in-and out-of-competition testing for the period of 2013 and 2014.

"Next, we're going to lay out our strategy for moving forward and addressing these issues. We will then open it up to the floor and to the phone lines for questions.

"As you know, it's been a challenging few weeks here at the UFC. While our popularity worldwide continues to grow, we have recently seen issues with several of our high-profile athletes failing drug tests. We're extremely disappointed in these failed drug tests. But truthfully, they're a result of our commitment to enhance drug testing.

"We said that we were going to catch athletes using PEDs with these testing procedures, ad we are doing just that. These findings have caused us to take a deeper look at our current policies, our administration and communication process, as well as how we can continue to better educate and lead our athletes in the areas of health and wellness.

"We've always deemed it our responsibility to take the leadership responsibility in key areas impacting our sport, and fighter health and safety has always been at the top of our list. When we purchased this company in 2001, only one state regulated the sport of mixed martial arts. Today, the sport is regulated throughout the U.S. and by international regulatory bodies around the world. This is a direct result of our efforts.

"We spent countless hours going from state capital building to state capital building, international city to international city, pushing for the sport to be properly regulated. By doing so, we have built the foundation for the regulation of mixed martial arts.

"As I mentioned, our priority has always been the health and safety of our athletes. Our track record reflects this. In recent years we partnered with and funded organizations such as the Cleveland Clinic, to better understand health and safety issues that are related to the brain. We've held fighter summits, to educate our athletes on a variety of topics, including the dangers of PED usage. In addition, we are the first and only combat sports promoter in history to offer unprecedented, customized accident insurance coverage for all of our athletes on the roster.

"And lastly, we have firmly advocated for and supported drug testing initiatives led by athletic commissions and international federations.

"On Feb. 27, 2014, the day the Nevada State Athletic Commission terminated therapeutic use exemptions for testosterone replacement therapy, Dana perhaps stated our commitment best when he said, 'We believe our athletes should compete based on their natural abilities, and on an even playing field.'

"Furthermore, in 2013 and 2014, we committed additional resources to identify athletes using performance enhancing drugs through our increased testing efforts with athletic commissions and international regulatory bodies.

" Today, nearly two years later, we are committed more than ever to leading the commissions worldwide in taking out the use of PEDs from our sport, to protect the safety of the athletes and the integrity of the sport.

"In recent years, we made it a point to run towards regulation. Now, we're making it a point to run towards fixing this PED issue head-on. Through our work with athletic commissions and regulatory bodies via both in-and out-of-competition testing, these tests have uncovered UFC athletes using banned substances and performance-enhancing drugs.

"Our current methods are catching athletes using PEDs. Although we feel confident that the in-competition testing has been effective, we recognize the need for a more robust out-of-competition plan, in accordance with athletic commissions and regulatory bodies.

"Simply put, we can do better."

"We've all seen similar challenges to the world of sports. Consequently, we see that the UFC is no more immune to performance-enhancing drug use than any major sport. We can take the learning from actions taken, and continue to work diligently to protect the health and safety of UFC athletes, and the integrity of the sport.

"Today marks a continuation of our call-to-action to combat the use of PEDs. It is our belief that this plan will drive us to make our sport safer by allowing all of our athletes to compete on an even playing field. By doing so, we will not only be a leader in mixed martial arts, but also in the world of professional sports.

"At this time, I will turn it over to Dana and ask him to clarify some issues related to recent drug tests; failures of some of our high-profile athletes."

Dana White:

"Good morning, everybody. Most of the media understands how this works but there are a lot of myths and misconceptions out there about the last few positive tests out there that have happened here in the UFC. So I want to clarify a few things. I'll start with Jon Jones.

"Jon Jones was tested out-of-competition on Dec. 4. When he was tested, he tested positive for cocaine. He was then again tested on Dec. 18. He was negative for PEDs. He was not tested again for cocaine.

"For people who don't understand: The way that WADA (World Anti-Doping Agency) works is, you do not test for recreational drugs out-of-competition. Out-of-competition, you do not test for recreational drugs.

"So then he was tested again on Jan. 2, post-fight. After the fight he was tested, and he tested negative for everything. Performance-enhancing drugs, or recreational drugs.

"The difference between out-of-competition testing for PEDs … I saw a lot of people talking about, 'Jon Jones tested positive for cocaine, yet you see other fighters getting in big trouble for testing positive for marijuana.' That is the difference between out-of-competition and in-competition.

"Jon Jones tested positive for cocaine out-of-competition. In-competition, he has tested negative. So these fighters that you hear about who get in big trouble for marijuana or any other recreational drug, they're in-competition. So had Jon Joes tested positive for recreational drugs after the fight, he would be in even more trouble.

"He was fined $25,000 for violating the (UFC) code of conduct, and that money ended up being donated to a charity that benefits children impacted by drug use.

"Anderson Silva had a pre-fight test, an out-of-competition test, and that test was on Jan. 9, and it was done by the Sports Medicine and Research Testing Laboratory, which is a World Anti-Doping Agency accredited lab in Salt Lake City, Utah. That test was taken on Jan. 9.

"The Nevada State Athletic Commission did not get that test result back until Tuesday, Feb. 3, which was after the event. We found out at 10 a.m. that morning.

"The Nevada State Athletic Commission notified us, and we found out that morning."

"Let me start by saying this: Believe me, if you don't think when this pre-fight test came in to us on Tuesday, we didn't say 'How is this just coming in now? This doesn't make sense?'

"So if you look at the test, in the right-hand corner, it says 'collection date.' The collection date was 1-9-2015. The lab receipt date, the day they received it, was 1-12-2015. And the report date was 2-3-2015.

"That test did not come back until after the right, and that is when we were notified.

"First of all, the Nevada Athletic Commission would never let a fighter go in if they knew he was on performance-enhancing drugs. And we would never do that. No fight, or no one fighter, is worth the integrity of this sport. It would never happen. This test came back after the fact.

"There are some issues there. I get it. And these are things that are being worked on now. But I want everybody to know that we would never do that, and the Nevada State Athletic Commission would never do that. The test is right here."

"Also, Anderson Silva tested positive in his post-fight PED drug test. He will now go before the Nevada State Athletic Commission to plead his case.

"Hector Lombard. Hector Lombard failed his post-fight test on Jan 3. The results came back on Jan. 13. So as soon as heard that he had tested positive, we yanked him off the card. He was supposed to fight in Montreal, in the co-main event against Rory McDonald. So as soon as we heard, he was out. Out of the fight.

"So people started saying to us, 'So, why didn't you release him? Why didn't you announce that Hector Lombard tested positive?' We never announce when a guys tests positive, unless we are self-regulating. If we self-regulate an event and we get the test back and somebody is positive, we let the media know, we let the fighter know and then we lay down our sentence. But there is never a situation where we announce a drug test that was done by the Nevada State Athletic Commission. They do it.

"So we responded quickly. We yanked him out of the fight. So now Rory McDonald will fight Robbie Lawlor for the UFC Welterweight Championship on July 11 at the MGM Grand in Las Vegas. We can talk about this in the Q and A.

"That's all I got."

Lorenzo Feritta:

"So moving on, one of the things we'd like to move on to next is talk about the raw data that we have assembled for the years 2013 and 2014. The statistics and the numbers are on this slide. Bear with me, I am going to walk through them.

"During that time period, the UFC hosted 79 events. During those 79 events, approximately 900 in-competition tests were administered. Out of the 1,800 occasions that UFC fighters entered the Octagon; the reason for that (number) is obviously that fighters fought multiple times during that year, and that is why there are 1,800 occasions. So it's approximately half of the fighters.

"I will note that when we self-regulate, we have adopted the policy over the last couple of years that we in-competition test 100 percent of the fighters.

"Out of the approximately 900 in-competition tests, 10 fighters have tested positive for recreational drugs, representing 1.1 percent of the pool. And 12 fighters have tested positive for PEDs, representing 1.3 percent of the pool.

"In addition to in-competition testing over the last couple of years, there has been an adoption of out-of-competition testing. Given the data that we have been able to compile, we have been able to verify that there have been 19 occasions where fighters were subjected out-of-competition PED tests. We also know that there have been five fighters who have tested positive, representing 26.3 percent.

"We believe there have been more occasions. I will note that when athletic commissions or federations do out-of-competition testing, they don't necessarily inform us, certainly don't inform us when they are doing it. We believe there have been more occasions. But as of today, we have not been able to verify more than 19.

"What is readily apparent on that slide, though, is that a 26.3 percent failure rate is an alarming rate to us. What that means to us is that something needs to be done to increase the amount of out-of-competition testing. And what I am going to lay out for you next is how we are going to address that issue.

"This is the testing call-of-action from the UFC.

"The UFC will immediately advocate to all commissions to test every fighter in-competition from every card. We want 100 percent of the fighters tested, the night that they compete in-competition. And there is additional costs associated with that that are outside of any state or federation's budget, we will pay any additional costs required.

"That mean that in a calendar year, based on 41 events, that we will administer approximately 984 tests annually. Of course, if there are more events or more than 12 fight per card, that number will adjust accordingly.

"In addition to that, the UFC, in conjunction with local athletic commissions, will subject all main event and championship bout fighters to enhanced out-of-competition PED testing, effective July 1, 2015. Now that certainly doesn't mean from today up to that point that there will not be out-of-competition testing. There will be.

"In order for us to put this structure in place, which we will explain later, it's going to take some time to work with third-party collection agencies, third-party testing agencies, to get contracts done, to get procedures done.

"Given that, we assume that there will approximately 96 marquee fighters tested on an annual basis. Once again, given the assumption of the 41 fight cards we also assume that of the 13 premier events – we call them pay-per-view events – that eight of those will have double championship bouts. That's how we get to that number.

"Next: The UFC will institute comprehensive, out-of-competition, random PED testing for all UFC fighters. All UFC fighters will be subject to this effective July 1, 2015. That means that approximately 585 of the fighters on the roster, which fluctuates on a week-to-week basis, but approximately at any given time we have 585 fighters, they will be subject by an independent testing party using WADA testing standards.

"We have been and are currently engaged in talks with numerous reputable global drug-testing organizations to create this random drug testing protocol. We are confident we can have it in place by July 1, 2015.

"What does this mean from a fiscal standpoint? In the years 2013 and 2014, the UFC spent approximately half a million dollars in testing expenses. Given that the number of tests will increase by a minimum of 10-fold, potentially significantly more, we understand that we are willing to commit several million dollars for both in- and out-of-competition and random PED drug testing.

"In addition to that, and maybe most importantly of ridding our sport of PED usage, we are advocating for longer suspensions and harsher penalties, issued by state athletic commissions, international federations or whatever body is handing down penalties.

"Currently, I believe that the WADA standard is a first-time offender for PEDs is a two-year ban. We certainly advocate for that. We understand that WADA is contemplating or will institute a first-time offender a four-year ban. We will absolutely support that as well. There have to be harsher penalties to rid the sport of PED usage.

"We are committed to it in every way that you possibly could be. There should be no mistake there. And I think this definitely should be a call-out to all of our athletes that are on our roster that you will be tested both in-competition, you will be tested out-of-competition. And if you are using performance-enhancing drugs, you will be caught and there will be significant penalties that will go along with that.

"With that, I am happy to open it up for questions and we are happy to answer whatever you guys may have."
Q: How has the legal situation changed in the past few weeks so that you can act?

A-(Fertitta) "Nothing has changed from that standpoint, this is something that we've been working on for some time, these issues are complex and we don't have all the answers. We felt like given the spat of recent high profile cases that have come back positive, that we needed to address this sooner rather than later. Typically I don't like to call press conferences until we have 100% concrete signed contracts, things done, but we felt that for the good of the sport, the integrity of the sport, the integrity of what we're trying to do here, that we needed to address these issues asap. I'll let Lawrence speak to some of those issues, because they're significant issues, it's not as easy as saying hey lets flip the switch, start testing fighters, it's very complicated."

(Epstein): "Kevin, there's a lot of issues that make this situation very, very complex and very unique in the world of sport. The first thing is due process, we have to make sure all the athletes who test positive in a drug test have due process rights, are able to defend themselves in a forum where their arguments can be heard before final judication is made. That's complicated because were dealing with a variety of athletic commissions around the world, sometimes we're self-regulating, so that is an issue that we need to deal with. The 2nd issue is the legal and regulatory landscape. Again, regulated by numerous legal and regulatory commissions around the world, and those federations and athletic commissions have the exclusive jurisdiction to regulate those events, so they are the bodies that regulate the events exclusively and we have to interact with them to put together this process. The other complicating legal factor is that our athletes are independent contractors, they're not our employees so the parallels to sports organizations like the NFL, MLB fall apart because we don't have the same legal rights that an employer has over an employee. As you know our athletes fight for us about 2, 2.5-3 times per year, the rest of the year they're training independently they're working with nutritionists theyre working with all sorts of people that we have no control over and that's very very different than the vast majority of sports organizations around the world so that's another issue that we have to deal with in this complex process. The third thing is a unique logistical situation we have to deal with. Once again drawing parallels to sports teams, if you're the Denver Broncos, all of your athletes are in Denver during significant points of the year. We have athletes that live in 45 different countries around the world speaking different languages, so we have significant logistical issues that we have to deal with. All of these things are solvable, but it's just going to take a little more time, and just to re-iterate what Lorenzo said I don't think anything's changed, we're just considering dealing with these complicated issues and I think what happened obviously is there were some high profile tests that got us to the point where we said listen, we need to get out and address these issues and even though we don't have a specific plan with an organization in place right now we wanted to lay out the specifics that we had an the direction that we're taking."
> READ:

Q: Most people that run anti-doping agencies say that when the athlete knows the test is coming it's the easiest test to beat. So even your championship policy where there's going to be enhanced testing, they know that at that particular period of time I'm going to be tested so doesn't it put more of a burden on you guys to randomly test your champions even more thoroughly because they know hey if I'm fighting in September 10th, starting in August or July anytime forward I'm going to be tested so I have to be off the sauce so to speak, so my question is don't you have to try to catch those guys before they go into camp when they're just working out in the gym getting ready and might be using at that point trying to get ready for camp?

A-(Fertitta) "The plan we laid out is really a multi-step process. We talked about insuring to test all main event fighters, and all championship bouts. That testing will take place probably anywhere from 12-14 weeks leading up to the event certainly when the main event and championship bouts are announced. Because there is a random nature to that and multiple tests, it becomes significantly harder to potentially beat one of those tests, and the data actually shows that. If there are ways to beat the test, and you know you're going to be tested on the night of the fight, we have a 1.3/1.1 failure rate but when we talk about out of competition, we know it's at least 20 something percent so we know we'll be able to attack it from that standpoint. The other tier is we're going to institute a purely random testing procedure for out of competition, you may have a fight announced, you may not have a fight announced, you may be not training at all but somebody will show up on a random basis and take a random sample. These are all things we're working out now, its significant from a logistical standpoint, from a cost standpoint but we're committing to do that on a go-forward basis. What we are now working on is talking to these third party agencies to figure out how many of these tests do we need to do from a sample standpoint to insure or at least be pretty sure that we've got a clean sample and that our athletes are clean from that standpoint."

Q: Given the regulatory and legal issues that exist, if you test somebody out of competition and they fail who is the penalizing body at that point because if the UFC enacts a random test out of competition and a fighter disputes, who is the legal entity that will hand down a suspension to that fighter?

A-(Epstein) "It's going to be a variety of groups including ourselves, so the first thing we're going to do is strengthen our individual contracts with our athletes to give us stronger rights to suspend athletes if they test positive. The second thing we've talked about is continuing to work with athletic commissions and federations around the world to convince them to adopt these suspensions if they're handed down. That is the new, frankly unresolved legal issue that we've got to figure out. At this point, effective July 1st if we don't have those issues worked out we're going to have to take the leap of faith that athletic commissions and federations are going to stand behind these decisions but in the meantime we're going to work very hard to put a legal framework in place to do exactly what you said. Once we hand down a suspension it's being honored by every athletic commission and federation globally."

Q: Lawrence, just to follow up on that, results management how are they managed, specifically failed tests?

A-(Epstein) "Well, if I understand your question correctly, we have a third party organization managing this stuff for us. We are not in the drug testing business; we're in the sports media business. We don't want to be taking samples and sending them to labs we need a third party organization doing that. We're going to have to develop protocols frankly for what happens when that third party takes a test and that test is positive. So we'll have to develop protocols for that for announcing in particular the random tests. When we're in an event where the athletic commission or federation is regulating that particular event we would continue to work with the athletic commission or federation on the release of results of any positive test."

Q: For Dana and Lorenzo, when you mentioned getting behind the WADA standard for brand with the Olympics in mind, for this sport is 4 years your best idea obviously because you want to support the WADA code, for your sport what do you think is appropriate?

A-(Fertitta) "What we do know is that the current system or the current penalties that are being put forth we don't believe are enough to deter our athletes from taking PED's. I mean the proof is in the pudding, were seeing this continually. When you look at the fact that these fighters fight anywhere from 2-3 times per year, if they get a 9 month suspension in our opinion, they're only missing maybe one fight. We just don't think it's enough to deter them, there needs to be harsher penalties whether it's two years or four years we're going to have to debate that and look at that, but it certainly needs to be more than what it is today."

(White): "I agree, and the fighters are going to look at risk vs. reward. If I can make a few million dollars, I'll take the risk of getting caught and getting a nine month suspension or whatever it is. Two or four years is career threatening. If you're twenty-eight years old and you get busted for a PED and you're off for four years that might be the end of it. So now, you look at the risk vs. reward and it's a lot more dangerous."

Q: Will this be in addition to whatever standards the commissions already have?

A-(Fertitta) "This will in addition to whatever standards the state athletic commissions and international federations have in place, certainly were going to push them to increase the number of our of competition tests, but as far as testing athletes out of competition on a random basis we believe that's something we're going to have to take on with a third party ourselves and we're going to have to fund that ourselves."

Q: How is this going to work in places like Brazil where there currently aren't out of competition tests?

A-(Fertitta) "We're certainly going to advocate to the Brazilian commission that we want them to do out of competition testing for all main events and championship bouts. In addition to that, we are going to take it upon ourselves to introduce out of competition testing on a random basis for everybody that is on our roster."

Q: How is Anderson Silva's relationship with the UFC? Is any discipline going to be taking place?

A-(Fertitta) "Right now the process is taking place. He's got his due process rights, the commission announced yesterday that there will be an announcement as to when his hearing date will be, they will present their side of the evidence, Anderson will present his side of the evidence and they will render a decision and until that point we're going to sit back and see how that unfolds. At this point the Nevada state athletic commission is a judiciary body that will handle that situation."

(Epstein): "The only thing I would add is what Lorenzo and Dana have said previously and that is that what ever happens, Anderson Silva has been a great champion and a great representative of the sport and if something bad happened here, the athletic commission will handle that but he had a great career and we will continue to honor that and stand behind him regardless of what happens with the athletic commission."

Q: He still has a lot of fighting in his contract, I don't know if you can comment, but he's got about 10 fights left.

A-(White) "We don't know, we got to see what happens, he has to go have his hearing and like Lawrence said he has to go through due process. There's a long road to go before we start thinking about Anderson's next fight." -White

Q: You have mentioned the challenges that are ahead of you in dealing with the athletic commissions not only here in the United States but internationally as well, do you feel that it is possible to get worldwide testing done in a policy that everyone will follow and use moving forward?

A-(Epstein) "The answer is yes, we've laid out the logistical, legal and other challenges that we've got and the answer is absolutely yes and regardless we have to give it a shot and we're going to try and do it. I feel very confident that we can pull this together, there are some models, the Olympic model was a bit of a model out there that we can take a look at, but the reality is that in almost every country in the world now there are WADA certified labs, for example in Brazil, you had the Olympics coming into brazil and WADA certified labs there, it should not be that hard to get an athlete to provide a sample to one of those labs to have it properly analyzed."

(Fertitta): "I would add to that obviously this is nothing new to what this company has achieved since 2001, as I mentioned before this sport was regulated in 1 state and when we said we were going to partake in this initiative to get all states in America, provinces in Canada and all over the world, and people looked at us like it was crazy. It was an uphill battle and is an uphill battle and we didn't have all the answers when we started this thing. Through persistence and putting things in place we are now where we are with an international sport, with unified rules that everyone around the world follows. This is just another example of something we have to attack, we have to be offensive about this we're not shying away from it, were hitting it head on and honestly, it's probably going to get worse before it gets better but we have to put these procedures in place to eventually make it better, it could be a bumpy road, but were committed to making this happen."

(White): "We've been doing the impossible since day 1. It was impossible to get regulated , it was impossible to get back on television, it was impossible to get on pay-per-view it was impossible to get health insurance for fighters, we've been doing the impossible since 2001 and 8 months or a year ago I told you guys that we we're going to do enhanced testing and we were paying for it now we're catching people and I said if you're using drugs you're going to get caught. We spent half a million dollars, now we're going to spend millions of dollars. If you are using performance enhancing drugs, you're going to get caught."

Q: Dana, just a quick follow up your commentator Joe Rogan had said there a steroid epidemic not only in MMA but in the UFC, when you hear your color commentator make those kinds of comments what's your reaction and do you agree with him?

A-(White) "Well Joe exaggerates and he's a little flamboyant sometimes, I don't know, to say that there's an epidemic here, there's definitely a problem. It's no different than any other sport, when there's money involved people are going to find a way to beat the system and to get that edge. I think that because if these high profile tests and percentage on the out of competition tests it leads people to assume that's the case. I'll tell you what we're about to find out, and like Lorenzo said, this is going to get a lot worse before it gets better."

Q: Just last year you said to ESPN that you felt the PED problem in the UFC was cleaned up so what happened within the past year?

A-(White) "What happened was we spent half a million bucks on out of competition testing, and I think when a guy like Anderson Silva gets caught, it definitely sends a message. I think that shocked the entire MMA community and sports world so, it definitely shocked me, we were blown away by it and now we're going to dig in."

Q: You mentioned this might get worse before it gets better, will that have any concurrent effect on the matchmaking process, putting together fights, this past year you guys lost a ton of fights to injuries, this could potentially take main events out are you guys going to be looking for backups?

A-(White) "Like we said it's going to get worse before it gets better."

(Fertitta): "It certainly could, there's no question about it. For many years, we'll be committed to rid the sport of PED usage and if we lose main events we lose main events. This company has been through a lot this past fifteen years we'll survive that too. Joe Silva and Sean Shelby are just going to have to get a little more creative."

Q: Was Anderson Silva the turning point here?

A-(Fertitta) "No, as I mentioned we've been working on this for at least the past couple of years. We've been in conversations with third parties for at least 6 or 7 months, we've made a lot of progress and the Anderson Silva thing as prompted us to come out and address these issues, make sure we're speeding up the process and don't have the luxury of sitting back and being academic and debating all these legal points, we just have to go and however the cards fall they're going to fall, but we're going to make sure fighters are being tested and the results will be what the results will be."

Q: You mentioned third parties, can you mention any names?

A-(Fertitta) "There's confidentiality agreements involved in the discussions that we've had but there's not a plethora of these organizations and I think that is pretty self-explanatory, you could probably pick about three organizations out there who would be capable of doing this, so I think you can figure that out."

Q: When you talk about out-of-competition testing, I'd like to know if you consulted or talked to any major leaders in any other sports leagues an example would be Major League Baseball in 1998 they had the Mcgwire-Sosa home run chase yesterday the biggest story in sports was Alex Rodriguez's apology so we're going from 98-until today. What have you learned about time-frame and it looks like in baseball they failed for over a decade with their out-of competition testing have you talked to major league baseball and consulted with other leaders?

A-(Epstein) "We've certainly talked with drug testing organizations that have worked with those other sports leagues and they've conveyed to us the experiences those other sports leagues have gone through. They've also shared with us the successes and the failures and showed us the programs they think have done a better job as opposed to those that have not done as good a job and that's part of the process that we're going through right now, we are literally looking at all of the drug testing protocols of all the major sports leagues and trying to pick out what we think are the best programs, very much like what we did with our code of conduct, when we looked at all the major sports leagues, saw what they were doing and we believe we developed sort of a best-in class based on all the examples that are out there so we'll continue to talk with consults that we're working with who have experience with those organizations with the goal of creating the best protocol of any of the sports organizations globally."

(White): "And JT we're going to move a lot faster than baseball did, they're hitting a ball with a stick, who cares, you have two human beings who go in and compete in combat sports and if one is using performance enhancing drugs it's incredibly dangerous, I hate it, I hate everything about it and if you can't compete in this sport with your natural abilities, you don't belong here."

Q: In your opinions, what happens if you do the easy thing and stay with the status quo, what happens to the sport and what happens to the UFC?

A-(Fertitta) "Look, at the end of the day that might be the easy thing to do, but we're in this for the long term. Not doing anything could hurt the credibility of the sport and in the minds of the consumers which is the last thing on earth we want to do. Obviously we built this company we built this brand we plan on being in business for a long time and we always have put the health and safety of our athletes first and this is no different than what we did from the beginning when we bought this company in 2001, so not doing anything is not an option, we have to do this."

(White): "I feel like we've always been the leader in this industry and combat sports period in everything that we've done. In health insurance for the fighters to everything that we've done since day one and I'd like to see a lot of the other combat sports companies start doing this too, not just us. There are certainly other combat sports companies out there like us in MMA that have the resources, if not more resources than we have. And boxing."

Q: At a recent fight card, you guys decided to withdraw the out of competition testing program what was the reason for that and what caused the change now?

A-(White) "That's not what happened, what I said was with the things that have gone on, this was harder than I expected it to be, with the stuff that went on in China and I said we've got to regroup but we still spent half a million dollars on enhanced testing with the athletic commissions, we were still doing it, but there was a time where we were talking about how this whole thing was going to work globally. That's basically what we've been saying up here all day. It's tough to get your arms around this thing, but we're going to figure it out."

Q: How can you get these drug tests back with a quicker turnaround it seems they've been coming back after the fights?

A-(White) "It was only one test, a lot of prefight drug tests were done on guys and only one came in late and that looked very suspicious and that's what I cleared up here today."

Q: But what can be done between the UFC and commissions to expedite that process?

A-(Fertitta) "I'm sure the commissions are addressing that, and I'm sure that's something that's on the top of their list the last thing on earth they want to do is have what happened in the Anderson Silva situation, if they're going to do pre-fight testing they're going to want to have the results ahead of the fight I'm sure."

Q: You guys think you have year round jurisdiction to test your fighters, but you want enhanced testing for your main event and championship fights to be done by the athletic commissions, why is that because obviously the commissions have that jurisdiction as well, but why not take that off their hands that do not seem they have the knowledge to really run that program?

A-(Fertitta) "First of all we believe that the Nevada State Athletic Commission along with the New Jersey, California and other commissions certainly have the ability to do this and we're comfortable with that. We also have to be careful that we don't subjugate the authority of a commission by just stepping in and taking over, we just can't do that. So this is kind of we have to walk a fine line between advocating that they do this and telling them that we will pay for it. They will have to administer the process and outside of that we will have to figure out how to pull this together and do all of the really out-of-competition testing on a random basis and in the near future we will lay that out in detail of how that's going to work. The only thing to add there is that the nice thing about working with the athletic commissions, protocols are already in place so that if the test comes through the Nevada athletic commission for example, and it was positive then they have a whole regulatory legal process whereby the athlete can they appeal the decision and a final decision is made and when that final decision is made you share with athletic commissions around the world and that is generally honored by athletic commissions around the world so we get ourselves out of that legal issue that Kevin and I discussed a moment ago."

Q: If a champion tests positive and the test is affirmed will he be stripped or will there be an interim champion how will you deal with that, specifically if a champion of a division tests positive?

A-(Fertitta) "Well our assumption as we kind of laid out today is that if anyone, let alone a champion tests positive, we're advocating for stricter penalties, which would mean in our case hopefully a minimum of two years. If a title is going to be on the shelf for two years then yes the athlete would be stripped. We certainly have to sit down and work through all these issues but we certainly don't want to have a title sitting on the sidelines for two years"

Q: Under a case where a specific commission does not adopt a WADA code and say we're going to suspend this guy for two years or four years would you take that additional action to say okay we're going to disqualify you and remove your title?

A-(Fertitta) "I think that we would address that when and if it ever happens, but we would want to be consistent that what we're sitting here saying today is that we believe the standards should move up to at least a minimum of two years. We'd be very disappointed if any athletic commission at least didn't think about that and think about the issues and address it but we'll cross that bridge when we get there."

Q: Are you seeking to push the commissions to expedite the process between the testing and revelation of the tests which has caused a few issues and what will happen in places like the UK where the commission is based in Las Vegas?

A-(Epstein) "As far as the testing goes I think the key thing is getting the tests started as early as we possibly can so Lorenzo mentioned almost a moment ago that if we began testing 10-12 even more weeks prior to the event, it obviously gets us more time to get the tests results back so that's an important factor in getting those test results back before the event and obviously we're going to have to ask through athletic commissions for expedited results that's another thing we got to make sure that we do when PED tests are done that the results need to get back before the events because otherwise they obviously don't have the same effect. When it comes to the self-regulated jurisdictions like the UK for example our model has always been to follow the Nevada rules and essentially take the model that Nevada has used to regulate events here in the US and I think what we're going to do here in Nevada is communicate to the commission that the penalties for positive drug tests are extended to two years, for example and when Nevada adopts those rules, we will be using those same rules when we self-regulate. In speaking with the Nevada commission I don't think there's going to be any issues with respect to extending some of the penalties, but at the end of the day, we plan on following Nevada rules when we self-regulate. The good news is the jurisdictions where we self-regulate are becoming fewer and fewer each year. Athletic commission federations each year that we are supporting and fostering around the world are filling the space and are doing the work that athletic commissions do here in the United States so we're hopeful that there will be a day even in the UK where there will be a regulatory body that will be handling all of these issues for us."

Q: Have you ever had conversations with the Nevada commission or any commission on whether they would accept failed test results through UFC administered tests?

A-(Epstein) "We have had those discussions with a variety of athletic commissions and federations around the world. We discussed that as one of the complicating legal factors were going to have to address. In some situations there may be statutory or regulatory regulation changes that will need to take place in those states so these decisions can be honored. Lorenzo and Dana said we've dealt with challenges in the past when people said we couldn't do things. The bottom line is we were able to get athletic commissions and federations around the world to regulate the sport, and I feel confident it may take some time but we will get athletic commissions and federations to honor the random, out of competition tests that we do, and any suspensions from positive tests."

Q: What did Nevada in particular tell you guys when you asked if they would accept the results?

A-(Epstein) You'd have to ask Nevada about that but the discussions we had in Nevada and other commissions was exactly what I said there are some legal challenges & issues and regulations that may need to be updated before automatically positive results and suspensions we issue would be honored but those are all issues over time I feel confident we would be able to figure out."

Q: The Cung Le situation of course took place in china at Hong Kong labs, and it was one of the things that was cited for kind of a change in posture from you guys as far as administering these tests on your own. Everything that you've listed today as far as random tests adds more responsibility to you guys in very global market. How can we be confident that these changes aren't going to result in similar mishaps like the Cung Le situation if you guys try to do this in a self-regulated jurisdiction?

A-(Epstein) "That's actually not the case when we've adjecated here today is that a third party testing organization handle all of these tests. So in the Cung Le situation we contracted with a lab in china. That's not the model that we're talking about going forward, were talking about partnering with a leading, worldwide anti-doping agency that will handle all of the logistics for taking those tests, getting them to the lab and of course getting the results done. So what happened in China is absolutely not what we're talking about here today."

Q: Will you folks insist that whoever you contract with test both blood and urine?

A-(Fertitta) "Yes. Once again, it's going to be a worldwide leader in anti-doping and testing, and they're really the ones setting the standard for the science for the testing protocol. We're really looking to them to tell us what needs to be done to ensure a clean sport. And from the conversations we've had with various entities, it would include both urine and blood so that you can detect all forms of PEDs."

Q: Of course, with fighters around the globe there have been issues with fighters who literally flee at the prospect of an out-of-competition test. How will you find all of your fighters to administer a random test in particular? And would you subject them to penalties for running away?

A –(Fertitta): "I think a lot of this road has been paved by international sports, whether it be FIFA, whether it be the Olympics, whether it be the World Cup. And we would just essentially address how they look at those issues. I think part of it is a system where the athletes have to check in. They have to let you know where they are going to be, essentially, at all times. And we would look to this third-party administrator to set those rules and we will adopt them and stand by them."

Q- How would you folks prefer the subjects of random tests be selected? Would it be people who have had PED issues in the past? Select a name out of a hat? What will know as media as someone if somebody passes a random test?

A (Fertitta): "Actually, the way the selection works will most likely be done by the third party and we won't even know who is being tested, when and why. I think we want to be not part of that process. Certainly we would be informed as soon as a test comes back. I'm sure they will give us a full accounting or reporting. We haven't worked out yet, though, how the timing of that would work, nor when that would be announced to the media. But certainly we would. We will be transparent in the process and everybody will be made aware."

Q: Are you worried that less PEDs in the sport will make fights less exciting?

A- (Fertitta): "No."
(White): "No. I actually think that, when we went through the whole testosterone era, there were guys who could stick around longer. If you can keep these athletes off this garbage in their younger career, I actually think it's going to be a lot better. A lot better.

"We don't worry about the fights at all. You either have the natural ability to fight or you don't."

Q: Have you heard from any sponsors in the wake of all of this, and was there any concern raised over perception, reality, that there is a drug problem in the sport?

A-(Lorenzo): "We try to be proactive in reaching out to our affiliates, our sponsors, whether it be our media broadcast partners, whether it be sponsors, to kind of hit this head-on and let them know what is going on, so there are no surprises. We haven't necessarily had a lot of inbound calls with people that have concerns. But people who do have questions or have concerns, we do hit it head-on. We answer the questions. But we haven't necessarily seen any drastic reactions or fallout, for that matter.

"We know we need to get ahead of this. And that's why we are doing this today."

Q: How close in the past were you guys you installing a comprehensive program similar to the one today, and what prevented it from happening?

A-(Feritta) "We've been very close. We've made a lot of progress, as I've mentioned. We've worked on this the last six to nine months as far as directly engaging with some of these third parties to try to figure out how this could be implemented, how it would work, what the cost of it would be. I think that, as we've mentioned, there are a number of legal issues, regulatory issues, that surround this. It's certainly not easy. It's complicated. That is what prevented us from setting exact dates and jumping into it.

"As we've mentioned before, we feel like we have enough information now, we feel comfortable with the issues and that they can be resolved. And that's why we are comfortable sitting here.

"Quite honestly, the fact that we had these high-profile cases come out in the matter of the last month, we felt it was important that we had to kind of just jump in headfirst, make the commitment, address the issues and here we sit today."

Q: So it has nothing to do with the potential cost? You mentioned a couple of times $500,000 and 10-fold the cost the program will cost you. Or potentially losing headliners. That was never raised as a possible reason to extend the search for a comprehensive program like this?

A-(Fertitta): "Well, through the search process that's how we started to find out all the information. And, of course, those were issues that were hotly debated throughout the company. I think any company would look at that. But we made the decision that that is not the overriding factor. The overriding factor and the number one goal is to make sure we have a clean sport, no matter what it costs, no matter what the consequences with a fight falling out. And that's why we are here today. We're telling the world, we're telling the media, we're telling our fans that we are willing to move forward under any circumstances, whatever may be. We encourage other companies, other members that are involved in our sport, to adopt the same policies and procedures.

"That's the direction we're going. We led this industry from Day One and we're going to continue to lead as we move forward here."

Q: You said the entire drug-testing program will go into effect on July 1. But there are two title fights on July 11. Will that start earlier for those two, because you said there would be random testing for championship fights. Would those fighters actually have to undergo a May to June test?

A-(Fertitta): "Yeah. Once again, this isn't something new. We're sitting here today because there has been out-of-competition testing over the last couple of years. We've identified that there is a problem.

"Because we identified there is a problem, we believe that the number of tests needs to be expanded. The Nevada Athletic Commission certainly has taken the lead. They've been the most progressive regulatory agency in trying to address this problem.

"That July 11 fight will be at the MGM Grand. It will be a double title fight. And I fully expect, and the Nevada Athletic Commission can speak for themselves, for them to continue in their protocol, for whatever they want to test. We fully back them. We expect that they will test the two championship bouts. They may test additional fights on the card. Out-of-competition. I don't care if they test every fight on the card out-of-competition. They're certainly capable of doing it. I'm sure they will address that, and you guys can ask them those questions as need be."

Q: Any idea when you will announce which third-party drug testing firm you will be partnering with?"

A-(Fertitta): "We don't have a specific date. But obviously, we've kind of set a drop-dead date to kind of get this program going of July 1. So it certainly will be in advance of that."

Q: Can you tell us who you have talked to? There are a handful of very big, reputable names. Can you confirm any of those names?

A-(Fertitta): "Once again, as I've mentioned, we've had these conversations. We've signed confidentiality agreements. We've been asked not to disclose who we have talked to, what the conversations were. But like I mentioned before, there are not a ton of these institutions, or a ton of these companies that do this on a worldwide scale. I'm sure you can connect the dots and figure out who we have talked to."

Q: Prior to the Reebok deal you said you called some of the fighters to let them know about it. Have you called any of your top fighters to let them know about this new policy, and what kind of reaction you got from them if you did?"

A-(Fertitta): "Certainly when we called the press conference I assume our fighters knew that something was happening. In every conversation that both myself and Dana have had with individual fighters as we meet with them on an ongoing basis, we reiterate there will be enhanced drug testing going forward, that these procedures will increae and will continue. And we've gotten a positive response from everybody.

"I got some messages last night from some of the fighters on our current roster essentially saying 'This is a great day; we're excited about this and we're happy that you're doing this.' And basically, bring it on. We're clean athletes.

"I had a conversation yesterday or the day before (with) Chris Weidman. He obviously has been tested out-of-competition a number of times and has always come back clean. And he said the same thing. He's very excited about it.

"But quite honestly, we've been working fast and furious here over the last week, to pull all of this stuff together. And quite honestly, I would have liked to have called all 585 fighters on the roster but it wasn't feasible."

(White): "Robbie Lawler, too. Robbie Lawler, when Georges St-Pierre made some comments, said 'Let's do it. I'll go through all the testing you want to go through. Come on back and fight me.

"Nobody has said anything negative about it. That's for sure"

(Fertitta): "Look, there was a question asked earlier, 'Do we think it will take away from the fights, that these guys aren't using PEDs." That's just kind of silly. When you look at some of the most exciting fighters on the roster have gone through out-of-competition testing and have passed for PEDs, whether it be Jon Jones, Chris Weidman, Robbie Lawler, a number of guys, they've been through the process. It's very strict. It's very rigorous. It's both urine, it's blood. They test for EPO, HGH, all kinds of banned substances. So far, they've come back clean

"We're going to continue to add to that, and enhance all these programs and add to these programs. We think it's the best thing for the sport."

(White): "And I think that's another testament to the money we have spent: We've caught guys on EPO. We've caught guys on these different types of drugs that are hard to test for."

Q: Do you any idea from Jan. 31 to Dec. 31 – not this year, which will be starting in July – how much this will cost you? You said a lot of the commissions might need the financial help that you're willing to give. I suspect most of them will need that financial help. In addition to the random testing of the 585 fighters, do you have any idea as to how much this will actually cost?

A-(Fertitta): "Unfortunately, even after talking to some of these third parties, they can't give us an exact number and an exact budget, because there are many variables that go into this. Obviously the number of fighters tested; where the fighters are located; if the test comes back positive there has to be a judiciary process that will add to the cost. There are just too many variables. We just have ranges.

"What we do know is that it will be millions of dollars. I would say after the first year or two years, we will have a bit of a history and we will be able to kind of budget for these things better. But we're kind of flying blind here a bit, saying whatever it is, it is, and we're going to deal with it."

Q: You are prepared to pay for it all?

A-(Fertitta): "Unless you want to kick in."

Q: We know what you said about the suspensions and enforcing stiffer penalties. But obviously that still comes down to the commissions that may not want to do a two-year suspension, whatever it is. My question goes back to the Reebok deal: You said fighter rankings would drive fighter pay, per the Reebok deal. Is there any thought in terms of penalties with that – fighters being removed from the rankings if they test positive?"

A-(White): "I think it's the same answer to the question that Kevin (Iole) asked about a champion. And Lorenzo said earlier, and Lawrence said, we think that a lot of the athletic commissions will go with this. This isn't all going to happen overnight. It's all a work in progress. So yes. The answer is yes."

(Fertitta): "I don't think we've ever had a conversation with any regulatory body that said they don't agree that the sport needs to rid itself of PEDs. And I don't think we've ever talked to any regulator that hasn't been in favor of looking at the penalties and trying to see if there is a way to increase the penalties so that it will be a bigger deterrent for athletes to engage in this activity.

"Is it theoretically possible that an athletic commission or international federation may not want to increase the penalties? Theoretically it's possible. Do I think in actuality that will happen? I don't. I think that the regulatory bodies will look at this, hopefully will take our input and will increase and have stiffer penalties, all the way around. That is our hope."