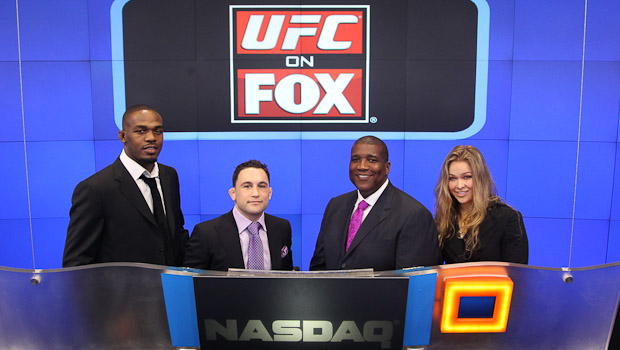 Las Vegas, Nevada -
The stars of mixed martial arts (MMA) and FOX Sports were out in force in New York on Tuesday, as reigning UFC light heavyweight Jon Jones, 2004 Olypmian and reigning Strikeforce women's champion Ronda Rousey, former UFC lightweight king Frankie Edgar and UFC on FOX host Curt Menefee rang the Opening Bell at NASDAQ's MarketSite in Times Square.
The MMA visited the MarketSite in anticipation of this Saturday's huge UFC on FOX event at the Izod Center in East Rutherford, New Jersey, which features a quadruple header of exciting match-ups across four weight classes.
Third UFC on FOX event airs over primetime this Saturday, May 5, from 8 pm to 10 pm Easter (5 pm to 7 pm PT).
In what will be the fastest two-hours of fighting this weekend, UFC on FOX features the lightweight title eliminator between Nate Diaz and Jim Miller, the welterweight battle between Josh Koscheck and Johny Hendricks, a middleweight showdown between Rousimar Palhares and Alan Belcher - plus the potential heavyweight thriller between puncher Pat Barry and Levar Johnson.
For more information, visit UFC.com
Watch the MMA Stars Ring the Opening Bell Here