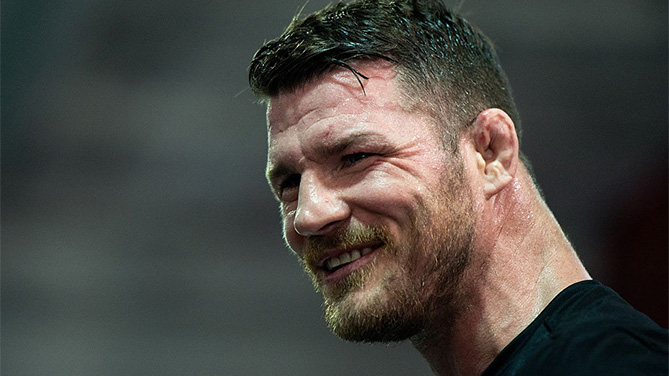 The bright lights of the historic Forum, a venue that helped catapult the NBA's Los Angeles Lakers into "Showtime," plus a global audience, the UFC middleweight championship on the line, a chance to settle the score with Luke Rockhold … this wasn't the plan for Michael Bisping.
Fewer than four months ago he earned the biggest win of his career, defeating Brazilian icon Anderson Silva. Bisping then resumed his work as a television pundit as well as an actor, with a role in the upcoming "xXx: The Return Of The Xander Cage," sending him to Toronto.
Getting a chance to capture a UFC championship wasn't in the script.
RELATED CONTENT: Rockhold vs Bisping preview | UFC 199 Extended Preview | Bisping-Rockhold spar on UFC Tonight | Bisping in London - On The Brink
But when Chris Weidman, Rockhold's original opponent for Saturday's UFC 199 main event, was injured and forced to withdraw three weeks before the fight, Bisping flipped the script.
Is this ideal, the way I got this title shot? No, a full camp would be ideal. (But) I've got my chance now. Sure, not the script I'd have wrote – but I do have a big (expletive) say in how this script ends. - Michael Bisping
Why? Little of "The Count's" mixed martial arts career, or life, has gone to plan. And that's OK for the 37-year-old UFC icon. Call it "The Bisping Way."
As he explained in the UFC FIGHT PASS original series Fightography, Bisping wasn't meant to be in this position. He trained jiu-jitsu and was a standout mixed martial artist in England as a youth – but at the time there wasn't much of a professional path so he took the school-to-work route. That was when he committed "one of the biggest regrets" of his life -- his words -- by dropping out of college, and bounced "from one dead-end job after another."
That path wasn't good enough, so Bisping changed course when he discovered he could make a career of fighting, and became a professional. Success in Cage Rage, Pride & Glory and British MMA led him to his shot at the big time as part of the cast of The Ultimate Fighter season 3. Bisping won the competition and went on a roll in the UFC by winning his first four bouts and earning his place among the most prominent fighters in the promotion, with regular appearances in main or co-main positions of fight cards after his fourth UFC bout.
He accomplished that without truly knowing the fundamentals to succeed. Although Bisping grew up doing jiu-jitsu and later kickboxing, he didn't know much wrestling – a cornerstone of today's fighters – and learned how lacking it was in his repertoire when he experienced his first setback against Rashad Evans, an accomplished wrestler, at UFC 78.
"I didn't know a thing about wrestling – defending takedowns, nothing – until I was already in the UFC," Bisping said. "I had good submissions and submission defense because I did traditional jiu-jitsu from age 6 and that was a great base to learn submission grappling from … And I got to the UFC with that but, once there, I needed to get ready for the Rashad Evanses of the world who'd been wrestling since they were kids.
"It's crazy seeing my eldest son, Callum, winning these wrestling matches in high school now. I'm so proud of him, he's twice the athlete his old man is."
Lacking fundamentals caused another setback, this time at UFC 100 versus Dan Henderson.
"I was eating Chinese food – and I don't mean white rice, I mean crispy duck, prawn crackers, the lot – the night before the weigh-in. I'd been on weight pretty much the entire camp – because the people I had around me thought that was the way to do it," Bisping explained. "I came into that fight with no strength; I've left all my energy in the gym or on the miles of roadwork. I'd put the work in, but I hadn't taken care of my body."
FREE FIGHTS TO WATCH: Bisping vs Anderson Silva | Rockhold vs Chris Weidman | Bisping vs Cung Le
But when Chris Weidman, Rockhold's original opponent for Saturday's UFC 199 main event, was injured and forced to withdraw three weeks before the fight, Bisping flipped the script.
Throughout his career, Bisping has built a 29-7 professional record and has been within reach of the summit – a shot for the UFC championship – but stumbles and growing pains prevented him from reaching his goal.
Buy tickets to UFC 199 at the Fabulous Forum in Inglewood, Calif. | Pre-order UFC 199 on Pay-Per-View
So it's fitting that almost a decade since entering the UFC and months after his shining moment, Bisping finally gets his shot at the title against Rockhold – the last fighter to hand him a loss back in November 2014.
But don't think that last outcome, the limited time to prepare or the fact he's a huge underdog in the eyes of oddsmakers will impact Bisping. He still thinks he's getting better – even when most are counting him out. It's "The Bisping Way"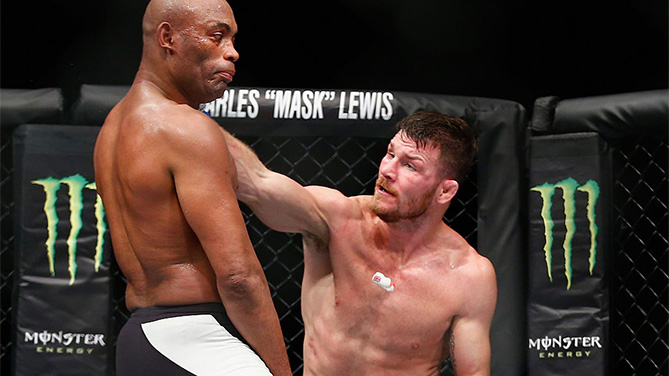 "Of course I'm still learning. I learned from my last fight. You'll see a better version of me at UFC 199," Bisping said. "If you're not learning, you're losing in this sport. The Michael Bisping who won TUF 3 wouldn't last a minute with me now.
"Is this ideal, the way I got this title shot? No, a full camp would be ideal … Fact is, I lost No.1 contender fights – until I beat Anderson. I've got my chance now. I've asked for it, I've worked for it, and now I've got it. How and when it came – sure, not the script I'd have wrote – but I do have a big (expletive) say in how this script ends."
UFC Fight Pass' Ant Evans contributed to this report.

Jorge A. Mondaca is managing editor for UFC.com. Follow him on Twitter @JorgeAMondaca